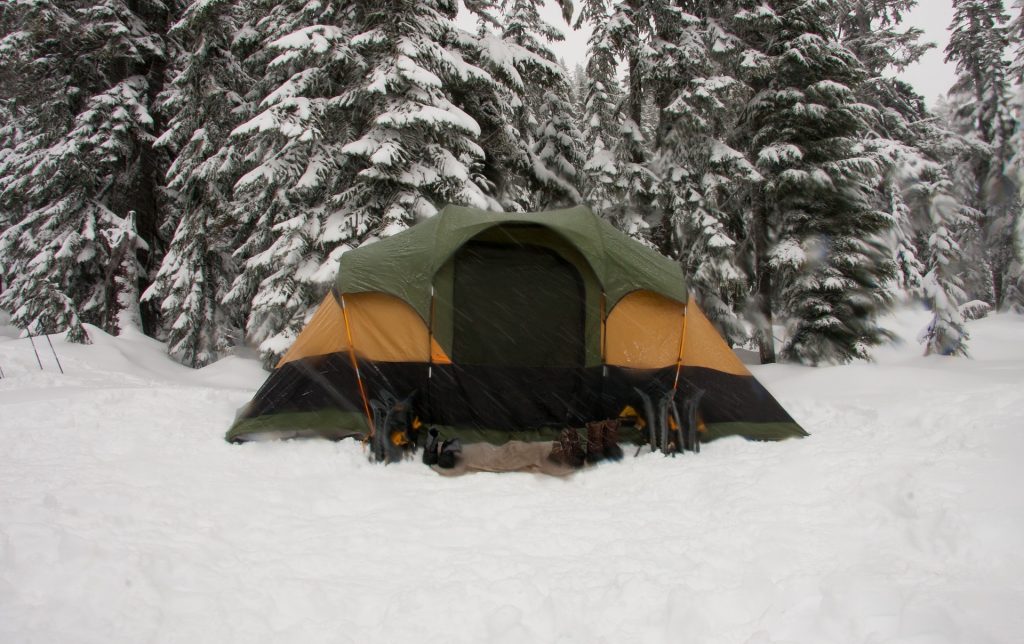 Planning a hunt which requires you to camp in cold weather?
We are here to help.
We have reviewed and listed our favorite cold weather tents for a variety of hunting situations.
If you are in a hurry our favorites are summarized in the table below:
BEST VALUE

TOP CHOICE

PREMIUM PICK

ALPS Mountaineering Tasmanian Tent
Black Diamond Eldorado Tent
BEST VALUE

ALPS Mountaineering Tasmanian Tent
TOP CHOICE

Black Diamond Eldorado Tent
PREMIUM PICK

Are you up for camping in the cold?
About 1000 people die from hypothermia every year in the U.S. alone.
Please read the tips before your first attempt at camping in harsh conditions.
Because camping in cold weather can be dangerous, we have created a list of tips for camping in cold weather. They are located at the end of this article.
What to look for in a cold weather tent
When selecting a cold weather tent for your hunt the first question you need to ask is whether this is a situation where you will be able to haul your tent and gear in a car/truck or is this a backpacking hunt?
Backpacking in means weight matters a whole lot more.
If you have the luxury of driving to your base camp location, you should take advantage of it.
More importantly:
Do you really want to camp in freezing cold weather?
Can you stay in a warm hotel or cabin if it means getting up an hour earlier?
Camping in freezing temperatures is no joke.
We targeted the tents below for hunters camping in temperatures ranging from +30F down to -10F. These are our favorite picks.
All tents below are great tents, use the reviews below to help pick the right one for your situation.
Cold Weather Hunting Tents

Hilleberg Jannu
The Hilleberg Jannu is our top pick. This tent is exceptionally well made yet. It is very sturdy and built for extreme conditions. While it is not an ultralight, it is still reasonably light given how robust it is.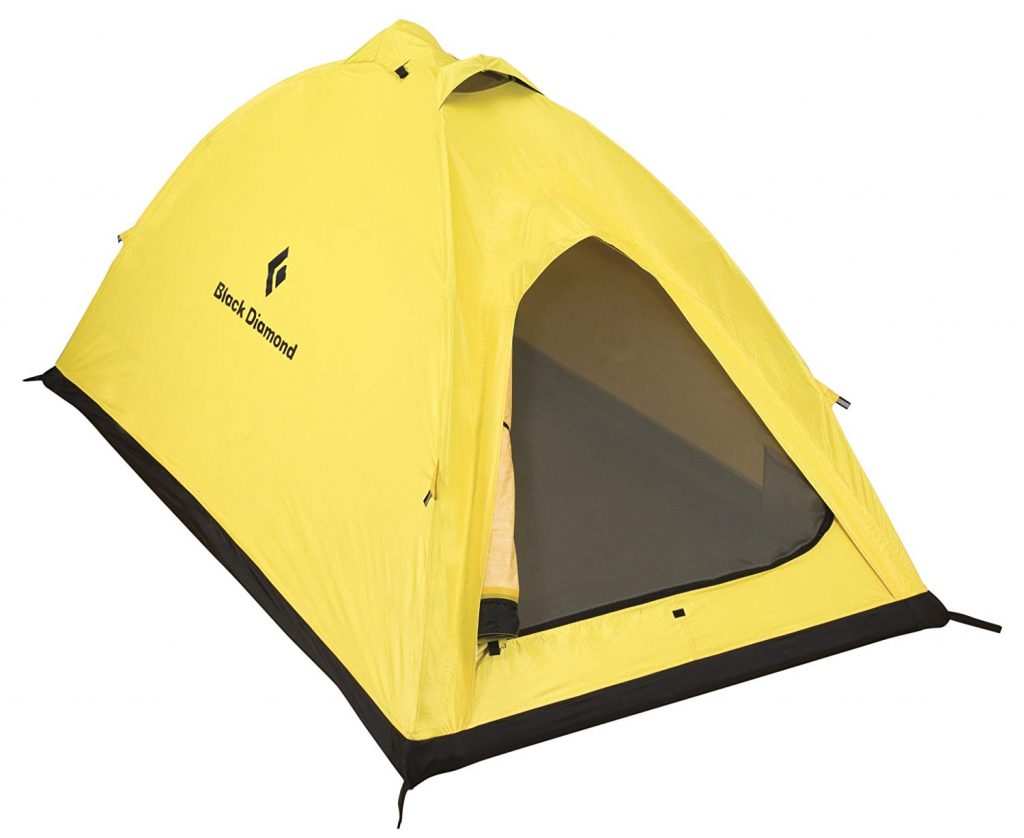 Black Diamond Eldorado
The Black Diamond Eldorado is our pick for best value. It is a great all around tent you can not only use during winter but will work well year round. The setup is a little more complicated and the ventilation could be a bit better but this is a great choice for someone looking for a quality tent without completely breaking the bank.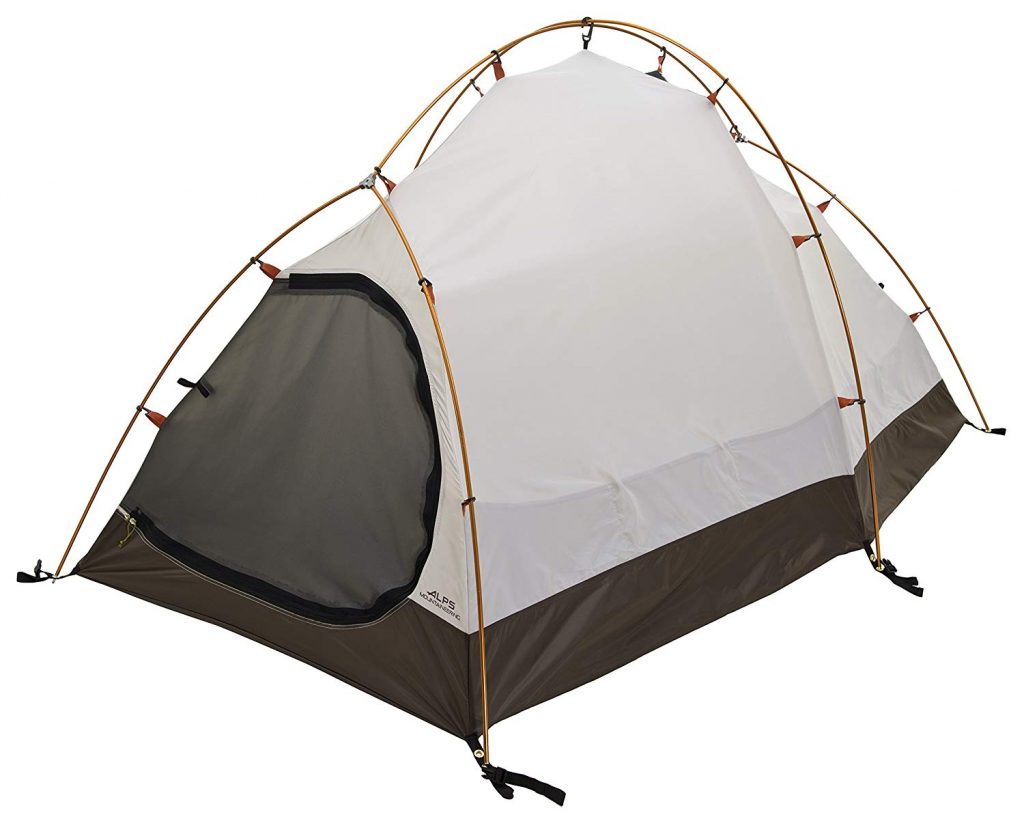 ALPS Mountaineering Tasmanian
The ALPS Mountaineering Tasmanian is our favorite tent for those looking for a good budget option. This tent is quick to setup. The downfalls of this tent are its weight and bulkiness but for the price it is tough to beat.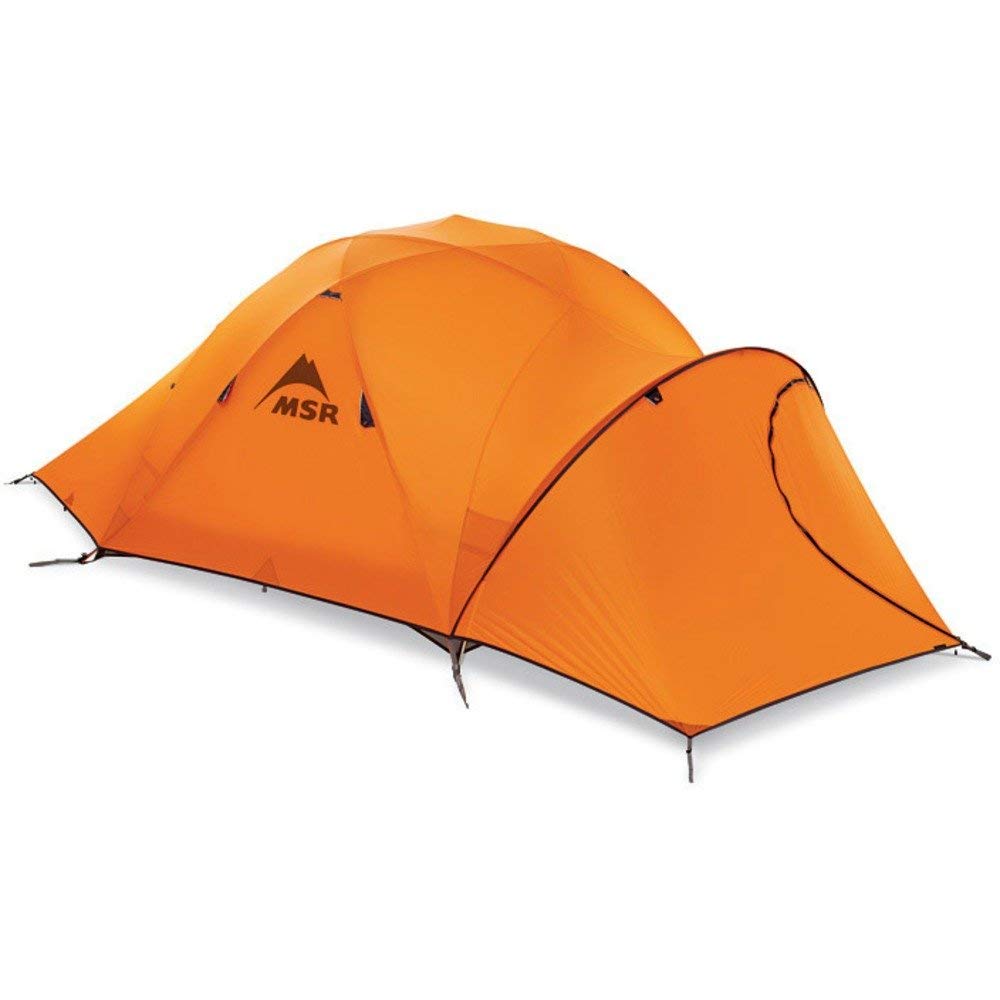 MSR Stormking
When it comes to 4 season tents, the MSR Stormking is as good as it gets. While heavy, MSR designed the tent to hold up to 5 people so it is very comfortable and spacious. If you are expecting hurricane level winds we would pick the MSR to keep us protected. It uses strong silicone poles, has two large doors, and great ventilation. The only downfall is the price, it is quite expensive.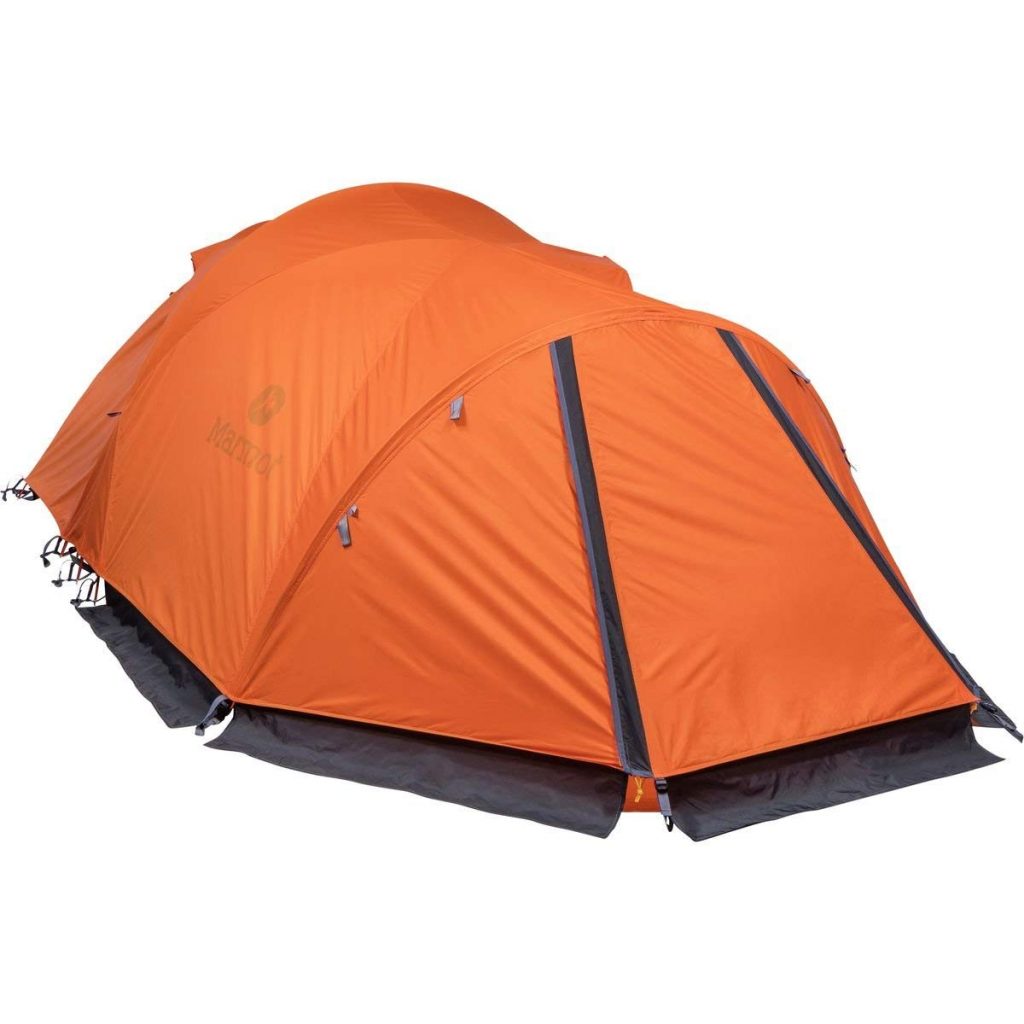 Marmot Thor
The Marmot Thor came in right behind the Black Diamond for our best value pick. The tent is well designed, quite spacious, and has a large vestibule. It has many guy line attachments which means it is very sturdy as well. The tents biggest drawbacks are it's complicated setup and slightly higher weight.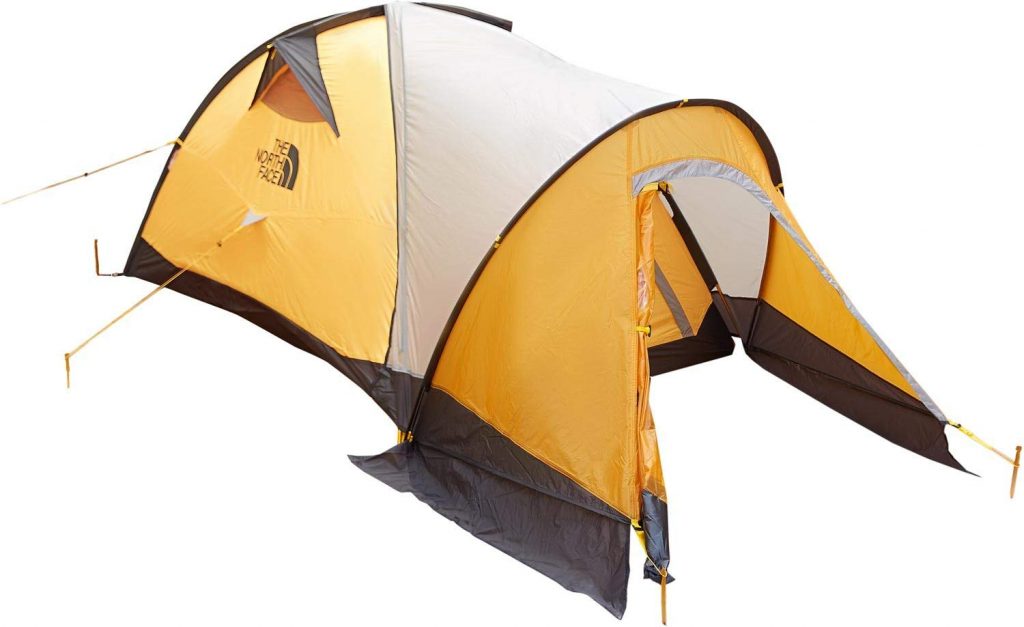 North Face Assault 2
The North Face Assault is another good choice. The fabric doesn't breathe as well and it isn't as heavy duty as some of the others on our list but this is still a great tent for someone looking more in the mid price range.
Selecting the Best Hunting Tent
Wind/Water/Snow Resistance
We limited our list of tents to tents designed to withstand harsh weather conditions. This includes rain, wind, and snow. For that reason we only selected 4 season double walled tents. The manufacturers built these tents to withstand extreme winds and heavy snowfall.
Ventilation
We chose ventilation because moisture in the air from our breath condenses on the inside of the tent. This can lead to moisture getting on your sleeping bag.  Double wall construction aids ventilation by separating the waterproof layer from the breathable layer. In general the more vents a tent has the better as long as it doesn't compromise weather resistance.
Durability
When looking at durability we considered material durability, zipper design, and seam construction.
Setup
How quickly and easily the tent is to setup was something we considered. No one wants to spend longer than necessary setting up their shelter in the pouring rain.
Weight
Weight is important if you plan on hiking any significant distance. Going ultra lightweight is less of a priority here since comfort and survival is the main consideration. It played a small part in our rankings.
Price
For most people (including us) price matters. If money were no object we would buy the MSR Stormking.
Features
The features we took into consideration include pocket options, zipper quality, and seam design. We also gave weight to well designed entrances.
Cold Weather Camping Tips
Make sure you want to do this. You need to take this seriously. Wanting to camp in the cold is fine but it is dangerous and a lot of work. Combining a cold camping adventure with your hunting trip might not be the best idea if you have other sleeping options.

Think of your tent as your outer shell. The goal is to protect yourself from the wind, rain, and snow by adding many layers to insulate yourself and trap warm air. The tents primary job is to protect you from the elements.
Use a tarp between your tent and the ground.
Get a good, thick sleeping pad. Foam or inflatable are best for cold weather. A sleeping pad will provide an insulation layer between you and the ground. The cold ground will suck heat from your body so do your best to stay insulated.
Choose a sleeping bag rated for the temperatures you will be sleeping in. Your bag is the most important piece of the equation for staying warm.
Wear plenty of layers to bed, preferably wool and polyester base layers that breathe well.
Bring a balaclava or wool beanie for your head, and if you have room some slippers to add an extra layer of insulation for your feet.
Pack a down comforter if possible. Down does a great job retaining heat as long as it stays dry.
Keep your feet (and everything else) dry.

Wool, down, and fleece are you friend along with good outer shell to protect from elements. Cotton kills.

If possible, shield yourself from the wind when positioning your camp.