Have you ever found yourself wondering whether deer eat cilantro?
It's a question that might tickle the curiosity of many, especially those of us who love both wildlife and gardening.
Cilantro, also known as coriander, is a popular herb that adds a zesty flavor to our dishes. But when it comes to deer – those majestic creatures we often spot nibbling in the fields – do they share our love for this leafy green?
Understanding what deer eat on is not just a matter of curiosity; it's crucial for those of us who spend our days nurturing gardens.
If you're like me, spending hours getting your hands dirty and making sure every plant thrives, the last thing you want is for a herd of deer to turn your garden into their personal salad bar.
So, let's dive into this intriguing topic. We'll explore the relationship between deer and cilantro, and whether this herb is a deer delicacy or just another plant they pass by in the forest.
Deer Dietary Habits
Alright, let's chat about what's on the menu for our deer friends. If you've spent time in the great outdoors, you've probably seen deer grazing around.
These animals aren't picky eaters; they're what we call herbivores, meaning they stick to a plant-based diet.
Now, imagine you're a deer. You wander through forests and fields, munching on grasses, leaves, buds, and even flowers. Sounds like a buffet, right?
Deer are voracious eaters of the tastiest and most nutritious plants out there. They love leafy greens and often snack on various plants, including some crops we might be growing in our gardens.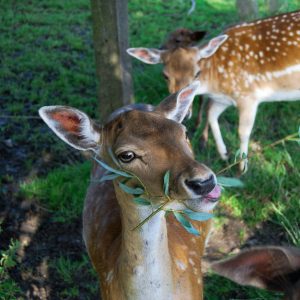 Think of lettuce, beans, peas, and carrots – deer eat plants like candy.
But here's the thing: deer change their diet based on what's available. In different seasons or regions, they might switch up their menu. It's all about survival and making the most of what nature offers.
So, when it comes to cilantro, a common herb in many of our gardens, it's a bit of a wild card. Will deer eat cilantro? It depends on what else is around. If their usual favorites aren't available, they might give cilantro a try.
Cilantro and Deer
When we talk about cilantro, that zesty herb many of us use in our kitchens, it's interesting to think about how it fits into a deer's diet.
Cilantro, or coriander as some folks call it, is known for its fresh, strong flavor. But what does this mean for our deer friends?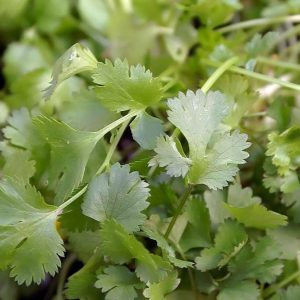 Deer, as we know, are pretty open-minded when it comes to their meals. They roam around, munching on a variety of plants. But cilantro? It's a bit of a unique case. This herb isn't just another green leaf in the forest. It's got a distinct taste and smell, which can be a hit or miss with deer. Some deer might be drawn to its aroma and give it a taste, while others might turn their noses up and move on to something else.
The relationship between deer and cilantro is influenced by several factors. For one, the availability of other food sources plays a big role. If a deer's usual favorites aren't around, they might be more inclined to sample some cilantro. Then there's the region and the season – these can change a deer's eating habits too.
So, do deer eat cilantro? Understanding this can help us figure out if our cilantro plants are at risk of becoming a deer snack.
Nutritional Benefits of Cilantro for Deer
Now, let's talk about what's in cilantro that might be good for deer. This isn't just about whether they like its taste, but what it does for them nutrition-wise.
Cilantro, you see, is packed with some pretty good stuff. It's got vitamins A and C, which are great for keeping deer healthy. Vitamin A is a big deal for their vision, especially when they're navigating through the woods at dusk. And Vitamin C? It's like a health shield, helping them fight off sickness.
But that's not all. Cilantro also has calcium and iron. Calcium is crucial for strong bones – think about a deer leaping over a log. They need sturdy bones for that. Iron helps keep their blood healthy, which is vital for their overall energy and strength.
For deer, eating cilantro can be like taking a multivitamin. It's not just about filling their bellies; it's about getting those nutrients that keep them in tip-top shape.
So, while cilantro might not be their first food choice, it's like a health boost when they do decide to munch on it. For us keeping an eye on our gardens, it's good to know that if deer are eating our cilantro, they're getting some solid benefits from it.
Deer's Selective Feeding
Deer, much like us when we're picking out our favorite snacks, can be pretty choosy about what they eat.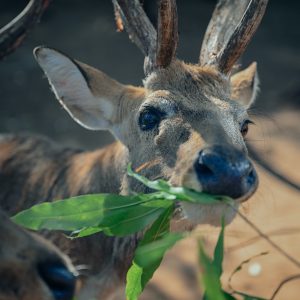 They roam around, always on the lookout for the best greens they can find. Now, when it comes to cilantro, it's a bit of a mixed bag for them. Sure, cilantro is nutritious, but it's not always their first pick.
If the forest is running low on their preferred menu items, deer might turn to other food like fish or cilantro as a backup.
This selective eating habit of deer is important for us to understand, especially if we're trying to keep our gardens deer proof.
Protecting Your Cilantro Garden from Deer
So, you've got a cilantro garden and you want to keep it safe from deer? Well, you're in luck because there are some tried-and-true ways to prevent deer from eating your garden.
First off, let's talk fencing. A good, sturdy fence that's at least 8 feet tall can be a real game-changer. Deer are great jumpers, so a tall fence is key to keeping them out.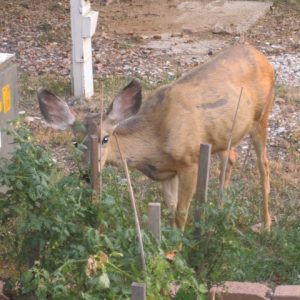 But maybe building a big fence isn't your style. No problem! There are other tricks too. Deer repellents can work wonders. These can be sprays or even electronic devices that make noises deer don't like. Just remember to reapply those sprays after rain or watering your garden.
Another neat trick is to plant some deer-resistant plants around your cilantro.
While some plants attract deer, luckily we have some good options to repel them.
Plants like lavender, rosemary, and marigolds don't just look pretty; they also help keep deer away. Deer aren't fans of their strong scents, so these plants can act like natural guards for your cilantro.
By using these strategies, you can make your cilantro garden a no-go zone for deer. Keep your cilantro safe, and you'll be enjoying that fresh, zesty flavor all season long!
Wrapping Up
Wrapping it all up, do deer eat cilantro?
Well, they might, but it's not their favorite snack. It's like how some of us might eat Brussels sprouts – they're okay, but we'd rather have something else.
For deer, it's all about what's available. If their preferred foods are scarce, they might give cilantro a try.
For us gardeners and outdoor lovers, this means we've got to be smart. We can use fences, repellents, and plant some deer-resistant buddies around our cilantro to prevent deer eating our crop
. Remember, understanding deer and their eating habits is key. It helps us protect our gardens and enjoy the fruits (or herbs!) of our labor without any deer-sized surprises.
FAQs
Can deer eat cilantro flowers?
You bet they can. Just like the leaves, cilantro flowers are on the menu for deer. But here's the thing – deer usually prefer the leaves and stems over the flowers.
So, if you see a deer in your cilantro patch, they're likely there for the green stuff, not the blooms.
What are the signs of deer eating cilantro in gardens?
If you're trying to figure out if a deer has been snacking in your garden, there are a few telltale signs.
Look for missing leaves, broken stems, and plants that look like they've been trampled. Deer tracks or droppings near your garden are also dead giveaways.
Is cilantro toxic to deer?
No, cilantro isn't toxic to deer. They can munch on it without any trouble.
But, just like us, if they overdo it, they might end up with a tummy ache. So, while cilantro is safe for deer, too much of anything isn't great.