Deer are fascinating creatures, aren't they? Especially when we talk about the ladies of the herd.
Now, I've been out in the woods many times, binoculars in hand, and I've seen bucks lock antlers in fierce battles.
But have you ever wondered, "Why do female deer fight?" It's a question that's piqued the curiosity of many hunters and outdoors enthusiasts like us.
Does have their own unique reasons and ways of settling disputes. Unlike the male deer, their confrontations aren't just about showing off those impressive antlers.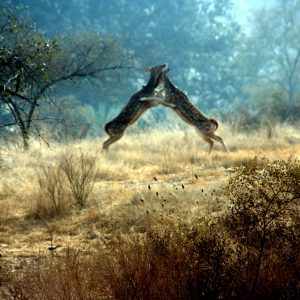 Instead, it's more about survival, protecting their young, and establishing their place in the herd.
In this article, we'll dive deep into the world of female deer, exploring the reasons behind their tussles and the body language they use.
So, whether you're a seasoned hunter or just someone with a love for the great outdoors, buckle up. We're about to embark on an intriguing journey into the hidden lives of does.
Female Deer Fights
Alright, let's talk about the nature of female deer fights.
Now, if you've spent as much time in the woods as I have, you might've seen a doe or two get into it. But it's not the same as those big buck battles we often witness during hunting season. Does have a different way of doing things.
First off, it's pretty rare to see does actually fighting. But when they do, it's not about showing off those antlers (like young bucks). It's more personal.
Maybe they're trying to protect their young or secure a good feeding spot. It's all about survival out there.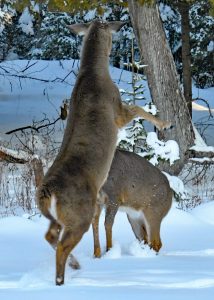 Now, while bucks use their antlers in a show of strength, especially around breeding season, does rely more on body language.
A stare, a foot stomp, or even a quick chase can send a clear message. It's their way of saying, "This is my turf!" or "Stay away from my fawn!"
But here's the thing: even though these doe disputes might seem intense, they're usually short-lived.
Once dominance is established, things go back to normal. It's just nature's way of keeping order in the herd.
Most Common Reasons Why Female Deer Fight
Preserving Their Domain: Out in the wild, food isn't always easy to come by. Especially during those lean winter months.
Now, imagine you're a doe, and you've found a spot with some fresh greens.
You'd want to keep it to yourself, right? That's what does think too. If another deer tries to munch on their patch, they might get a little feisty.
It's not about being mean; it's about survival.
Maintaining the Pecking Order: Every herd has its own set of rules. And in the world of deer, it's all about the pecking order.
The alpha doe leads the group, and she's the one calling the shots. But every now and then, a younger doe might think she's ready to take the lead.
That's when things can get a bit heated. A stare down, a chase, maybe even a little tussle. It's all part of nature's dance to decide who's in charge.
Defending the Herd: Deer are social animals. They stick together, look out for each other.
But if a stranger deer steps into their territory, especially from another herd, the does won't take kindly to it.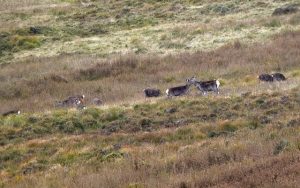 It's not about being territorial, but more about protecting their own. A few head bobs, some foot stomps, and the message is clear: "This is our turf!"
Creating a Safe Space for Birth: Springtime is special. It's when new life comes into the world.
A doe about to give birth will look for a quiet, safe spot. And she won't want any company.
If another deer gets too close, she'll chase them away. It's all about making sure her fawn has the best start in life.
Does Asserting Dominance
Let's chat about something every hunter should know: the pecking order among deer. Just like in our world, there's a hierarchy in the deer community. And trust me, it's a big deal for them.
The Alpha Dominant Doe: Ever notice one deer leading the group? That's the dominant doe.
This doe is the boss, the leader of the pack. She's the first to find food, the first to sense danger, and the one the others look up to. She's got experience and wisdom on her side.
The Stare and Ears Trick: When two does lock eyes, it's more than just a casual glance.
If one flattens her ears and keeps staring, she's challenging the other.
The one that looks away first? Well, she's just accepted her place in the order.
The Young Challengers: Every so often, a younger doe might think she's ready to lead.
She'll challenge the alpha, maybe with a chase or a little tussle. It's nature's way of keeping things in check.
Risks of Physical Confrontations
Let's now take a look at the risks deer take when they decide to throw down. While it might seem like just another day in the wild, these confrontations can have some real consequences.
Energy Drain: Every physical conflict takes a toll. Whether it's a doe defending her fawn or bucks locking antlers, these fights use up precious energy.
And in the wild, energy is everything. It's what keeps them going and keeps them safe from a natural predator, especially when food's scarce.
Injury Threats: Ever seen two bucks on their hind legs with their antlers tangled up? It's a sight, for sure.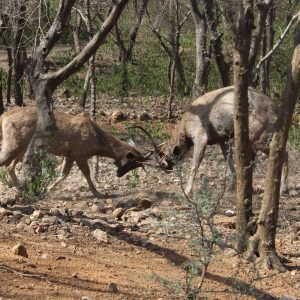 But those sharp points can cause some serious harm. Cuts, bruises, or even broken bones can happen. And in the wild, an injury can be a death sentence.
Distractions from Predators: While deer are busy settling scores, they might miss the approach of a coyote or a mountain lion.
These confrontations can make them easy targets for predators lurking nearby.
Responding to an Aggressive Deer
Ever been out in the woods and locked eyes with a deer? It's a moment, ain't it? But understanding what that deer's trying to tell you can make all the difference in your outdoor adventure.
The Stare Down: You know the look. Eyes wide, ears perked up, and not blinking. When a deer makes eye contact and stares you down, it's sizing you up. It's trying to figure out if you're a friend or a threat.
Best thing to do? Stay calm and avoid sudden movements. Give the deer its space.
The Foot Stomp: If a deer stomps its foot, it's a clear sign it's on high alert. Maybe it heard something or caught a scent.
This is their way of saying, "I'm ready to bolt, but I'm also warning others around."
As a hunter or outdoorsman, take note. It's a sign you might've been spotted or heard.
The Flared Tail: Ever seen a deer with its white tail raised high? That's their alarm signal. It's like a flashing light warning other deer of possible danger.
If you see this, know that you've been detected.
Wrapping Up
We've journeyed deep into the world of deer, haven't we? From understanding why female deer "lock horns" to the silent tales their body language tells, it's been quite the adventure.
As hunters and lovers of the great outdoors, it's these insights that bring us closer to nature. It reminds us that every creature, from the dominant alpha doe to the young buck, has its own story to tell.
So, next time you're out in the woods, binoculars in hand, take a moment. Watch, listen, and appreciate the intricate dance of deer life unfolding before you. Because, my friends, that's the true beauty of the wild.
FAQs
Why do deer stomp their feet?
When a deer stomps its foot, it's like sounding an alarm bell. They might've sensed something off – maybe a predator or even us humans wandering too close. It's their way of saying, "Hey, I see you!" and warning others nearby.
Do deer recognize human faces?
You bet they do! Deer are pretty sharp. If you've been to a hunting spot a few times, they might just remember you.
It's not like they'll wave hello, but they recognize threats and friends. So, if you're kind to them, they might just give you a nod of approval next time.
How do female deer establish dominance?
Does have a pecking order. The alpha doe leads the pack.
But how does she get to the top? It's a mix of body language, like staring and ear positioning, and sometimes a little tussle. It's all about proving who's the strongest and wisest in the herd.