Have you ever peered out of your window at the early morning haze and wondered, "Do deer move in this fog?" Well, you're not alone.
A foggy day can throw a curveball in our hunting plans, making us question whether it's worth stepping into the woods or just cozying up at home with a hot cup of joe.
But here's the thing: understanding how our four-legged friends behave when the fog rolls in can be a real game-changer for your hunting adventures.
You see, deer are pretty smart, and that fog affects them just as much as it does us. Sometimes, they'll hunker down in thick cover, trying to stay out of sight and limit their movement.
Other times, they might just go about their business, giving us the perfect chance to blend in and up our hunting game.
So, grab your gear, and let's dive into the misty world of deer movement.
Whether it's a light fog that's just a whisper on the wind or a heavy blanket that covers the morning sun, we're about to uncover some foggy day secrets that could lead to your next big story at deer camp.
Deer Movement in Fog
In a light fog, deer tend not stress too much. It's like they've got a thin curtain around them—not too bad.
They can still see some, and they keep doing their deer things, like munching on breakfast in the fields or tiptoeing through the woods.
But, let me tell you, when that fog is as thick as grandma's gravy, it's a whole different ball game.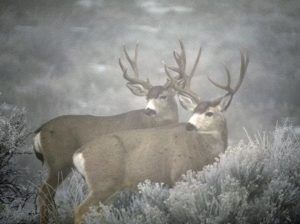 Deer tend to get nervous when they can't see well. It's like when you hear a noise in the house at night. You freeze, right? Deer activity can drop off. They might just stick to one spot, hiding out where they feel safe in the thick cover, waiting for the thick fog to lift.
Now, here's a hunter's tip: when you have a heavier fog, remember that deer aren't moving much. They're hunkered down, trying to stay out of trouble.
But as the sun climbs and that fog starts to thin out, get ready. Deer will be itching to stretch their legs, maybe head over to their favorite snack spot.
So, what's the takeaway for us hunters? Well, if you wake up to fog in the morning, don't just roll over and go back to sleep. Those foggy days can be a golden ticket.
Deer might be laying low for a bit, but they'll be on the move again once things clear up. That's your chance to be in the right spot at the right time. Keep your hunting boots handy, because when the weather conditions change, it's game time.
Deer Hunting in the Fog: Advantages and Challenges
Advantages of Fog in Concealing Hunters
Foggy conditions are like nature's smoke machine for us hunters. It's a sneaky cover that lets us get closer to deer than usual. With the fog acting like a big ol' blanket, deer can't see us coming as easily.
This means we can slip into our stands or sneak through the woods without those sharp-eyed critters spotting us. It's like we're invisible, and that's a huge plus when you're trying to outsmart a deer.
Challenges of Limited Visibility and Safety Considerations
But here's the rub: what makes it tough for deer to see also makes it tough for us.
Thick fog can turn the woods into a real-life maze, and seeing more than a few feet ahead can be as hard as finding a needle in a haystack.
This means we gotta be extra careful not to bump into things or get turned around.
And let's not forget safety—other hunters are out there, too, and nobody wants to be mistaken for a deer, so always consider wearing blaze orange.
Techniques for Tracking and Hunting Deer in Foggy Conditions
Now, for the juicy part—how do we actually hunt in thick fog? Patience is key.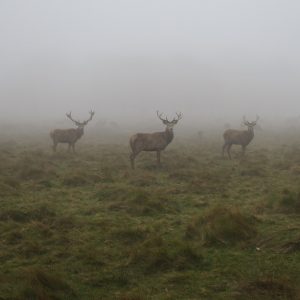 Settling near a food source is a smart play. You wait for the fog cover to lift, and those deer will start moving, likely heading for a snack.
That's your moment.
But remember, move slow and quiet. Heavier fog might hide you, but it also makes every little sound carry far and wide.
It's all about being sneaky and smart, using the fog to your advantage while staying safe and alert. That's the name of the game when hunting in the fog.
Strategies for Hunting Deer in Heavy Fog
Positioning Near Food Sources
When the fog's as thick as pea soup, one of the best plays is to park yourself by a diner—the deer's diner, I mean.
We're talking about those spots in the woods where deer love to grab a bite: fields of soybeans, patches of turnips, or oak trees dropping acorns like they're going out of style.
If you hunt near these food sources, you're setting the table for success.
Deer have been laying low in the fog, and when it starts to clear, deer feel their bellies are rumbling. They'll be heading for their favorite snacks, and you'll be waiting. It's like having a front-row seat at the deer buffet.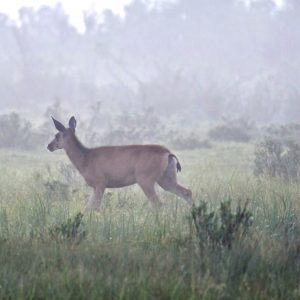 Using Fog as Cover for Stalking
Now, if the fog's light and you've got the itch to move, use it like a cloak. You can sneak around almost like a ghost.
The fog helps muffle your steps and keeps you hidden. This is your chance to do a bit of still hunting. Find a trail or a spot you know deer pass through and make your move.
But remember, slow and steady wins the race. One wrong step, one loud crunch, and your cover's blown.
Adapting Hunting Methods Based on Fog Density
The thickness of the fog is like the mood of the woods—it changes how you play the game.
If it's a heavy fog, you might want to hunker down and wait it out. But if it's just a light mist rolling through, you can be a bit bolder, maybe do some gentle stalking.
The key is to read the fog like you'd read the wind or the tracks on the ground. It tells you a story about what the deer might do, and you adapt your strategy to that story.
Whether you're waiting it out or moving with care, the fog can be your ally if you know how to use it.
Other Foggy Day Hunting Tips
Scent Control and Humidity
When it's foggy, the air's full of moisture, and that makes your smell stick around like gum on a boot. Deer can pick up on that and high-tail it out of there before you even get settled.
So, what's a hunter to do?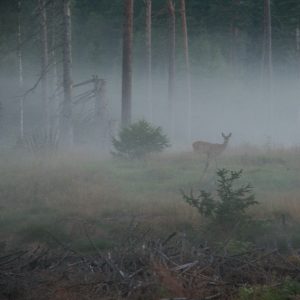 Rubber boots are your first defense—deer can't sniff out where you've stepped with those on.
And don't forget to give yourself a good spray down with some of that cover scent we have discussed before.
Movement and Noise Reduction
Moving on to keeping quiet—fog can be your friend here, too. It's like the world's turned down the volume, but you still gotta be careful.
Take it slow, step lightly, and avoid snapping twigs. Think of it like you're trying not to wake up a sleeping baby.
You do it right, and those deer will keep on doing their thing, none the wiser to your presence.
Wrapping Up
Remember, foggy days aren't just for sipping coffee by the window. They're full of chances for us hunters.
Deer movements might slow when the fog's thick, but as it lifts, they're ready to roam, and that's your time to shine.
Keep your scent down, your steps quiet, and your eyes peeled. Whether you're waiting by a food source or sneaking through the mist, the fog can help hunters out there in the woods.
FAQs
Do deer move more or less in the fog?
It can go either way. In a light fog, deer tend to keep on with their day, moving about as they usually do.
But when that fog is thick as a wool blanket, deer tend to hunker down and move less. They're waiting for a clear sign that it's safe to go about their business.
What are the best times to hunt deer in the fog?
If you're looking to hunt in the fog, early morning is your best bet for getting a shot. That's when the foggy conditions are usually settling in or starting to lift, and those deer will be getting active.
How does fog affect the use of deer calls and scents?
Fog can be a tricky player when you're using calls and scents. The moisture in the air can mess with how far your scent travels and how clear your calls sound.
You might need to tone it down a bit with the calls, so it doesn't come off too strong. And for scents, remember that fog can make them stick around longer and spread out wider, so use them sparingly.