1½ Years Old: The Rookies
These young bucks are like high school freshmen (yearling buck). They're lean, with slender bodies and legs that seem a bit too long for their frame.
Their antlers are modest, usually spikes or small forks.
They're curious and less cautious, often seen wandering during daylight.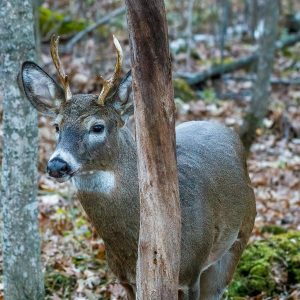 2½ Years Old: The Sophomores
A bit more muscle, starting to fill out but still not fully mature.
Antlers show more points, but they're not too wide or heavy yet.
They're learning, becoming more cautious but still make youthful mistakes.
3½ to 4½ Years Old: The Juniors
Now we're seeing some bulk. Their bodies are more muscular, and their necks thicken up, especially during the rut.
Antler growth is more impressive, with better mass and spread.
Behavior-wise, they're smarter, more elusive, and start showing signs of dominance.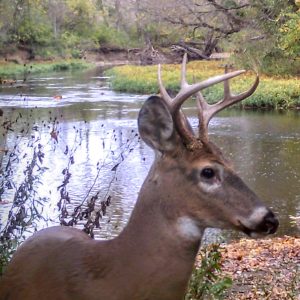 5½ to 6½ Years Old: The Seniors
This is a mature buck. Heavy-bodied, thick-necked, and often with a bit of a belly.
Their antlers are at their peak, both in size and complexity.
They're wise, cautious, and often nocturnal, making them a challenge for hunters.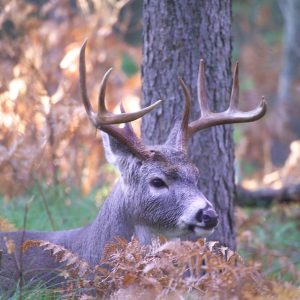 7½ Years and Older: The Veterans
In the deer world, these are the old-timers. Their bodies might start to decline, losing muscle mass.
Antlers can be unpredictable – sometimes still impressive, other times showing signs of age.
A buck this old is a master of survival, often moving only under cover of darkness.
Each buck age group has its unique characteristics, from the sprightly yearlings to the 8 year old buck. As hunters, understanding these age groups helps us appreciate the life stages of these whitetail bucks.
The Role of Genetics and Environment
When we talk about how a whitetail buck grows, especially those antlers, we can't skip over genetics and environment. Genetics play a big role in how a buck's antlers develop. Some bucks are just born with the potential for big, impressive antlers.
But it's not all about genetics. Where a buck lives and what it eats are super important too.
Think of it like this: even if a buck has great genes for big antlers, if he doesn't get the right nutrition, those antlers won't reach their full potential. Good food helps a lot. That's why you might see bigger antlers in places where there's plenty of nutritious food.
And let's not forget about the land they live on. A peaceful, safe environment lets bucks grow better. If they're always stressed or running from danger, it can affect their growth.
So, as hunters and nature lovers, when we see a buck with big antlers or a strong body, we're seeing the story of its life – the genetics it was born with and the environment it grew up in.
Management and Conservation
In the world of hunting and wildlife, understanding the age of bucks like our 4-point friends is key to keeping deer populations healthy. It's not just about the thrill of the hunt; it's about being responsible stewards of nature.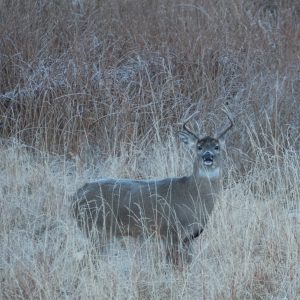 When we know the age of the whitetail bucks we're hunting, we make better choices.
For young bucks, giving them time to grow means they can contribute to the gene pool and maintain a healthy, balanced population. It's like letting the young ones grow up and reach their full potential.
On the flip side, managing older bucks helps keep the population in check, preventing overpopulation. This is important because too many deer can lead to problems like disease spread and habitat damage.
So, as hunters, when we step into the woods, we're not just after a prize. We're part of a bigger picture, helping manage and conserve the deer population.
Wrapping Up
As we wrap up our journey through the life and times of a 4-point buck, it's clear that there's so much more to hunting than just the hunt.
Understanding the age of these magnificent animals, from the young bucks to the wise old veterans, is a crucial part of being a responsible hunter and a friend to nature. It's about respecting the animal, the environment, and the balance of the ecosystem.
So, next time you're out in the woods, remember the stories behind each buck you see. It's not just about the moment of the hunt; it's about being part of the grand story of nature, where every creature has its role and every hunter has a responsibility.
FAQs
How accurate is aging a buck based on antler points?
Aging a buck by its antlers isn't an exact science. It's like guessing someone's age by their looks.
Antler points give us a good idea, especially with younger bucks, but remember, things like food and genetics can make a big difference. So, it's a useful guide, but not 100% accurate.
Can a buck's behavior give clues about its age?
Yes, younger bucks, like our 4-pointers, are often bolder and less cautious.
As they get older, they become more secretive and wise to the ways of the woods. Watching how a buck acts can definitely give you hints about its age.
What are the limitations of aging whitetail bucks in the field?
When you're out in the field, you're working with what you can see. You can't measure everything exactly, and sometimes bucks can surprise you.
A buck might have small antlers but be older, or big antlers but be younger. It's all about using the clues you have and remembering there's always a bit of mystery in nature.