Ever sat around the campfire after a successful hunt, gazing at that deer liver and wondering if it's good to eat?
Well, you're not alone. For generations, hunters like us have been diving into the wild game world, exploring the rich flavors and traditions that come with it.
Deer liver, a treasure trove of essential nutrients, has been a staple in many cultures. But in our modern age, some folks raise an eyebrow at the thought of eating it.
Is it safe? Is it tasty? And how does it stack up against other wild game or even beef liver?
Let's embark on this culinary journey together, delving deep into the world of venison liver, its benefits, and the best ways to cook it.
Whether you're a seasoned hunter or just starting out, this guide will shed light on the age-old question: Is deer liver good to eat? So, grab your favorite hunting knife, and let's dive in!
Is Deer Liver Safe to Eat?
In short, absolutely! With the right precautions and a dash of culinary skill, deer liver is not only safe but a delicious addition to your wild game menu.
Nutritional Benefits of Eating Deer Liver
Ever wondered about the goodies packed inside that deer liver? Well, it's a powerhouse of nutrients with tons of health benefits.
Packed with vitamin A, iron, and essential B vitamins, deer liver is a wild game superfood.
Risks of Eating Deer Liver
But, like all good things in the wild, there's a flip side. Some deer might carry liver flukes or other tiny critters we don't want on our dinner plate.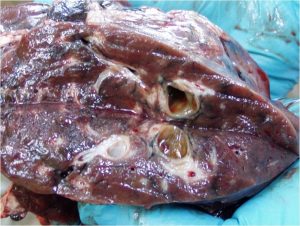 Fascioloides magna is known as deer liver fluke and is a parasite that occurs in deer.
While eating an infected liver doesn't pose any risks, we would still avoid doing so for visual reasons.
And if you're hunting in areas with lead exposure, there's a tiny chance of lead poisoning. Always be sure of where you're hunting and the health of your game.
Handling Venison Liver
Now, onto the fun part – getting that liver ready for the grill or pan. First things first, when field dressing, be gentle with the liver.
Avoid puncturing it, especially the gallbladder. That little green sac can release bile, giving the liver a bitter taste.
And trust me, no amount of garlic powder or onion powder can mask that!
As far as how to store deer liver, it is critical to keep it cool.
Personally, I like to freeze the deer liver (vacuum seal it first) before cooking it to be extra safe.
This is critical if you ever consider eating raw liver.
Cooking Deer Liver
Ready to cook that liver? We will get into the details below but here is a quick summary.
Just like raw deer meat, make sure to cook it well. Medium high heat is your friend here. Whether you're grilling, frying, or baking, ensure it's cooked through.
This not only makes it safe to eat deer liver but also brings out its rich flavor. And if you're unsure about diving straight into the world of liver consumption, mix it with other meats. It's a great way to ease into it.
Preparing Deer Liver
So, you've got a fresh deer liver in hand, and you're itching to turn it into a mouth-watering dish.
Preparing and cooking deer liver properly doesn't have to be a daunting task. With the right recipes and a bit of creativity, it can be a delightful culinary experience.
Before we dive into the cooking part, let's chat about prepping that liver. Cleanliness is key.
Give it a good rinse to wash off any remaining blood. And remember, always store in a cool place until you're ready to cook deer liver.
Classic Fried Deer Liver
One of the all-time favorites among hunters is the classic fried deer liver. Here's a simple way to do it:
Slice the liver into thin pieces.
Season with a mix of garlic powder, onion powder, salt, and pepper. Many also soak the liver in milk.
Heat some oil on medium high heat in a skillet.
Fry each slice until it's golden brown on both sides.
Serve with some grilled onions on top. Delicious!
Deer Liver with Bacon and Onions
Everything's better with bacon, right? This recipe is a testament to that.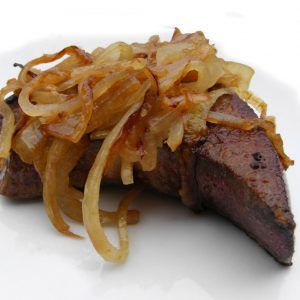 Cut the deer liver into bite-sized chunks.
In a pan, fry some bacon until it's crispy.
Remove the bacon but keep the grease.
Toss in some sliced onions and cook until they're soft.
Add the liver chunks and cook until they're done.
Crumble the bacon on top, and you've got a dish that'll make your hunting buddies jealous!
Feeling adventurous? Let's explore some modern takes on deer liver.
Deer Liver Pâté
A smooth, creamy spread that's perfect for crackers or toast.
Cook the liver with some onions, garlic, lemon juice, and herbs until it's tender.
Blend it in a food processor with some butter, salt, and pepper.
Chill it for a few hours, and voila! A fancy spread that's sure to impress.
Grilled Deer Liver Kebabs
Perfect for those summer hunting trips.
Cut the deer liver into chunks and marinate it in your favorite sauce.
Skewer the chunks with some veggies.
Grill on medium high heat until it's cooked to your liking.
Deer Liver Vs. Other Organs
So, how does deer liver fare against other organs? It's right up there with the best. Each organ offers a unique flavor and nutrient profile. But the liver, with its rich taste and health benefits, holds a special place in the heart of many hunters.
It's a powerhouse, packed with essential nutrients like vitamin A and iron. It's a wild game favorite, and for good reason.
The taste? Rich and earthy. The texture? Smooth and tender. But how does it stack up against other deer organs?
Deer Heart
The deer heart is a hunter's prize. It's meaty, flavorful, and has a unique texture.
Unlike the liver, the heart is a muscle. It's lean and tastes somewhat like steak.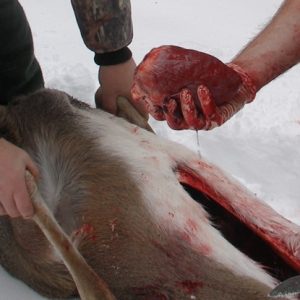 Nutrition-wise, it's a goldmine of B vitamins, zinc, and selenium. And let's not forget the tradition of eating the heart after a successful hunt. It's a rite of passage for many hunters.
Deer Tongue
The deer tongue might sound odd to some, but it's a delicacy. It's tender when cooked right and soaks up flavors like a sponge.
In terms of nutrients, it's rich in iron, zinc, and fatty acids. Plus, it's versatile. From tacos to stews, the tongue can star in many dishes.
Deer Intestines and Stomach
Now, these might not be everyone's cup of tea, but they're worth a mention. Intestines make great natural sausage casings.
And the stomach? It can be turned into tripe, a key ingredient in many traditional dishes. Both are packed with protein and offer a unique taste experience.
Wrapping Up
From its rich nutrients to the age-old traditions, it's clear that deer liver is more than just a piece of meat.
It's a testament to the beauty of the wild and the bond we share with nature.
But remember, like any wild game, it's all about respect and proper preparation.
So, next time you're out in the woods, and you bag that prize deer, don't overlook the liver. Embrace it, cook it with care, and savor every bite.
Here's to many more hunts and hearty meals! Cheers!
FAQs
Is deer liver healthier than beef liver?
Both deer liver and beef liver are packed with nutrients.
But here's the scoop: deer liver often has a slight edge. It's wild, natural, and free from any additives or hormones that farm-raised cattle might have.
Plus, deer liver is rich in essential nutrients like vitamin A and iron. So, while both are great choices, if you're looking for the wilder, more natural option, deer liver takes the prize.
How soon after the harvest should deer liver be consumed?
Great question! Freshness is key with any wild game. Ideally, you'd want to eat that deer liver within 1-2 days of the harvest.
If you can't, make sure to freeze it. This helps lock in the freshness, avoid cross contamination, and ensures it's tasty when you're ready to cook.
Can children and pregnant women eat deer liver?
Safety first, right? Deer liver is nutrient-rich, which is great. But it's also high in vitamin A.
Too much can be harmful, especially for kids and pregnant women. So, while it's okay in moderation, it's best to consult with a doctor first.
Can I feed deer liver to my pets?
Absolutely! Our furry friends love a good treat. Deer liver is packed with nutrients that are great for them.
Just make sure it's cooked to kill any potential pathogens. And remember, moderation is key. Too much of a good thing can upset their tummy.
How can I minimize the risk of contracting parasites or diseases from deer liver?
First, always ensure you're hunting in a healthy deer population. Avoid areas known for diseases like chronic wasting disease.
When prepping, cook the liver thoroughly. This kills most parasites and pathogens. And always, always practice good hygiene. Clean hands and clean tools make for a safe meal.