Today, we're diving into an exciting comparison that's been a hot topic among us for years: the classic 250 Savage versus the well-known 243 Winchester.
These two calibers have a rich history in the world of hunting and shooting, each with its unique story.
The 250 Savage, a true old-timer, first made its mark in the early 20th century, impressing hunters with its efficiency and lower recoil.
On the other hand, the 243 Winchester, a bit younger in the game, quickly became a favorite for its versatility and prowess in taking down medium-sized game.
Both cartridges have stood the test of time, proving their worth in the fields and forests we love to explore. As we compare these two, we'll look at their origins, how they've evolved, and what makes each one special in its own right.
Whether you're a seasoned hunter or just getting started, this article should help you understand the differences between the two calibers.
History of 250 Savage and 243 Winchester
Alright, let's take a step back in time and see where our two contenders, the 250 Savage and the 243 Winchester, came from.
Picture this: it's the early 1900s, and the .250-3000 Savage bursts onto the scene. It was a real game-changer back then, known for its speed and being gentle on the shoulder.
Hunters loved it for its knack for bringing down deer without much fuss. It was like the new kid on the block who quickly became everyone's best friend.
Now, fast forward a few decades to the 1950s, and here comes the 243 Win. It was born from the need for a cartridge that could handle varmints and bigger game like deer, all in one.
The 243 took what was great about its older cousin, the 308 Winchester, and sized it down. This made it perfect for those longer shots in the field, winning the hearts of many hunters.
Both these cartridges have stories that are woven into the fabric of hunting history.
Technical Specifications
Let's get down to the nitty-gritty and talk about what really sets the 250 Savage and the 243 apart – their technical specs. Now, for us hunters, these details are more than just numbers; they're what make or break our hunting experience.
First up, the 250 Savage.

This cartridge is a bit of a classic, known for its moderate recoil – which means it won't knock your shoulder off when you fire it. It typically fires heavier bullets that weigh between 87 to 120 grains.
That's like the weight of a small bunch of grapes, perfect for a smooth shot. The 250 Savage is also known for its accuracy, making it a reliable choice for those longer shots.
Now, let's talk about the 243 Winchester.
This one's a bit more modern and packs a bit more punch.
It can shoot the lighter bullets between the two calibers. It usually shoots a bullet weight of 55 to 115 grains at a high velocity.
That's like the weight of a small apple, giving you a bit more speed and power. The 243 is famous for its flat shooting trajectory, which means the bullet goes straighter for longer distances, making it a great choice for hunting in open fields.

Both cartridges have their own unique strengths. The 250 Savage is like your trusty, reliable friend, great for a smooth hunting experience.
The 243 Winchester, on the other hand, is like the energetic, powerful buddy who's great for those challenging, long-range shots. As hunters, knowing these technical bits helps us pick the right tool for our next adventure in the great outdoors.
Performance Analysis
This is where the rubber meets the road, or should I say, where the bullet meets the target!
Starting with the 250 Savage, this old-timer is known for its smooth shooting. It's like that reliable hunting dog that never lets you down.
The recoil is gentle, so you won't feel like you've wrestled a bear after a day of shooting. It's pretty accurate too, especially for medium-range shots. Think of it as your trusty sidekick for a calm, steady hunting experience.
Now, the 243 Winchester is a bit of a different beast. It's got a bit more zip to its shots, making it great for those longer-range targets. Imagine reaching out across a big open field to tag that deer you've been eyeing. The 243 makes those long shots feel a bit easier, thanks to its flatter trajectory. It's like having a sharpshooter by your side.
Both cartridges have their sweet spots. The 250 Savage is great for a peaceful day in the woods, where you're not planning to shoot across mountains.
The 243 Winchester, on the other hand, is your go-to for those wide-open spaces where you need that extra reach. Knowing how these two perform helps us hunters make the right call when we're gearing up for our next outdoor adventure.
Rifle Availability
The type of gun you pair with your 250 Savage or 243 Winchester can make a big difference in your hunting experience.
For the 250 fans, the classic Savage Model 99 is a real gem. It's like a piece of hunting history in your hands.

This rifle has been around for ages and is known for its reliability and smooth action. The barrel was made in lengths between 20 and 26 inches. It's a bit of a collector's item now, so if you get your hands on one, you're holding a piece of history!
Switching over to the 243, you've got more modern options.
Popular choices include the Remington Model 700 and the Winchester Model 70. These rifles are known for their accuracy and durability. They're like the trusty trucks of the hunting world – they get the job done and don't fuss about it.

A rifle in either caliber is a great option for a youth hunting firearm.
Ammo Availability and Cost
When we're gearing up for a hunt, one big thing we think about is ammo – how much it costs and how easy it is to find. For those shooting the 250 or the 243, there's a bit of a difference in what you'll experience.
What grain bullet you want to shoot (or reload) will come into play as well.
The Savage ammo can be a bit harder to find on the shelves.  When you do find it, it might cost a bit more than your regular rounds. But for those who love this classic cartridge, the extra effort and cost are worth it.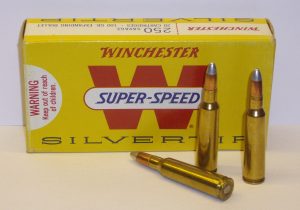 On the flip side, 243 Win ammo is pretty easy to come by. This ammo is more widely available and generally more affordable. That means you can stock up without breaking the bank, which is great for hunters who spend a lot of time in the field.
Hunting Applications
The choice between the 250 and the 243 really comes down to what you're aiming to bag. Both calibers have their own sweet spot in the hunting world.
The 250 Savage is like your trusty old hound, perfect for a calm day in the woods. It's great for hunting deer, especially in areas where you're not taking super long shots. The lower recoil makes it a good choice for younger hunters or anyone who likes a smoother shooting experience. It's all about a relaxed day out in nature, waiting for that perfect shot.
Now, the 243 Winchester is your high-velocity bird dog, ready to cover a lot of ground. It shines when you're hunting in open fields or going after game like pronghorn or mule deer. The 243's ability to handle longer shots makes it a favorite for those wide-open spaces. It's about reaching out across the distance and hitting your mark.
So, whether you're nestled in a forest with the 250 Savage or scanning the horizon with the 243 Winchester, picking the right cartridge can make your hunting trip a success. It's about matching your gear to your game and enjoying the great outdoors. As always, shot placement is critical regardless of caliber.
Hunter Caliber Preference
Choosing between the 250 Savage and the 243 Winchester, it often boils down to personal preference and what you grew up with. You'll hear a lot of different opinions if you hang around hunting camps or online forums.
Some hunters are loyal to the 250 Savage. They love its history and the way it shoots. It's like an old friend that's been with them through many hunting seasons.
They appreciate its gentle recoil and the tradition it carries. It's not just about the hunt; it's about the memories and the stories that come with every outing.
Most hunters swear by the 243 Winchester. They'll tell you about its versatility and how it's perfect for both varmints and bigger game. It's like having a multi-tool in your hunting kit.
The 243 fans often talk about its accuracy at longer ranges, making it a go-to choice for open field hunting.
In the end, whether you lean towards the classic charm of the 250 Savage or the modern versatility of the 243 Winchester, it's all about what feels right in your hands and matches your hunting style.
Wrapping Up
In wrapping up our chat about the 250 Savage and the 243 Winchester, it's clear that each caliber has their own special place in the hearts of hunters.
The 250, with its rich history and low recoil shooting, is perfect for those who cherish tradition and enjoy a more relaxed hunting experience.
On the other hand, the 243, known for its versatility and long-range prowess, is ideal for hunters who face diverse challenges and need a cartridge that can handle it all.
Ultimately, the choice between these two comes down to what kind of hunting you love and what feels right in your hands.
FAQs
What's the effective range of 250 Savage compared to 243?
The 250 is great for medium-range shots, think up to around 300 yards. It's like having a trusty rifle for those not-too-far, not-too-close shots. The 243 Win, though, can reach out further, up to about 400 yards or more, making it a better pick for those long-distance challenges.
Is the 243 Winchester a better deer cartridge than the 250 Savage?
It depends on your style. The 243 is more versatile, shooting a higher velocity bullet, handling both smaller varmints and bigger deer. It's like a Swiss Army knife for hunters. But, the 250 has a softer touch and is great for a classic deer hunt.
How do the two cartridges differ in recoil?
The 250 Savage is known for its gentler recoil – it's easier on your shoulder. The 243 Winchester has a bit more kick (due to higher velocity) to it, but nothing too wild. It's like choosing between a smooth ride and a bit of a bumpier one.