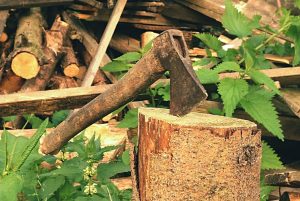 Are you looking for a high quality axe?
Maybe something that could last you a lifetime? That you could pass down to your kids?
We believe every avid outdoorsman owes it to themself to own a quality hatchet.
Nothing compares to a sharp hatchet that holds its edge when it comes time to get the job done.
Whether you are looking for something lightweight to bring backpacking, or something with some character to cut kindling, this review has plenty to choose from. Hatchets and axes come in a variety of sizes but for most small tasks a standard 13-16 inch version will be a solid choice.
We looked at every popular axe on the market to find the best of the best. Our choice came down to quality, durability, how well it holds an edge, as well as fit and feel in the hand.
Top Pick
Our top pick is the Gransfors Bruks. The sleek look of this axe feels just as good in your hand as it looks. It is an excellent choice for someone looking for a lifelong companion to splitting wood.
The 5 Top-Rated Axes and Hatchets
Best Kindling Hatchet: Gransfors Bruks Wildlife Hatchet
If you are looking for something to cut kindling around the fire, look no further than the Gransfors Bruks 13.5″ Hatchet. This hatchet is absolutely beautiful.
These guys are located in Sweden and have been making axes for a long time, well over 100 years. They are known for making some of the highest quality axes you can buy. All of their axes are still manufactured in Sweden.
They use recycled steel for their heads and hickory wood for the handle. Each head has the initials of the blacksmith that produced it. The exact alloy of the steel is their trade secret.
Their axes are a thing of beauty, easily the best looking axe we reviewed if you prefer the traditional wooden handle look. If you are looking for a buy it for life all around hatchet and don't mind the higher price, this is the one to buy.
Key Features:
Hickory Wooden Handle
Weight 1.3lbs
Length: 13.5 inches
Best Budget Axe: Fiskars X7 Hatchet
The modern design and style of the Fiskars X7 will have all your friends and family eyeing this badass tool. The FiberComp handle and molded head are a durable combo and can withstand heavy use and abuse. The weight balance makes it feel almost effortless when using it. The blade is made of a durable carbon steel that stays sharp and requires minimal sharpening.
The total length is 14 inches and it weighs about 1.5 lbs making it a good choice for backpacking, hiking, or camping.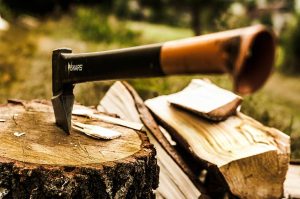 Key Features:
FiberComp Composite Handle
Weight: 1.5 lbs
Length: 14 inches
Best Skinning Axe: Gransfors Bruk Hunter Axe
As for the best axe for skinning, the clear choice is the Gransfors Bruk Hunter Axe. It should come as no surprise that we favor the Gransfors again given the above. This is a great axe if you are looking for something you can take hunting and skin with.
This model is specifically designed with the hunter in mind. It has what is called a rounded 'flay poll' in order to prevent damaging the hide when skinning an animal. They also added grooving at the bottom of the handle to improve the grip when your hands are bloody or wet.
Overall the craftsmanship of this axe is superb. Highly recommended.
Key Features:
Circular Grooves in Grip
Hickory Wooden Handle
Weight: 2 lbs
Length: 18.5 inches
Best Backpacking Hatchet 2020: Morakniv Boron Steel Camping Axe
If you are looking for a fantastic backpacking axe, the Morakniv is our top pick. The design of the handle is extremely satisfying and ergonomic.
Morakniv is company based in Sweden well know for their knives so it should come as no surprise they make a great axe as well.
This model packs well in a backpack and is a light 1.1lbs. The black epoxy coating on the head prevents corrosion and keeps the axe looking nice. Overall, this is an awesome axe for the money.
Key Features:
Black Epoxy Head Coating
Weight: 1.1 lbs
Length 12.6 inches
Limited Lifetime Warranty
Best Carving Axe: Gransfors Bruk Carving Axe
You might be starting to notice a pattern, we really like the Gransfor Bruk axes. Their carving axe is another fine display of craftsmanship.
The head features a double bevel specifically designed for carving. The handle has also been specially shaped for an improved grip for carving. Reviews confirm, this thing carves like butter.
It uses the same proprietary material for the head and dried hickory wood for the handle.
If you are looking for something specifically for carving this is a great choice.
Key Features:
Double Bevel
Hickory Wooden Handle
Weight:
Length:
Axe Buying Guide: Important Features to Consider
A good axe or hatchet has a few key features. Here's what we suggest taking into consideration when selecting the best axe for your purposes:
Type: Make sure it is the right type of hatchet for your needs. It doesn't make sense to buy a small lightweight hatchet if you are primarily going to be using it to split wood around a campfire.
Weight: Weight is something you want to consider, especially if you plan on carrying this tool with you while backpacking or hunting.
Head Material: You will find that various types of material, typically steel, are used for the head of the axe. The perfect axe head is the right combination of hardness and softness. You don't want something that is impossible to sharpen but you also want the edge of the blad to last without having the sharpen it all the time.
Handle Material: Here you will see 3 different materials commonly used for handles.

Metal. Metal has the obvious advantage of durability. If you are looking for the most bulletproof option possible, consider something like the ____. The disadvantages of the metal handle include weight, overall balance, and the impact vibration transfered to the hand makes it less fun to use for longer periods of time.
Wood: Wood is the classic handle choice. It is still fairly durable, and can often be replaced if damaged. The downfall is that it can get damage or wear over time. The wood is ideally dried before use so it does not shrink over time allowing the head to come loose.
Composite: Composite material is a common choice among manufactures now. It allows for different handle shapes to enhance the overall feel and performance of the hatchet. The downside is that it is not as durable as metal. One nice benefit of the composite handle is that it stands up well to moisture exposure.
Top Pick
Frequently Asked Questions
Will the blade get loose over time?
Ideally no but it certainly possible. If you are going to select an axe with a wooden handle, make sure the wood has been dried before it is assembled so it does not shrink over time and become loose.
Do most come with a sheath?
Yes, most of the models we reviewed come with a sheath. Some sheaths were rated better than others but you can typically buy an aftermarket sheath that better suits your taste if you are unhappy with what comes on your axe.
How do I sharpen my hatchet?
You will want to checkout a more thorough resource like the video below. Typically you will need a file and a whetstone. If you purchase one of the higher end models we recommend you might want to consider taking it to a professional occasionally to maintain the edge shape.
What type of steel should I get?
It is hard to say exactly which steel is best. There are other factors like the temper and material hardness that are important to consider as well. We highlighted the models where we thought the material was an issue.
Will my axe rust?
Most axes will show some level of oxidation if left moist. If you care about the appearance of your axe you should wipe it down with a light oil after heavy use.
Can I use my axe with a striking tool?
While you can use it with a striking tool if necessary, we do not recommend it. These models were not designed to be used like that so you are risking damaging your axe.
What is the benefit of a wrapped head?
A wrapped head is just another way of securing the head of the axe to handle. A lot of this is due to more modern manufacturing methods which make this a lot easier. There are some potential benefits like lowering the impact vibration transferred to your hand but we don't think it is enough of an improvement to base your decision on.
Other Hatchets and Axes We Reviewed
Estwing is another longtime hatchet manufacturer. They have been around since 1923 and are still manufacturing their products in Rockford, Illinois USA.
The Estwing hatchet features a metal handle. They use 1055 steel for the head and handle. 1055 is a durable carbon steel which holds up well to impact.
This is all around a solid axe, although in our opinion not as good as the Fiskars. The all metal handle is a little harder on the handle after heavy use and some reviewers said their axe showed up with a glue like residue on it.
Key Features:
Weight: 1.8 lbs
Length: 12 inches
SOG is another popular manufacturer known for making good equipment. This axe seems pretty good overall but reviewers had a few issues with it. Some mentioned the head needing to be retighted over time. Many reviewers also were unhappy with the quality of the sheath.
While still a solid choice, especially if looking for a lightweight hatchet, we think there are better options out there.
Key Features:
Weight: 1.1 lbs
Length: 11.5 inches
The CRKT Birler was not as popular as we were expecting. While it looks like it would be a contender on paper, many reviewers were unhappy with the quality. Some had issues with the head coming loose. Others cited they thought the edge should hold up better. Unfortunately this just isn't a model we can recommend.
Key Features:
1055 Carbon Steel
Weight: 10.3 oz
Length: 15.5 inches
The Husqvarna is unfortunately another model we would avoid. Many reviewers had issues with the head breaking, sometimes during the first use. Others sited a poor fit between the head and handle. Overall, we recommend going for something different.
Key Features:
Hickory Handle
Weight: 2.5 lbs
Length: 13 inches