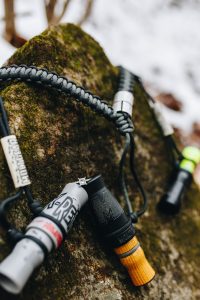 If you are looking for a good lanyard to hold your duck calls,
to keep them safe and handy when you need them…
Then you are going to benefit from the reviews below.
A lanyard is practically a necessity if you are a duck hunter.
Checkout our list of exactly which lanyards we like the best.
Top Pick
After reviewing all the duck call lanyards we could find on the market, the Avery Power is our top pick. It is a well-made, durable lanyard that is comfortable to wear and keeps your calls safe around your neck.
The 4 Top-Rated Duck Call Lanyards
Best Duck Call Lanyard: Avery Power
If you are looking for the best duck call lanyard, our top recommendation is the Avery Power Lanyard.
This is a high quality lanyard. The strap has micro fleece padding so it is very comfortable to wear, especially if you are hunting in a t-shirt.
There are 5 rings spread evenly around the lanyard, making it a great design since you can arrange your calls around it and they are naturally spread out instead of being clumped together in one place.
The lanyard comes with 4 drops for calls, each with 2 attachments, but you can add more if you carry more calls.
Overall this is a great lanyard. You won't have to worry about it breaking and losing calls and it is comfortable to wear. What more can you ask for?
Key Features:
Micro Fleece Pad
5 Rings
4 Call Hangers
Runner Up: Avery Quick Slider
Our first runner up is the Avery Quick Slider. This is another well made lanyard by Avery.
The Quick Slider is more basic in it's features. It is a braided lanyard with 4 drops for calls, each with 2 attachments.
The lanyard is made from parachute cord so it is super strong and you don't have to worry about it breaking.
Overall, it is a solid pick for someone wanting a basic lanyard without additional bells and whistles.
Key Features:
Braided Parachute Cord
4 Drops, 2 Attachments Each
Runner Up: Duck Commander Cut Em
Next up is the Duck Commander Cut Em. This is the lanyard you will see being used on the show Duck Dynasty.
The lanyard has a neoprene neck strap for added comfort, and the lower portion is braided parachord.
The lower half of the lanyard is removable with 2 buckles. It comes with an extra strap so you can swap out entire groups of calls if you would like.
The drops held on by snap-swivels and have 2 attachments per drop which we like.
Overall, we think this is a great lanyard, we just think the Avery is a bit higher quality for the price.
Key Features:
Neoprene Neck Pad
Removable Lower
5 Drops, 2 Attachments Each
Runner Up: Duck Commander Braided
Our final runner up is the Duck Commander Braided lanyard. This is similar to the Avery Quick Slider in that it is a braided parachord lanyard.
This lanyard has 6 drops, each with only a single attachment. 2 of the drops are removable and can be relocated.
The parachord makes this a strong design that isn't likely to break.
The main reason we like the Avery better is because each drop has the 2 attachments which works better for certain calls.
Key Features:
Braided Parachord
6 Drops, Single Attachment
Who Should Buy a Duck Call Lanyard
Anyone hunting ducks is almost certainly going to be using calls to try to improve their chances. If you have any calls at all, even if it is just one, you would benefit from carrying it on a lanyard.
A lanyard makes it to your call is always handy and ready for use. You don't have to spend time searching to find it in your blind bag etc. If you use multiple calls, it is a great way to lay them out in a specific order around your neck so you always know which call is where.
Keeping your duck calls on a lanyard is also a great way to keep from losing them. If they are always attached to your lanyard, all you have to do is keep track of that lanyard and you will never lose a call.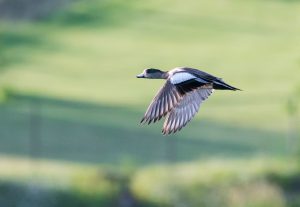 Important Features to Consider
Comfort. Since you are going to be wearing the lanyard all throughout your hunt, and hopefully you get to hunt often, you want to make sure to get a lanyard that fits well and is comfortable.
Durability. Duck calls are not cheap. You want the risk of losing one due to the lanyard breaking to be as close to zero as possible. We believe the lanyards recommended minimize this risk more than any others on the market.
Number of Calls. Keep in mind how many calls you have and how many you actually plan to carry on your lanyard. Make sure that you select a lanyard that can hold them all.
Lanyards to Avoid
There are a lot of inexpensive lanyards available on the internet at low prices. While some of these might be well made, we don't think it is worth saving $5-10 to risk going with a less reputable brand that no one has ever heard of. Most duck calls cost a lot more than the difference in price.
To us, we would rather spend a little more and feel safer about not losing any calls.