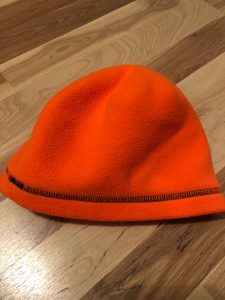 Are you looking for a high performance hunting beanie…
One that will keep your noggin warm even when it's freezing?
Well you're in luck, because there are tons of great options to choose from.
We surveyed as many hunting beanies as we could find and narrowed our favorites down to the five below.
We hope this article can help you find the right one for your next hunting excursion.
Top Pick
After taking a look at all the beanies we could find, we selected the SITKA Jetstream as our top pick. It is the most well rounded beanie that will serve you well over a variety of weather conditions. The beanie is well-made, comfortable, and keeps your head warm.
The 5 Top-Rated Hunting Beanies
Best Hunting Beanie: SITKA Jetstream
SITKA makes some of the best hunting gear on the planet. It is no surprise that we selected the SITKA Jetstream beanie as our top pick.
This is a high performance beanie suited for all sorts of conditions.
It features SITKA's windstopper technology combined with Gore-Tex to keep you protected from the elements.
The fit is great. The soft micro-grid interior feels soft on  your head. We noticed that it does a good job of keeping moisture from building up even though it provides a lot of warmth.
The four-way stretch exterior seems pretty durable. It even has a pony tail port for those of you with long hair.
While we think this beanie is awesome, if it doesn't quite fit what you're looking for our next pick is great as well.
Key Features:
Fleece
Windstopper Technology
Four-Way Stretch
Poly Tail Port
Runner Up: First Lite Brimmed Merino
Our first runner up, the First Lite Brimmed Merino, is another beanie we really like a lot.
First Lite is well known for their use of merino wool to make high quality hunting clothing.
Merino wool has a some great benefits. Merino wool:
Still keeps you warm even when it gets wet
Naturally fights off bacteria causing body odor
Feels great on the skin
The material is thin, lightweight and breathes well. The fit is conforms to the head well without feeling too tight.
While this beanie isn't meant for extremely cold conditions, you should be fine wearing this at least down into the 30's F without a problem.
In addition to blocking the sun, another cool perk of having a brim is that it does a good job of keeping your jacket hood from falling over your eyes.
These come in a number of different color combos. Once you have one, you just might find yourself wanting another.
Key Features:
Merino Wool
Integrated Brim
Best Cold Weather Hunting Beanie: SITKA Fantatic WS
If you are heading out for a hunt in the extreme cold, consider getting yourself a SITKA Fantatic Windstopper beanie.
Just by looking at them, you can tell these beanies are built for the coldest conditions.
Both the inside and outside are fleece. In between, they put SITKA's 100% windproof windstopper membrane.
The outside also has the durable water repellent (DWR) finish to protect against light rain.
We can't say it enough, this beanie is warm! Don't get this if you plan on hiking around a lot in moderate temperatures, it is built for the cold.
If the options above are a little too expensive, don't worry. Our next pick is for those on a tighter budget.
Key Features:
Fleece Inside and Out
Windstopper Technology
Acoustic Hearing Ports
Best Budget Hunting Beanie: Carhartt Camo
For those of you on a tight budget, we recommend the Carhartt beanie.
This is a good all around beanie at a very reasonable price.
The beanie is made from 100% polyester fleece which is both soft and warm.
It is versatile enough that you could probably wear it both during the spring and fall.
When the wind picks up and it's pretty cold you can start to feel the elements a bit.
Overall, it's hard to go wrong with this much quality for the price. Most hunters will be happy.
Key Features:
100% Polyester
2 Camo Options
Best Orange Hunting Beanie: SITKA Ballistic Blaze
If you are looking for the best blaze orange beanie on the market, the SITKA Ballistic Blaze is our top recommendation.
Like the other SIKTA beanies above, this one comes with a number of great features. Our favorites are the:
Durable outershell with water resistance finish
High loft berber fleece lining for warm and comfort
Bright vibrant blaze orange to keep you safe
It does an amazing job of trapping heat around your head. You will be plenty warm in well below freezing temperatures.
The fit of the beanie is great, nice and snug around the head.
Not to beat a dead horse, but the SITKA beanies recommended all exceeded our expectations. We think you will be thrilled with any one of them.
Key Features:
Blaze Orange
Fleece Lining
Water Repellent Finish
Who Should Buy a Hunting Beanie
Unless you only hunt early season when it's hot out, you should own a hunting beanie. There is no better way to keep you head and ears warm.
Beanies do come in a variety of thicknesses and materials so it is important to keep your typical hunting conditions in mind when picking one out.
Another thing to consider is whether you are naturally warm or cold. Some of us are prone to overheating while others can't seem to get warm no matter what we do.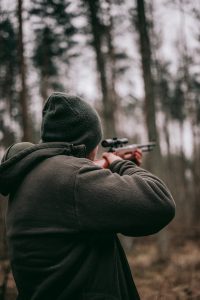 Important Features to Consider
Comfort. You want to make sure your beanie fits your head and is comfortable to wear for hours at a time. If the beanie is too tight or doesn't quite fit over your ears, it is time to find a different beanie that works better for you.
Warmth. The whole point of wearing a beanie is to keep your head warm. Make sure you get one that is going to be warm enough for the conditions you hunt.
Material. When it comes to material, the recommendations above can be broken down into two choices – fleece and wool. In general, wool breathes the best and wicks away moisture. If you are purely after warmth, fleece is likely your best bet.
Durability. Just like the rest of your hunting gear, you want your beanie to last. With that said, we believe all the beanies above are as high quality as any others on the market. You shouldn't have any issues getting years of life out of any of these choices.