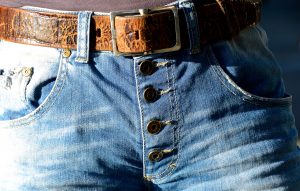 Keep your pants on!
A good hunting belt is often overlooked but an important piece of hunting gear that can make your hunt more comfortable.
Aside from holding your pants up, a hunting belt can hold other gear like knifes, tools, range finders etc.
Checkout our review below to find out which belt we like best and which will work well for you.
Top Pick
After our reserach and testing, we selected the First Light Flex Field belt as our top pick. This belt is phenomenal and one we think any hunter would love to have. The slight stretch noticeably improves the comfort and the quality of the belt is excellent.
The 5 Top-Rated Hunting Belts
Best Hunting Belt: First Lite Flex Field
If you are looking for a great hunting belt at a reasonable price, the First Lite Flex Field belt is the way to go. This is a quality belt that is designed specifically for the demands of hunting.
It uses a heavy-duty stretch weave of nylon which allows a little stretch in the belt when you bend over or sit down. You probably know the feeling of .l..
What's great about this belt is that it stays tight even after a rigorous hike.
These come in 3 different sizes to accommodate different hunters. It is lightweight at only 3 oz. and is nice an low profile.
The width of the belt is 1 7/16″ so you shouldn't have any issue using it with most pants.
We like this belt so much we have started wearing it daily.
Key Features:
Heavy-Duty Woven Nylon
Width: 1 7/16″
3 Sizes Available
Runner Up: Sitka Lightweight Stealth Belt
The Sitka Lightweight Stealth Belt comes in closely behind the First Lite as our first runner up. This is another high performance hunting belt.
The belt has a nice, lightweight aluminum buckle and the belt itself is low profile.
It is made of 100% Nylon and uses a hook and loop style buckle so you can stay quite when out in the woods.
The only reason we didn't select it as our top pick is because it costs a bit more and only comes in gray.
Key Features:
100% Nylon
Width: 1 5/8″
5 Sizes Available
Runner Up: Sitka Bomber Belt
The Sitka Bomber Belt is another excellent belt from Sitka. This is a beefier belt for you hunters looking for something more heavy-duty.
The belt is noticeably more rigid than the lightweight model above. It is a great choice if you plan on carrying a firearm on your belt and you want to minimize movement.
This belt is also made from 100% Nylon but unlike the lightweight model, it uses a locking buckle.
It does cost a bit more but if you prefer a heavy-duty belt, you will be happy with the Bomber.
Key Features:
100% Nylon
Width: 1 5/8″
3 Sizes Available
Runner Up: Croakies Artisan 2
For hunters looking for Kryptek's camo pattern, the Croakies Artisan 2 belt will serve you well. What's cool about this belt is that it is made from recycled bottles which eliminates waste and promotes sustainable manufacturing.
This belt only comes in one size, so it will require you to trim the belt length after fitting it to yourself. It is 1 1/2″ wide so you shouldn't have issues with it fitting most pants.
The buckle also includes a bottle opener which can come in handy when it is time to celebrate a successful hunt.
Key Features:
100% Recycled Bottles
Width: 1 1/2″
1 Size Fits All
Best Budget Hunting Belt: Fairwin Tactical Belt
The Fairwin Tactical Belt is a great choice for you hunters looking for a belt on a budget. This belt is a very popylar pick for the concealed carry and EDC crowd.
The Fairwin uses a heavy duty aluminum military buckle with a quick release.  The belt itself is 1 1/2″ wide and comes in 3 sizes. It is made from Nylon.
Fairwin offers a 2 year warranty so if you have any issues with this belt they will send you a brand new replacement.
Key Features:
100% Nylon
Width: 1 1/2″
3 Sizes Available
Who Should Buy a Hunting Belt
Anyone who wants to keep their pants up should wear a belt when hunting!
In all seriousness, a good belt can make hunting more comfortable. The belt will keep your pants from sliding around and also provides a good location to hold your knife or other hunting gear.
Important Features to Consider
Comfort. The whole point of wearing a belt while hunting is to be more comfortable. Goal number one is for it to keep your pants up but if it does so in a way that is uncomfortable it is as good as useless. You want a belt that does not dig into you and rub especially when doing a lot of hiking.
Size. Make sure you select a belt that is the right size. Most of the belts above are not what we would consider inexpensive so it only makes sense to get one that fits. Pay attention to both the length and width. Measure the belt looks on your hunting pants to ensure it will fit ahead of time.
Buckle. A good buckle is a critical component of a belt. Ideally the buckle should stay locked and not allow the belt to come loose over time from movement during hiking.
Durability. All of the belts recommended above are made from high quality, durable materials. Hunting can be hard on your gear at times so we like the motto "buy once, cry once" in this case.
FAQs
What size should I get?
All the manufacturers above have a chart that recommends the size you purchase for your pant waist size. If in doubt, reach out and contact them for their recommendation.
Can you adjust the size?
This depends on the manufacturer. Some of the above have difference sizes for different waist bands while others have one size fits all. If you pick a specific size be sure to consult their sizing chart to get the right size for you.