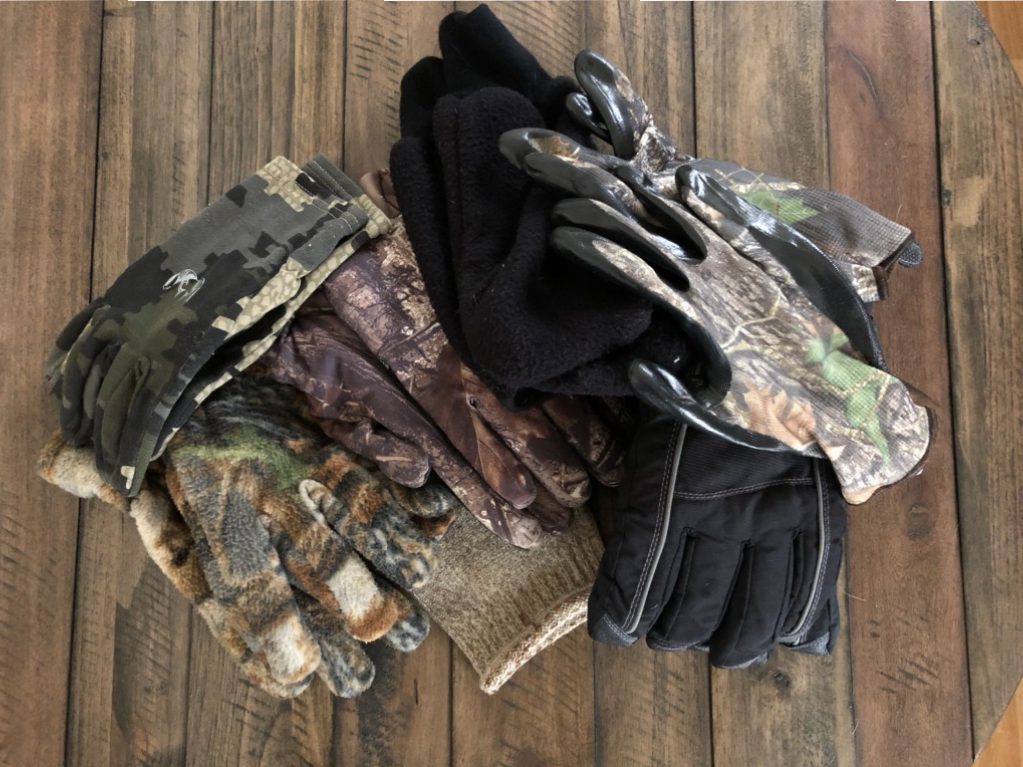 Today's post is to help you pick the best cold weather hunting gloves.
Whether you are hunting in moderate weather or extreme cold, you will find some great recommendations below.
Quick show of hands.
Who else is still searching for that perfect hunting glove that'll keep your hands warm in the freezing cold?
Yeah, most of us are.
Because the fact is, there are so many opinions on what is best that it is hard to know who to trust.
I went on a search to find the best hunting gloves and I was surprised by what I found.
Let me explain.
Best Hunting Gloves Summary
Before we dive into the details, here is a summary of how I ended up ranking the gloves for those of you short on time.
The bottom line:
How cold is "cold"?
One issue I came across was that everyone has a different definition of what cold is.
Some think cold is below freezing (32F). Others don't consider it cold until the temperature is sub-zero.
So for this reason, I broke up my recommendations into two groups.
The first group is for those hunting in the coldest temperatures. I considered this anything under 20F.
Why should you trust me?
Well, because I am a hunter and actually put these gloves to the test.
I have hunted in weather down to 0 degrees Fahrenheit and know as well as you do how miserable a pair of crappy gloves are when it is freezing cold.
I have personally tried out over a dozen different pairs of gloves to reach these conclusions.
My goal is to help you figure out which gloves are best suited for your particular circumstances.
I am confident that if you read through the reviews below, you will be able to find a pair of gloves you will be happy with.
If this sounds good to you, then keep reading.
For those of you that are interested in learning more about how I decided which gloves are best, read the buyer's guide at the end of the article.
Best Cold Weather Hunting Gloves (20°F and below)
The First Lite Grizzy gloves are fantastic.
First Lite Grizzly 2.0 Trigger Mitt
Exclusive 37.5 Active Particle Technology Exhausts moisture and maintains core body temperature Traps odors (human signature) and releases them when laundered
Removable, wool shearling liner mitt separates from the outer shell to aid in drying or offer versatility to the user
Wrist gauntlet with locking draw cord for a customized, dialed fit. Webbing loop for upright hanging & a sueded thumb nose wipe
If you'd love to be more comfortable next time you are hunting in the cold, then look no further.
Here's what sets these gloves apart…
First Lite combines a waterproof exterior with wool liners.
Wet clothing is one of the fastest ways to being cold. The waterproof shell combined with the breathable insulation does an excellent job of keeping your hands dry and warm.
Also, one of the worst things about hunting in the cold is when your nose runs.
And if you are like me, you end up wiping your nose so much that your skin gets raw.
Luckily, First Lite had this exact issue in mind when they designed this glove with a soft suede thumb specifically for wiping your nose.
Score: 4.5/5
Key Features and Specs:
First Lite's attempt at the ultimate cold weather hunting glove.
Hunting mittens combined with articulating trigger finger
Lots of leather reinforcement for durability
Includes removable liner.
The reviews for these gloves are phenomenal.
My take: These are the best cold weather hunting gloves money can buy. I love the trigger finger design combined with the mitten for the other fingers. The suede thumb is a nice touch. I think you will be thrilled with your purchase.
If you have been hunting for a while now, you have probably heard of SITKA.
SITKA Gear Incinerator Flip Mitt Optifade Elevated II Large
INCINERATOR FLIP MITTS - Available in sizes medium, large, and x-large. (Available Color: Elevated II)
INSULATED FLIP OVER MITT - The insulated flip over mitt keeps your hands warm and relaxed with a 100% windproof GORE WINDSTOPPER membrane surrounded by PrimaLoft Gold down insulation blend.
DURABILITY AND PROTECTION - Equipped with leather palms to provide added protection as well as a no-slip grip, and features atriculated fingers for ultimate dexterity and precision.
They make some of the highest quality hunting gear on the planet.
These gloves are no exception.
Here's why…
Because of the demands of cold weather hunting, they wanted to design something that will keep you warm but also still maintain the dexterity of full-finger movement required for handling your weapon.
These combine a special wind-stopping external shell with down insulation to make sure you can perform even in the harshest of conditions.
And the leather palms provide excellent grip even if they get wet.
The only issue I found with them is that the magnet that holds the mitts back when flipped could be stronger.
Score: 4.3/5
Key Features and Specs:
Sitka is one of the most popular high performance hunting clothing brands on the market today.
Focus on form-fitting, high performance materials.
These gloves feature a flip open mitt to capture the dexterity of gloves and the warmth of mittens.
The outershell is a special windstopping material.
My take: I like everything about these gloves. In my opinion they could easily be considered the best cold weather hunting gloves made.
The only reason I ranked them below the First Lite's is because these require the mitt to be flipped up to use the trigger. Any design that pairs hunting mittens with trigger finger is guaranteed to be popular if made well.
If you plan on hunting in very cold climates, consider investing in these high performance gloves.
If you're looking for gloves that still perform great at a lower price point, look no further than the Carhartt Mitts.
These do everything you would need out of a pair of mitts specifically in cold weather.
How do they stack up against the two pairs of gloves above?
Keep reading to find out…
The outer shell of the Carhartt gloves is a waterproof and windproof polytex shell.
And this is combined with a FastDry technology that helps wick moisture away from your sweaty hands.
Carhartt fills these gloves with a synthetic polyester insulation to trap warm air and keep you hands warm.
Comparing it to the First Lite and SITKA gloves, I was pleasantly surprised that these seem to be just as warm.
Score: 4.1/5
Key Features and Specs:
Durable, high quality design you would expect from Carhartt
They feature a special synthetic material for wicking moisture from the hands.
A waterproof and windproof polytex shell.
The price point is great especially considering the cost of the other gloves on this list.
My take: These Carhartt mittens were the be surprise in my search. They are highly rated. I think they will be an excellent combination when paired with a merino wool liner.
This will be the setup I will be trying next hunting season. My biggest issues with them are that there isn't a camo option and that they require you to take the mitt off to use the trigger.
Next up, we have another great option from SITKA.
SITKA Gear Blizzard GTX Mitten Optifade Open Country X Large
BLIZZARD GTX MITTENS – Available in medium, large, and x-large. (Available Colors: Open Country and Subalpine)
Innovative MATERIAL – A rugged waterproof GORE-TEX Shell seals out snow and rain while a removable PrimaLoft insulated liner provides critical warmth in the coldest conditions.
ENGINEERED TO ENDURE – The Blizzard GTX Mittens are for hunters who leave no stone unturned when glassing for game and thrive when the weather is at its worse.
The main difference between these and the SITKA Incinerator gloves above is that these do not have the mitt that flips back.
These are strictly mittens, they do not have individual fingers.
This is why I didn't score them quite as high.
But, if you are looking for gloves that will keep your hands warm and don't need finger gloves, these get the job done.
Score: 4.1/5
Key Features and Specs:
Waterproof Gore-Tex Shell
Removable PrimaLoft insulated liner for warmth.
Designed for all climates.
My take: These mittens by Sitka are another great cold weather hunting glove. I like them for all the same reasons as I like the Flip-Mitts. My only gripe with them is that they are the same price as the Flip-Mitts but they do not flip open.
HOT SHOT Men's Camo Huntsman Pop-Top Mittens – Realtree Edge Outdoor Hunting Camouflage
INSULATED: The Men's Hot Shot Camo Huntsman Mittens are lined with 80 grams of 3M Thinsulate Insulation. It is a brushed tricot pop-top mitten, the perfect accessory to stay warm outside without having a bulky hand.
OUTDOOR: These gloves are a great item for outdoor lovers who enjoy hunting and fishing. The Realtree design camouflages into your hunting surroundings and seasons. Available in medium, large and extra large.
ODOR RESISTANT: Odor-XChange lining technology wicksaway moisture to keep your hands warm and dry. They are a great gift option for your favorite huntsman and easy to take off after use.
Score: 3.8/5
Key Features and Specs:
Affordable gloves for someone who prefers the flip-top style glove but can't afford the Sitka Flip-Mitts.
80g of Thinsulate insulation as well as a anti-microbial lining so they don't start to smell.
ProText finger tip so you can operate your cell phone without taking the glove off.
My take: For the price I think they are great gloves. They don't seem to be quite as durable as the others and some owners say they could be warmer. Adding hand warmers (discussed below) can help overcome the few shortcomings.
Score: 3.7/5
Key Features and Specs:
Integrated "pockets" to place hand warmers inside.
My take: If you plan to hunt from a sheltered blind I think they could work well. I personally prefer the gloves discussed above. These gloves should keep you warm under the right conditions but I have a few concerns:
Some say the warmers fall out easily.
They will not help much if they get wet.
Best All-Around Hunting Gloves
If you hunt in 20-40°F weather, look at the gloves in the second group. These gloves will not perform as well in the most extreme conditions but do offer better dexterity.
The Badlands Convention Gloves are the best all around hunting gloves.
In fact:
If you aren't planning on hunting in extremely cold weather, there is no reason to own any other pair of gloves besides these.
They are waterproof and made completely of polyester.
One of the things I like best about them is that they are very flexible and hardly restrict your dexterity at all.
And the price is also pretty reasonable given that these are high-end hunting gloves.
Score: 4.3/5
Key Features and Specs:
100% Polyester
Waterproof
These gloves are much more flexible than they look.
Warm despite a slimmer profile.
My take: Badlands did a good job of making these warm without them being too bulky.
I love Badlands products. They make exceptional gear at a modest price. I have been using their backpacks for a few years now and couldn't be happier. My experience with these gloves has been just as good.
Score: 4.2/5
Key Features and Specs:
Waterproof but breathable with GORE-TEX
Leather palms
Designed for use in any element
My take: If you have the money to spend and you want the best cold weather gloves money can by, the Sitka Mountain Windstoppers are the best you can get. They offer the best combination of comfort, durability, dexterity, and warmth.
Score: 3.7/5
Key Features and Specs:
Feature Tech Touch on thumbs and fingers so you can use your phone.
Under Armour's Scent Control technology.
Foam padding over knuckles for protection.
My take: As most of you know, Under Armour is a major clothing retailer. Their hunting gear is typically high quality and focused on performance. Like their other clothing, they focus on pleasing customers who put their gear to the test.
Owners say these are well made but run a bit small. The Under Armour windstopper gloves are a solid choice for someone looking for a good quality glove. So, they are suitable for all but the most extreme conditions.
Score: 3.7/5
Key Features and Specs:
Feature a waterproof liner to keep your hands dry.
The price point is excellent. They are so cheap I will be buying a pair to throw in my truck for use even when not hunting.
They are light enough that you are still able to feel the trigger while shooting.
My take: Another solid choice from Hot Shot. The Defender model has less insulation than the Huntsman model. At this price point, these are hard to beat. The Hot Shot Defenders are a great choice if on a tight budget.
Types of Hunting Gloves
Full Finger Gloves
Full finger gloves are the most common gloves used for hunting. They provide a nice compromise between finger dexterity and warmth. Full fingers will typically be warmer than fingerless but not quite as warm as mittens. For most hunters, full finger gloves are likely going to be your best choice.
Half Finger "Fingerless" Gloves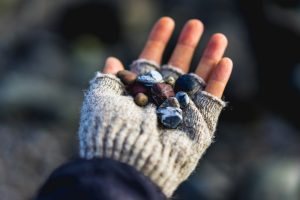 Fingerless gloves sacrifice some warmth for better control of your fingers. A lot of times you will notice a full finger glove limits your range of motion and takes away your "feel" when doing something like pulling a trigger. But this added control comes at a cost. Fingerless gloves are usually much less warm than full fingered gloves or mittens. I would not recommend using them in extreme cold weather.
Mittens
Mittens are generally going to be the warmest hunting gloves. They cover all of your fingers with a pocket-like cover. This greatly reduces the surface area of your fingers and hand that are exposed to cold air. And you hands will be much warmer as a result. The downside of using mittens is that it is impossible to do something like pull a trigger. Usually the pocket covering your fingers can flip up and expose your fingers for doing something like firing a gun.
Hunting Glove Materials
Gore-tex
Gore-tex is a high performance material commonly used in hunting clothing. The material is a waterproof, breathable fabric membrane. The major benefit of this material is it's ability to repel water from getting through while still allowing water vapor to pass.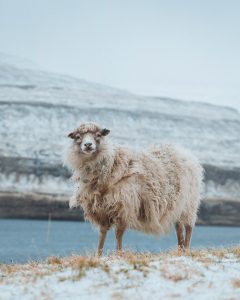 Wool
Wool is another fabric often found in hunting clothing, especially clothing designed for cold weather. Gloves made with wool have many benefits. It breaths well, keeps you warm even if it gets wet, and doesn't smell even after repeated use.
Polyester
Polyester is a durable, lightweight material that works well for hunting gloves. It is a synthetic material that breathes well and dries quickly once it gets wet.
Fleece
Fleece is commonly used in hunting gloves to provide insulation and warmth. It is lightweight, durable, and feels soft against your skin. This is why it is often used on the inside of gloves.
Leather
The main purpose of leather in hunting gloves is that it is durable. So while gloves make entirely of leather won't keep you warm, it's durability is great for areas like the palm that are subject to a lot of wear.
Choosing the Best Cold Weather Hunting Gloves
Instead of basing my conclusion purely on the reviews of others, I turned to science.
Keeping hands warm follows the same layering principles you should be using for the rest of your body. And picking the best cold weather hunting gloves is no different.
For those of you that are not familiar here is the basic gist:
Breathable base layer
Insulating layer
Outer layers that include a shell to protect from elements.

This scientist takes the same approach to keeping his hands warm in -40F temperatures.
While doing research, I learned the following:
Water conducts heat much better than air so it is important to wear gloves with a material material touching the skin. This rules out any cotton options.
Open, coarse knitting pattern does a poor job of protecting from wind.
Outer layer must provide wind and water protection.
In the layers between the outer shell and the layer touching the skin you want to trap warm air. So, this layer provides the insulation.
Finger tips are a problematic area because they usually have less of this surrounding insulation layer.
Mittens do a much better job of keeping your fingers warm because they keep their warmth together. When you have individual fingers they are all on their own. Not only are they on their own, but more surface area is exposed to the cold air. The result is they lose heat much faster.
Important Features to Consider
Warmth: Combination of insulation, water protection, and wind protection. Mittens scored better than gloves.
Durability: Here I considered the materials used, whether there seemed like any flaws, and the feedback of others.
Comfort: For comfort, I looked at the fit and overall design. I considered finger fit, thumb fit, palm fit, and wrist fit.
Dexterity: The ability to still use your hands for hunting related tasks is a benefit. Ideally you can still operate your weapons but that was not the case for all gloves.
Keys to keeping your hands warm in cold weather
Wear multiple layers
Use mittens to keep finger heat trapped together
Pick a wicking material for layer that touches skin
Have an air trapping insulation layer
Use an outer shell that protects from wind and water
Add hand warmers for extra warmth
Other Ways To Keep Your Hands Warm While Hunting
Use Glove Liners
Looking for more warmth?
Try a multi-layered approach.
By using a liner glove you will add extra insulation as well as a good wicking material against your skin.
I used a merino wool liner all last season. When it was warmer, I would only use the liner.
This worked great.
Because the liner glove is much thinner and lightweight so I hardly lost any dexterity by using it.
When the temperatures were cooler, I added a second pair of gloves for more insulation and protection.
And when choosing a liner glove, stick to something
fairly
thin. Buy a glove made from either wool or another good wicking material. I prefer a glove liner with merino wool like these by SmartWool.
Use Hand Warmers For Extra Warmth
HotHands Body & Hand Super Warmers - Long Lasting Safe Natural Odorless Air Activated Warmers - Up to 18 Hours of Heat - 40 Individual Warmers
SAFE, NATURAL LONG-LASTING HEAT - Odorless, Disposable, Single-Use Item, Do Not Apply Directly to The Skin. TSA Approved. Made in the USA using domestic and imported materials.
TO ACTIVATE - Remove warmer from outer package, shake to activate. Warmer heats up in 15-30 minutes. If heat decreases, expose warmer to air and shake. After use, dispose with regular garbage. Ingredients will not harm the environment.
MULTIPURPOSE WARMERS - Single use air-activated heat packs that provide everyday warmth and are ideal for keeping your body warm when the temperature gets cold. They're available in several styles designed for your hands, feet, and body.
These HotHands hand warmers are a great and easy way to add extra warmth.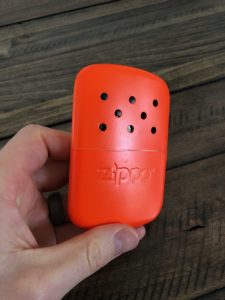 They typically stay warm for 8-10 hours so you may want to carry extras in your backpack.
I personally use a Zippo hand warmer.
Owning the 12 hour version, I have confirmed that it does in fact stay warm for the full 12 hours.
And the design is nice and slim so it fits well in your pockets or backpack when not in use.
I like the fact that it is reusable and I don't have to throw something in the trash every time I use it.
Sale
Gloves to Avoid When Hunting in the Cold
In my search I also came across some gloves that didn't live up to the hype.
There seems to be some flaws for use in the cold. And the Amazon reviews seem to support my suspicions.
What I Don't Like:
While these gloves look like they might perform well in cold conditions, I question their durability.
Others have complained the material is too loose and baggy, and thinner than they appear.
The quality does not seem to be on par with the gloves I recommend above.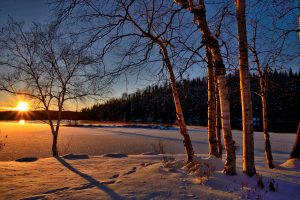 Best Cold Weather Hunting Gloves Summary
The goal of this article is to help you select the best hunting gloves for cold weather hunting. The recommendations can be summarized as follows:
Figure out what the temperature is where you plan to hunt. Cold weather hunting can mean different things to different people.
Choose hunting gloves that wick away moisture.
Use an extra layer under your hunting gloves for added warmth.
If you are still having trouble keeping your hands warm, try using some hand warmers.