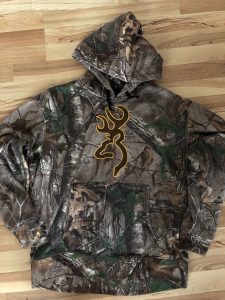 When you're talking about the most versatile piece of hunting clothing…
It has to be a hoodie.
Hoodies are great for layering when it's cold or for throwing over a t-shirt when it gets a little chilly out.
The thing with hoodies is… there are tons of different makes and models out there.
Today's article lists our favorite hunting hoodies and when you might want to use which.
Top Pick
When it comes to the best all around hoodie to hunt in, our top pick is the First Lite Kiln hoodie. This is a high quality hoodie that will keep you warm as well as help wick away sweat and moisture.
The 5 Top-Rated Hunting Hoodies
Best Hunting Hoodie: First Lite Kiln
If you are looking for the ultimate hunting hoodie, our top pick is the First Lite Kiln.
Being big fans of merino wool, we love this hoodie. The material is soft and excellent at wicking away moisture.
The Kiln is meant to be a do-it-all base layer during the cold but also works well all by itself in more moderate temperatures.
The hoodie is designed with a half-zip and also has a nice little zipper chest pocket.
First Lite offers it in 6 different color/camo options.
Key Features:
95% Merino Wool, 5% Spandex
Half-Zip
6 Colors Available
Best Mid Layer Hunting Hoodie: Sitka Fanatic
If you are in search of the highest performance mid layer hoodie, we recommend the Sitka Fanatic comfort stretch fleece hoodie.
When it comes to high performance hunting gear, Sitka is hard to beat and this hoodie is no exception.
It is made from a mixture of polyester and elastane and designed to keep you warm yet also wick away moisture.
In addition to having a hood, Sitka integrated a built-in mesh face mask for added warmth and concealment.
The hoodie also has a half-zip in the front so you can open it up to cool down quick if needed.
Key Features:
88% Polyester, 12% Elastane
Built-In Face Mask
Half-Zip
Warmest Hunting Hoodie: Banded Atchafalaya
Looking for a hoodie that will keep you warm? We recommend the Banded Atchafalaya camo hoodie.
The inner portion is lined with a coral fleece that keeps you warm and is so soft it's like being wrapped in a blanket.
This thing is so warm you would get away with duck hunting in it with just a t-shirt underneath.
The outer shell is made from a water resistant, windproof material that is super quiet.
Banded makes this hoodie in 6 different camo patterns so you should be able to find one that matches your gear and terrain.
Key Features:
Polyester
6 Camo Patterns Available
Fleece Lined
Best Everyday Hunting Hoodie: Vortex Optics
For those of you just looking for a hoodie you can use for everyday wear, checkout the Vortex Optics.
While this isn't a hoodie we recommend you do any strenuous hunting in, it is well price and well made, making it perfect for everyday use.
It is made from a blend of cotton and polyester and feels soft on the skin.
Overall, it's a nice sweatshirt at a good price point.
Key Features:
60% Cotton, 40% Polyester
Multiple Camo Patterns Available
Runner Up: HOT SHOT Fleece Hoodie
Another great hoodie option is the HOT SHOT Camo Performance Fleece.
Even though we didn't rate it as high as some of the others on the list, we still really like this hoodie.
It is made from an athletic fit fleece to insulate you while regulating body temperature as well.
The HOT SHOT camo pattern is awesome looking, and will keep you warm at the same time.
Key Features:
Athletic Fit Fleece
Kangaroo Pocket
Who Should Buy a Hunting Hoodie
Everyone needs a hoodie. Hooded sweatshirts are one of the most versatile pieces of clothing a hunter (or anyone) can own.
You can use them as part of your layering when hunting in cold weather. Or you can just throw one on over a t-shirt when it starts to get a little chilly.
The reason you might want a hoodie instead of a long sleeve shirt or hood-less jacket is… because it has a hood!
The hood is great for protecting your ears, neck, and head from the elements whether that means water, sun,  or wind.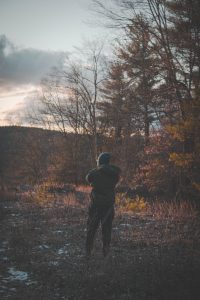 Important Features to Consider
Use Case. Are you wanting a hoodie that can serve as a base layer? Or do you just want a sweatshirt you can throw on when it gets a little chilly? Make sure to think about when you're actually going to wear the hoodie because the hoodies above vary depending on the environment they are used in.
Material. If you are going to be wearing your hoodie when hiking or sweating, consider avoiding hoodies with cotton in them. We personally are huge fans of merino wool. If you want the hoodie to add a lot of extra warm, checkout the fleece lined recommendations above.
Extra Features. The only common feature between all our recommendations is the hood. Some designs incorporate extras like built-in face masks, hand warms, pockets, etc. Keep these extra features in mind when making your decision.
FAQs
Do these hoodies make a lot of noise?
All of the hoodies recommended above are quiet. The material rubbing on itself doesn't make much noise.