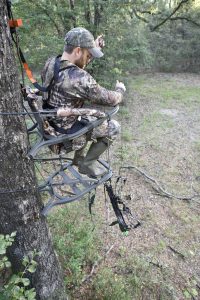 Got a sore fanny?
Tired of a damp backside?
As you are well aware, sometimes hunting involves A LOT of sitting, oftentimes on uncomfortable ground.
If you want to bring more comfort to your hunting excursions, this review will help you find a seat cushion that will help.
It is particularly important to use a seat cushion if you suffer from any ailments like joint pain, arthritis, back pain, etc. Hunting seat cushions are really inexpensive so you owe it to yourself to give one a try.
We reviewed every hunting seat cushion we could track down and think we were able to find the ones that stood out from the rest. We think if you are even considering buying a seat cushion, our picks will be considered money well spent.
Top Pick
After a lot of research, we selected the Hunt Comfort Champion Seat as our top pick. This is an ideal choice for anyone on the hunt and looking for some comfort. It offers the best quality and comfort available whether you plan to sit in a tree stand, blind, or on the ground.
The 5 Top-Rated Hunting Seat Cushions
Best Hunting Seat Cushion: Hunt Comfort Champion Seat
If you want to hunt in as much comfort as realistically possible you should consider the Hunt Comfort Champion Seat. Although a bit more money than the other models reviewed, it offers the best quality and comfort.
The core is filled with medical grade foam which probably explains the increased comfort. The ComforTex material on the outside is waterproof and seems very durable.
The Champion Seat might seem a bit expensive for a seat cushion but if you have issues like back or joint pain, it is a small price to pay.
Key Features:
Dimensions: 14″ x 16″ x 2.5″
Weight: 2.1 lbs
Medical Grade Foam
Waterproof
Runner Up: ALPS Outdoorz Terrain 3″
If you are looking for something a little less expensive than our top pick, the ALPS Outdoorz Terrain is another great pick. It comes in two different thicknesses, the other of which is listed below.
The center is made of rubber so it is naturally firm and will not absorb water. The outside is water resistant but not waterproof.
It has a nice easy to use clip which you can attach to your belt or backpack for transport. The cushion is nice and lightweight as well.
Key Features:
Dimensions: 15.5″ x 12″ x 3
Weight: 1.1 lbs
Firm
Runner Up: Allen Company 1″
The Vanish Hunting Foam Cushion from Allen Company is an okay option for hunters looking for a thin, lightweight pad that doesn't cost a lot.
The cushion is only 1″ thick so it isn't nearly as comfortable as the two above, but hey, it's better than nothing.
If you plan on spending a lot of time on your seat cushion, we recommend you look elsewhere. But if you are on the lighter side and just need a little padding, this can be a good option.
Key Features:
Dimensions: 14″ x 13″ x 1″
Firm
Best Budget Hunting Seat Cushion: Northeast Heat A Seat
Let's face it, hunting can be expensive and sometimes we need to save money wherever we can. The Northeast Heat A Seat is a surprising good product for the price. Costing about the same as a few cups of coffee, if you are looking to try a cushion but don't want to spend much money give this a shot.
It is a little bulky but it is pretty comfortable, almost like a pillow. The outer material is quiet and waterproof as well. The insulation material is supposed to retain and reflect your body heat to help keep you warm as well.
Key Features:
Dimensions: 16" Diameter
Waterproof
Best Treestand Seat Cushion: Northeast Therm-A-SEAT Predator
Finding a comfy cushion to use in a stand can be a challenge, but the Northeast Predator fits nicely. One nice feature of this model is the quiet material that doesn't make noise once you are seated or if you need to move around. It is comfortable and even the largest size isn't overly bulky.
It has a clip so you can hook it on your backpack when moving to and from your stand or blind.
The closed cell foam also prevents any water from building up inside if you do any hunting in the rain.
Key Features:
Dimensions: Multiple Sizes Available
Closed Cell Foam Core
Who Should Buy a Hunting Seat Cushion
If you are spending a lot of your time hunting either in a seated or kneeling position, then a seat cushion can help make your hunts much more enjoyable. A seat cushion can be a very useful piece of gear and if you are even thinking about buying one you should give one a try.
It isn't going to provide you the same comfort as your lazy-boy but they can make a big difference especially if you are prone to aches and pains.
Even if you don't get that uncomfortable while hunting, they are so cheap it's worth it to have a few laying around just in case.
Important Features to Consider
Size: Most of the cushions are roughly the same size but if you are below or above average size you might want to look for something more suited to your frame.
Thickness: This will tie in with the firmness of the cushion but you probably don't want something too thin if you are looking for a seat cushion. While something is better than nothing, you might as well opt for the most comfort possible.
Cushion: Depending on your preference, you may want a firm or soft cushion. In each of the reviews we have indicated where we think a particular cushion falls on the spectrum.
Weatherproof: If you typically hunt in moist or wet conditions you will want to opt for a model that is waterproof. This means some of the open cell versions would not be a good choice for you. The open cell design will hold water and might resemble sitting in a puddle.
Straps: Are you going to be using the cushion in a single location or do you plan to be on the move frequently while hunting? If you plan to move a lot and carry it around with you then opt for one of the slimmer, lighter models with handles.
Other Things to Try
In addition to a seat cushion, you might find some combination of the following helpful for dealing with those pesky, nagging pains that seem to pop up at the worst times.
Anti-inflammatories: No surprise here but what you might want to try is taking a small dose before the pain starts to get out in front of the discomfort. While not a cure, it definitely helps.
Stretching: Doing some basic stretches before and after you sit for a long period of time can help offset putting your body in pretzel-like positions. Focus on the hip flexors, hamstrings, quads, and calves. If you deal with chronic joint pain checkout the book Super Joints.
Take Breaks: It might be difficult, but if possible, periodically standing and moving around a bit can do a lot from preventing those aches and pains for flaring up.
Posture: This one is overlooked but possibly the most important of all. If you can remind and train yourself to sit with correct sitting posture you might be able to prevent the problems from occurring in the first place. We have found the techniques in 8 Steps to a Pain-Free Back to be life savers.
FAQs
Do they still make heated seat cushions?
Unfortunately we were not able to track down any manufacturers making heated seat cushions for hunting.
Are these cushions machine washable?
Most of the models we reviewed are meant to be cleaned by hand if necessary. If you really want to machine wash yours be sure to contact the manufacturer for instructions.
Other Seat Cushions We Reviewed
While we prefer a more firm cushion, if you are looking for something a bit softer and compressible, consider the Beard Buster Jumbo.
Only the bottom is waterproof so this will protect it from moist ground but it will not help if it is raining or very wet. The cushion is well made and seems like it will hold up well to the abuse of hunting.
Some reviewers said that over time it stayed compressed, losing some of its padding.
Overall we think it is a decent choice if you are looking for something soft but we think there are better options out there.
Key Features:
Dimensions: 12" x 15" x 3"
Waterproof Bottom
Open Cell Center