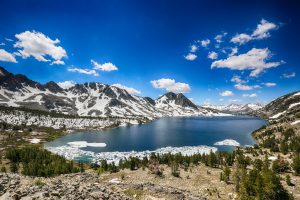 You have probably been missing animals right in front of your eyes.
Let us explain.
Wild animals are great at hiding in plain sight. This is, in fact, one of the mains ways they protect themselves from predators (including hunters).
Luckily, there is a simple solution.
You see, sunglasses are great for not only protecting your eyes but also improving your ability to see. This is especially important when trying to pick out game from a camouflaged terrain.
We have reviewed all of the top manufacturers of sunglasses for an avid outdoorsman. We share our favorite sunglasses for hunters in this post.
Top Pick
After reviewing all the pairs and manufacturers below we selected Costa Del Mar Saltbreak as the best pair of hunting sunglasses currently available. These are fantastic sunglasses. Costa makes the frames from a durable nylon and the lenses are available in glass as well as polycarbonate.
The 6 Top-Rated Hunting Sunglasses
Best Hunting Sunglasses: Costa Del Mar Saltbreak
If you are looking for the best hunting sunglasses on the market, Costa Del Mar Saltbreak are our pick. While we could have selected any one of Costa's many styles, we prefer the fit and style of these the best. These glasses provide a few unique features not found on most other sunglasses.
First, the lenses are available in glass. Costa refers to these as their 580G lenses. The benefit to glass is superior clarity, scratch resistance, and improved polarization.
The lenses are also available in polycarbonate. Costa calls these their 580P lenses.
Their lenses are available in a wide variety of colors. We would recommend that you go with one of the non mirrored lenses to reduce the chances of startling wild game.
Costa makes their frame out of an injected, bio-based nylon material which they claim is very tough and durable.
These glasses come with a limited warranty and would also work well for fishing.
All in all, Costa makes fantastic sunglasses for outdoorsmen. You will be happy with any pair you buy from them, we certainly are.
Key Features:
580G or 580P Polarized Lenses
Nylon Frame Material
Limited Warranty
Runner Up: Smith Guide's Choice
Our runner up pick for hunting sunglasses are the Smith Guide's Choice Sunglasses. Smith and Costa are arguably the most popular manufacturers of sunglasses among fishermen. We think they are an equally great choice for hunting.
Smith has been around since the 1960's and was started by an orthodontist who wanted to develop eyewear for snow skiing. He hand built the first pairs in his garage and sold them on the weekends out of his van in Utah and Colorado.
They use their signature ChromaPop polarization on the lenses which results in low glare and great clarity.
You can select lenses with an anti-reflective coating which we recommend for hunting.
The Guide's Choice model is specifically meant for those who live their life doing outdoor activities like hunting and fishing.
We have had great luck with Smith sunglasses in the past and are also fans of their Lowdown 2 model.
If you decide to go with Smith's, we think you will be just as happy as we have been with ours.
Key Features:
ChromaPop Polarized Lenses
Anti-Reflective Coating Available
Runner Up: Native Ashdown
Native Ashdown is another pair of sunglasses we really like for hunting. Native has been growing in popularity with hunters and fisherman. They offer a great product at a reasonable price.
The Ashdowns use Native's bronze reflex lenses which are polarized.
They make the lenses out of polycarbonate to make them lightweight and impact resistant.
Native offers a limited warranty so you don't have to worry about any quality issues.
We like Native and plan to add a pair of these to our arsenal in the future. You will be happy with your choice if you decide to as well.
Key Features:
Polarized
Scratch-Resistant Hydrophobic Coating
Runner Up: Oakley Flak 2.0
If you are a fan of Oakley sunglasses, these Flak 2.0 are a solid choice. Oakley glasses are known for great polarization and clarity and these are no exception.
Oakley polarizes the lenses and offers versions that are not reflective, making them a good choice for hunters.
Oakley's signature Prizm polarization makes dull colors appear more warm while eliminating glare.
These glasses are high quality and seem to be durable. For the price, we still prefer the Costas, Smiths, or Natives but these would serve most hunters well.
Key Features:
Polarized
Non Reflective Lenses
Best Budget Hunting Sunglasses: Flying Fisherman Buchanan
The Flying Fisherman Buchanans are our pick if you are someone who prefers inexpensive glasses. We get it, you don't want to have to worry about losing or breaking your glasses on your hunt.
These are an excellent bang for your buck. They look cool, are polarized, and appear to hold up well.
The lenses have a scratch resistant coating to provide extra protection against scratches.
The polycarbonate frames are lightweight but durable.
While designed for fly fishermen, we think they are a great choice for anyone looking for a pair of hunting sunglasses on a budget.
Key Features:
Polarized
Non Reflective Lenses
Runner Up: Verdster Camo
If the Fly Fishermans above are not quite your style, the Verdster Camo is another good choice for hunters looking for glasses on a budget.
While there isn't anything particularly special about these glasses, they are inexpensive and the quality seems to be decent.
The lenses are polarized and non reflective and the frames are camo. This makes them a solid pick as far as cheap hunting sunglasses go.
Key Features:
Polarized
Non Reflective Lenses
Imported
Who Should Hunting Sunglasses
A good pair of sunglasses can come in very handy when hunting. Anytime you are hunting when the sun is out, there is going to be glare. Glare can be especially bad when you are hunting in the snow on a sunny day.
Protecting your eyes is important. You only get 2 eyes (if you're lucky) and we feel it is important to protect them with a good pair of sunglasses.
By wearing sunglasses (especially if they are polarized) you can greatly improve your ability to see details in the surrounding terrain.
Important Features to Consider
Size and Fit. The last thing you want is a pair of sunglasses that don't fit. If the glasses don't fit and are uncomfortable, you are better off without them. Most manufactures supply guides for styles and sizing based off the size of your head and facial features.
Polarized or Not. Polarized glasses generally work much better at eliminating glare. If you are not worried about glare and just want something to shade you eyes then a non polarized pair will suffice but we prefer polarized pairs.
Reflective or Not. Many pairs of sunglasses come with reflective lenses. These are not ideal for hunting. The reflective lenses can stand out to game and alert them that something is off about their surroundings. While it is not the end of the world to wear reflective glasses, we are of the opinion that it is not worth the risk of spooking game.
Quality. Quality comes down to personal choice and budget. A lot of hunters prefer to wear cheap sunglasses so they don't have to worry about losing or breaking them. We believe the added cost is worth the jump in quality but you may feel differently.
FAQs
How do I clean my glasses?
Maui Jim recommends washing your glasses frequently with warm water and using a soft cloth to dry them. If they are especially dirty, you can use a mild dish soap to wash them with.
Are there any good accessories we should get with the glasses?
Great question. We find a pair of Croakies to be a great addition to sunglasses whether you are hunting or not. They greatly decrease the chances that you lose or damage your glasses. They are even available in camo.
Hunting Sunglasses to Avoid
We wanted to like these sunglasses. They look awesome and seem like they would be good on paper.
But many customers have reported issues with the tint film on the lenses fading within a few weeks of use.
Because of this, we would avoid this pair.
We took a look at these glasses for our budget pick and found that many customers reported they break easily and that the quality is poor.
If you are looking for a good budget pair of sunglasses, you will be much better off with our recommendation above.