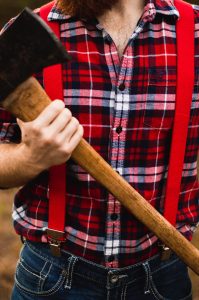 If you are looking for a good pair of hunting suspenders,
ones that won't have you constantly pulling up your pants…
this article should be of help.
Suspenders are a great alternative to a belt and can be more comfortable.
We show you exactly which pair we think is best for use while hunting.
Top Pick
After reviewing all the suspenders on the market, we selected the First Lite Suspenders as our top pick. These are easily our favorite suspenders of the bunch. They are designed for hunters by hunters and it shows.
The 5 Top-Rated Suspenders for Hunting
Best Hunting Suspenders: First Lite
If you are in the market for a pair of hunting suspenders, the First Lite suspenders are the clear top choice. Here's why hunters love these.
These were designed specifically with hunters in mind. They use snap closure fasteners which clip to the belt loops on your pants and will not come undone.
You never have to worry about them coming loose even when you are carrying something heavy.
First Lite makes these suspenders from high quality nylon and prices them well.
They are comfortable when hiking and do exactly what they are supposed to. Easily our top choice.
Key Features:
Nylon
Snapping Clips
One Size Fits Most
Runner Up: Hesenhan Heavy Duty
The Hesenhan heavy duty suspenders are our first runner up. While we don't like them as much as the First Lite, they are well made suspenders and will for hunting.
We really like to swivel hooks that can be attached to belt loops on pants. This will ensure the suspenders don't ever come loose.
They are not quite as well suited for intense hiking and feel a bit stretchy.
If you just want these for everyday use, they are a perfect choice.
Key Features:
Swivel Hooks
One Size Fits Most
Runner Up: Hold-Up Mossy Oak
Our next runner up is the Hold-Up Mossy Oak. Hold-Up makes great suspenders and these are no exception.
These suspenders feature a high quality clasp that holds strong without digging into your clothing.
Once you have them adjusted, they stay put, and you won't have to mess with them again.
They are made in the USA and designed specifically for outdoor use.
The main reason we ranked them 3rd is because for the price we still prefer the First Lites.
Key Features:
Gripper Clasp
Mossy Oak Breakup Pattern
Cotton Poly Blend
One Size Fits Most
Best Budget Hunting Suspenders: Mendeng Camo
If you are looking for a pair of inexpensive camo suspenders, we recommend the Mendeng Camo. For the price, these are a pretty good choice.
They use the typical clips you expect to find on suspenders and the material is elastic.
There isn't anything that makes these hunting specific beyond the camo pattern.
Customers are happy with these but we still think if you are serious about hunting it is worth the extra 10 bucks to get the First Lites.
Key Features:
Elastic Material
Clasping Clips
One Size
Runner Up: Carhartt
If you are just looking for a pair of traditional suspenders to use while hunting, we recommend the Carhartt suspenders. When most people think of suspenders, these are exactly what they picture.
These suspenders are well made. They use traditional clasps that can latch on to either your belt or pants.
The material is elastic and does have some stretch to it. Some may prefer this for comfort but it does allow your pants to droop more.
Carhartt makes them in a wide variety of colors for you to choose from.
Key Features:
Traditional Clasps
Elastic
One Size Fits Most
Who Should Buy Hunting Suspenders
Here is why some hunters like to wear suspenders either instead of or in addition to a belt.
Their pants are too big. Maybe you just lost some weight and your pants don't fit the same. Rather that shelling out the money for a new pair of pants, a good pair of suspenders can help a lot.
They are more sturdy that a belt, especially if your pants are heavy. Suspenders are very popular with hunters that wear heavy wool pants in the cold.
Some people are thin around the waist and butt, making a belt ineffective. A good pair of suspenders can be a huge improvement for these hunters.
Hunting from a saddle can be uncomfortable with a belt. Suspenders can keep your pants on while also keeping your comfortable.
The bottom line is suspenders do a better job of holding up your pants than a belt does. If you're tired of pulling up your pants, consider trying some suspenders out.
Important Features to Consider
Material. Some materials stretch more than others. This comes down to your preference, be we prefer suspenders that don't stretch much so we lean towards Nylon.
Hook Style. There are different types of clasps that are used to anchor the suspenders to your pants. The suspenders with hook like clasps seem to work the best because they do not ever come loose or undone.
Fit. All of the models above are one size fits all but some might fit better than others. Take a look at the shape of each and imagine how well they will fit on your body style.
FAQs
Will they work with all pants?
It depends on your pants but as long as they have belt loops any of the models above should work.