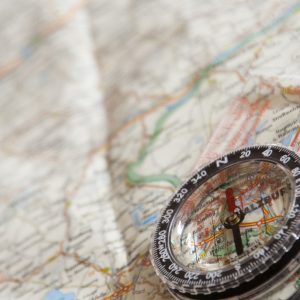 What are you going to do if you get stranded deep in the woods?
Look, I am not a highly trained Navy Seal. I did not grow up tracking animals in the woods since I was 4 years old.
In fact, I am probably just like you. I just try to make it out into the wild whenever I can.
Like many of you, I rely on modern technology for navigation.
But sometimes batteries die. Or signals get lost.
Having a lightweight, handheld compass as backup has the potential to save your life.
If you would like to know how even a weekend warrior can navigate their way through the woods with a simple handheld compass… then this article show you which resources you need.
Top Pick
The 3 Top-Rated Compasses for Land Navigation
Our Top Pick: Suunto MC-2
Suunto, founded in 1936, is a pioneering and exploration company based out of Finland. They are a well known name by outdoor adventurers around the world.
The MC-2 is one of their most popular compass designs. It is a professional grade compass with the following features:
Jewel bearing needle
Low light luminescent marks for use in dark conditions
Adjustable Declination to adjust to true north for your location
Sighting features for accurate bearings
Clinometer
Weight: 2.61oz
Limited Lifetime Guarantee
If you want a lightweight but highly capable compass you can find that in the Suunto MC-2.
Suunto also offers other models if the MC-2 doesn't have the exact features you are looking for, one of which is the A-10 discussed below.
Here is a video showing the Suunto MC-2.
Our Runner Up Pick: Silva Ranger 2.0
The Silva Ranger 2.0 comes in just behind the MC-2 and is another excellent choice.
Silva is another well known compass manufacturer. Founded in 1933 and based in Sweden, the company's founders (three brothers) invented the first ever liquid filled compass. This invention paved the way for how compasses have been designed ever since.
The Ranger has been a popular model with orienteers and land navigators. The needle is very responsive yet smooth making it easy to read.
Silva is another brand you can count of when it comes to durability and quality products. You will be happy with your choice.
Best Budget Hunting Compass: Suunto A-10
If you are looking for a good compass on a budget, look no further than the Suunto A-10.
This is a very popular model among hikers. It is an accurate, easy to use compass at an affordable price.
It does not have all the features of the two compasses above, particularly declination adjustment, but for someone who isn't going to be doing any extreme navigation and looking to save some money it is still a great choice.
Here are it's main features:
Jewel bearing needle
Fixed declination adjustment
Liquid filled
Detachable Lanyard
Weight: 1.06oz
Limited Lifetime Guarantee
Best Land Navigation Books
Okay, so you got yourself a compass. Now you need the other piece of the puzzle… you need to learn how to use it!
Books are incredibly valuable when trying to learn something new.
Here are the 2 best resources to get your land navigation skills up to speed.
If you are looking for the best resource for learning how to navigate the wilderness, then Essential Wilderness Navigation is the book for you. This book is not specific to only compasses but also covers how you can find your way around with whatever tools you have at your disposal.
The hard copy even includes a full size fold out map for you to practice with. I can't recommend this book enough. The skills and the way the material is presented are excellent and easy to learn from.
The book Wilderness Navigation is another great choice for learning how to use a compass in the wild. The book is often used as the textbook for many land navigation courses. This book is another great resource that presents the topics in an easy to learn way.
It is an excellent choice for beginners and teaches practical, usable skills.
Important Parts of a Compass

Base Plate
This is the base of the compass. It is typically transparent so it can be placed on top of a map. It should have a straight edge to take bearings.
Rulers
Rulers are lines that look similar to those found on a typical measuring ruler. The difference is that these marks are used with your maps scale to calculate distances.
Direction Arrow
This arrow is a stationary arrow which you use to point the compass in your direction of travel when following a bearing.
Index Marker Line
The index marker line is the line that is in line with the Direction Arrow.
Orienting Arrow
The arrow aligned to north within the compass housing.
Declination Scale
The scale used to made adjustments to account for the difference between true north and magnetic north.
Rotating Bezel
This is a rotating ring located around the perimeter of the needle housing. It typically has 1 degree markings around a full 360 degree circle.
FAQ
What is the biggest benefit to having a compass?
A compass is a navigation tool that has a magnetic needle which points towards the north pole. The main advantages of compasses are that they are lightweight, they don't require batteries, and they are inexpensive compared to a handheld GPS.
And even if you use a GPS as your primary method of navigation, it doesn't add much weight to your pack to carry a simple handheld compass as backup.
A good compass is like a good knife, something you can always depend on.
What is declination?
In most locations on earth, the location between true north and magnetic north (where your compass points) differ. When you are traveling distances greater than a mile or so, the difference can become very significant.
How important is adjustable declination?
Having an adjustable declination is so important that I don't think you should consider buying a compass without it.
How do I use a compass with a map?
This video made by Silva gives a very quick rough overview of how to use a compass with a map. For more in depth understanding the books recommended above are highly recommended.
What is a clinometer?
A clinometer is a feature on some compasses which is used to measure things like slope and elevation. They allow for the quick measurement of the slope of surrounding terrain. This can be useful when trying to decide which path to take or figure out the height of something. This video shows a quick example of how this feature can be used.