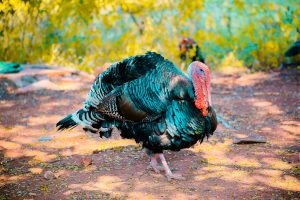 Are you tired of struggling to get turkeys within range?
It might not be you, it could be your call.
Many great turkey hunters consider scratch box calls to be the only call you need once you master them.
And with more and more hunting pressure from hunters, turkeys are not responding as well to common mouth calls.
We set out to find the best scratch box on the market and in this article we share what we found.
Top Pick
From our research we decided the Lynch Fool Proof Turkey Box Call is our top pick. These sound realistic, are easy to use, and come at a great price.
The 4 Top-Rated Scratch Boxes for Turkey
Best Bone Scratch Box for Turkey: Lynch Fool Proof Turkey Box
If you are in the market for a good scratch box, look no further than the Lynch Fool Proof. For the price, these are hard to beat.
Lynch has been making scratch boxes for over 75 years and these are still made in the USA.
This model is really easy to get the hang of and can make yelping, clucking and cutting attainable.
We think this model is especially good if this is your first scratch box and you are just learning how to use one.
Lynch makes these calls from genuine Mahogany and Walnut and are very high quality.
Key Features:
Mahogany and Walnut
Great for Beginners
Excellent Customer Service
Made in USA
Runner Up: Lynch World Champion Turkey Box Call
Another excellent choice is the Lynch World Champion scratch box. Just like the model above, this is a beautiful and well made scratch box.
The biggest difference with this model is that it is a 2 sided scratch box. One side is for creating hen sounds while the other is for making gobbler calls.
The reason we didn't select it as our top choice is because the 2nd side does complicate its use for someone new to calling with a scratch box.
But if you are willing to put in the effort to master it, you may want the extra versatility this model offers.
Overall, we think this is a great scratch box and would recommend it to anyone looking for one.
Key Features:
2 Sided Scratch Box
Mahogany and Walnut
Made in USA
Runner Up: ESH Custom Calls Walnut Deluxe
If you are willing to spend a bit more money, the ESH Custom Walnut Deluxe is a great sounding calling.
It is well crafted and capable of making clucks, purrs, yelps, and cuts.
The main reason it falls behind our top pick is the higher price but we think this is a great scratch box and would recommend it to any turkey hunter in the market for one.
Key Features:
Best Budget Scratch Box: ESH All-Weather Turkey Box Call
If you are looking for something a little less expensive, the ESH All-Weather Box Call is our budget pick.
This model is a little smaller than most scratch boxes but still seems to work very well.
Don't let the price fool you, this little thing sounds great. And another cool feature we love is that is still works when wet unlike most other box calls.
Hard to go wrong with this model at this price. It is a great introduction to scratch boxes.
Key Features:
Smaller Design
Works When Wet
Poplar
Who Should Buy Scratch Box
Any turkey hunter! These things can be deadly. If you hunt turkey, you ought to give these calls a shot. Sure, they will take some practice but it would be long before you can test it out in the field.
You will be hard pressed to find a more realistic sounding call than a well made scratch box. They allow so much versatility for controlling the loudness of your call.
We are of the opinion that once you try it out you will be happy you did. Within 100 yards, a scratch box is hard to beat for calling a turkey in.
Chalking a Box Call
A good scratch box does need chalk applied frequently to keep it sounding great. Something like the chalk below will work great.
The only real downsides to scratch boxes are that they take two hands to operate and that most of them don't work well once they get wet. With that said, we still think you need to have them in your arsenal.
Important Features to Consider
Size. Obviously you want any call you carry to be small enough that it isn't a burden to haul around. All the models above are very reasonable sizes that will fit in your turkey vest without any issue.
Sound. Probably the most important feature for a turkey call is whether or not they work! You won't have to worry about this when it comes to scratch boxes. Experience turkey hunters will agree, these things are deadly in the right hands.
Quality. Many manufacturers have outsourced their production to different locations in order to cut costs. Luckily, all the models above are still made in the USA and all are high quality.
FAQs
Where are these made?
The companies recommended above make all their models in the USA.
Are they waterproof?
Most scratch boxes do not work well once they are wet. The ESH All-Weather model above is an exception.
Does it need to be tuned?
All you need to do is chalk the scratch box before every hunt.