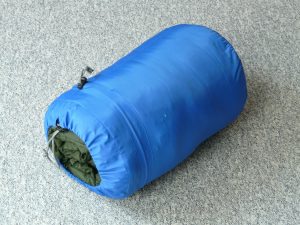 If you are planning on backpack hunting,
there are some essentials you can't avoid…
and if you are like us, you don't like being cold.
One of the key pieces of gear necessary for any hunter planning to backpack in and hunt is a good sleeping bag.
The right sleeping bag can turn a miserable experience into an pleasant and enjoyable one they will remember for a lifetime.
In this post we review our favorite sleeping bags for backpack hunting.
Top Pick
After a reviewing many bags designed for backpacking, the Western Mountaineering Ultralite is the clear top pick. This bag is extremely high quality.
It will keep you warm and hold up to many years of hunting abuse. While not cheap, you get what you pay for in this case.
The 10 Top-Rated Sleeping Bags for Backpack Hunting
Best Sleeping Bag for Backpack Hunting: Western Mountaineering Ultralite
If you are looking for a top-notch backpack sleeping bag, the Western Mountaineering Ultralite is our top pick. Western Mountaineering is known for making very high quality gear and this bag is a perfect example.
The Ultralite is rated for 20F and filled with goose down. The outershell is weather resistant to give some protection from the down getting wet.
This bag weighs only 1 lb. 13 oz. which is amazing considering that it is rated for 20F.
The zipper is smooth and is high quality. When it comes to this bag, you get what you pay for.
If you are looking for something that is rated for colder temperatures, checkout the Versalite model.
Key Features:
Ultralite: Temp Rating 20F
Versalite: Temp Rating 10F
Goose Down Fill
1 lb. 13 oz.
Weather Resistant Shell
Runner Up: Kelty Cosmic Down
Our runner up pick is the Kelty Cosmic Down. This is a great bang for your buck sleeping bag.
The model shown is rated for 20F and we have used this exact model in 30F temperatures and were still warm.
The fill is down with a nylon outer shell and is water resistant.
The bag also only weighs 2 lbs.
Considering the fact that it is filled with down and only weighs 2 lbs. it is hard to believe the price. Other manufacturers with the same specs are a multiple of this price.
Kelty also sells the Cosmic Down in 0F if you are in search of a lower temperature rating.
Key Features:
Temp Rating: 20F
Down Fill
2 lb.
Water Resistant Shell
Runner Up: Sierra Designs Cloud
Next up on our list is the Sierra Designs Cloud. This is an all-around solid backpacking sleeping bag.
It is filled with down and has a nylon outershell.
The bag is very light, weighing only 1 lb. 13 oz.
What's interesting about this bag is that it does not have a zipper which some owners find to be more comfortable.
Sierra also designed vents in the bag down by your feet to release heat when you get too hot.
Sierra Designs also includes a limited lifetime warranty. Overall, this is an excellent choice.
Key Features:
Temp Rating: 20F
Down Fill
1 lb. 13 oz.
Limited Lifetime Warranty
Runner Up: Hyke & Byke Quandary
Another good choice for hunters is the Hyke & Byke Quandary. This company was started by a few engineers to attempt to bring high quality gear to backpackers at a more reasonable price.
The Quandary is rated for 15F and is filled with down. The outer shell is made from nylon.
This bag is a bit heavier, weighing 2.95 lbs.
One of the best benefits of buying from Hyke & Byke is that it comes with a lifetime warranty.
While we don't think the bag is quite as good as our top picks, it is still a great choice for most hunters.
Key Features:
Temp Rating: 15F
Down Fill
2.95 lb.
Lifetime Warranty
Best Budget Bag for Hunters: Coleman North Rim
Hunting and backpacking gear isn't cheap. If you are on a tight budget, checkout the Coleman North Rim.
While this bag doesn't really compare to our recommendations above, it is significantly cheaper and will get the job done.
It is filled with synthetic insulation and still fits in a stuff sack.
The downside is that it weights 5.8 lbs. With that said, that weight is still manageable and this bag will keep you warm.
As long as you don't mind the extra weight, this bag is a solid pick for those looking to save some money.
Key Features:
Temp Rating: 0F
Synthetic Fill
5.8 lb.
Who Should Buy a Sleeping Bag for Backpack Hunting
If you plan on backpack hunting, you are going to need a backpacking sleeping bag. There is no getting around it. While it may be tempting to try to make a sleeping bag you already have work, the benefits of modern backpacking sleeping bags are worth it.
Backpacking in and hunting backcountry has seen a tremendous increase in popularity the last few years. Thanks to companies like Kuiu and shows like Meateater, many hunters have been exposed to the amazing opportunities and experiences backcountry hunting offers.
After a long day of hiking and hunting, you can do yourself no greater favor than to have a nice bag to slide into when it's time for some shut eye. A quality bag can mean the difference between getting a good night sleep vs. waking up every hour due to discomfort.
If there is one thing you should make sure of, it's that your sleeping bag is rated for below the temperatures you plan on using it in. Even though you can use a 20 degree bag in 20 degree weather, you will be cold.
Important Features to Consider
Temperature Rating. The temperature rating of your sleeping bag is one of the most important parts of your decision. We recommend going with a bag that is rated for a bit lower temperature (10-20F) than you plan on using it in.
Fill Material. There are basically 2 main types of fill material, down and synthetic. As a generalization, down is better unless it becomes wet. If it gets wet, it is next to useless and you will be miserable. Synthetic on the other hand still works when but the downside is that it takes a lot more fill and hence it gets heavier. Down is the best choice but you need to make sure it doesn't get wet.
Weight. Since you are going to be hiking around with the bag on your back, you should give some consideration to the weight of the bag. Like mentioned above, down is generally lighter for the same temperature rating.
Size. If you are bigger or smaller than average, make sure you get a bag that will fit your body size. When you purchase the bag, unroll it and test it ahead of time. It will be good for you to get some practice rolling and getting the bag back in it's pouch too.
FAQs
Does the bag come with a stuff sack?
All of the bags above come with a stuff sack and a couple of them also come with a larger sack that is supposed to be used for longer term storage.