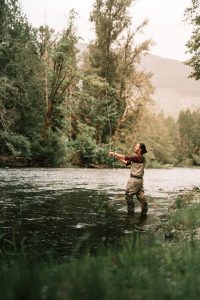 Are you looking for a quick way to dry out your waders?
A wader hanger might be all that you need.
While there isn't much to them, there are a few details to consider before purchasing.
Checkout the list below to see our favorites and why you might choose which.
Top Pick
If we had to recommend one wader hanger, our top pick is the SAMSFX Strap Hanger. This is a clever idea that adapts well to all wader types and sizes. It is easy to use and inexpensive enough that you can buy a couple.
The 4 Top-Rated Wader Hangers
Best Wader Hanger: SAMSFX Hanger
Our favorite wader hanger on the market is the SAMSFX Hanger.
This clever design uses nylon straps with buckles that wrap around your boot. What is nice is that the nylon straps are adjustable and they have a quick release buckle.
We would prefer that the hook was made from metal but the swiveling plastic hook seems to work just fine and is rated for 20 kg.
The SAMSFX hanger is great both for drying your waders as well as storing them long term in a closet or garage.
Key Features:
Holds Up To 20kg
One-Size Fits All Adjustment
Loop and Buckle
Best Wader Rack: Rack'Em Wader Rack
If you are looking for a wader rack you can mount to a wall, our favorite is the Rack'Em Wader Rack.
This comes in a few different sizes, with the largest being capable of holding 4 pairs of boots or waders at a time.
A wader rack is perfect for a mud room, hunting cabin, your garage; heck we have even seen one mounted in an enclosed trailer.
If you plan to use the wader hanger frequently, a rack is hard to beat because they are so convenient and easy to use.
Key Features:
Hold Up To 4 Sets of Waders
Easy Mounting
Runner Up: Rack'Em Snake Hanger
Another popular wader hanger is the Rack'Em Snake. Similar to our top pick, this holds waders up via a single hook like used on a clothes hanger.
While it is nice that this hanger is made from steel, it does make it a little hanger to adapt to your specific waders.
The steel is strong and coated with plastic so it should hold up for a long time.
We find this design to be a little more difficult to use overall than the two picks above.
Key Features:
Adjustable
Plastic Coated Steel
Runner Up: Allen Company Boot Hanger
Our final runner up is the Allen Company Boot Hanger.
This is a well-made, easy to use hanger capable of holding a single pair of waders.
We prefer the designs above for a few reasons. First, the openings on this design are a little on the small size and don't work well for larger boots and waders.
It is also made from plastic, which is fine, but an equivalent metal rack is available at a similar price from Rack'Em.
Key Features:
Who Should Buy a Wader Hanger
Anyone who owns a set of waders for hunting or fishing should own some sort of wader hanger.
A hanger for your wader will help speed up the drying of your waders after use. It is also a good way to store them long term to preserve the life the waders.
Here's why.
First, it keeps your waders off the floor and in their natural shape instead of being all smashed together and crammed somewhere.
Second, it hangs your waders in a way that won't damage them like hanging from the shoulder straps will.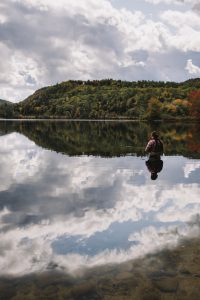 Important Features to Consider
Number of Waders. Are you storing more than one pair of waders? You may want to consider a rack then. How often are you going to be hanging and un-hanging them? A conveniently located rack is hard to beat if you plan on using them a lot.
Wader Storage Location. Do you have a nice mud room to hang your waders? Are you going to keep them in your garage? What fits better in your storage location, a rack, or a hook hanger?
Mounting. Are you willing to screw into your wall? If not then your only option is to buy a hanger that uses a hook. Otherwise, plan on a few screw holes in your wall.
FAQs
How long does it take for waders to dry?
It is hard to put an exact length of time on how long they take but using a hanger helps speed it up. If your waders are so wet that the inside is starting to get damp, you can turn them inside out before hanging to make sure the inside is dry before your next use.
Can I hang my waders from the shoulder straps?
While you certainly can, we highly recommend you don't. Most wader straps are some sort of elastic and if you hang them from the straps the elastic will stretch and lose it's elasticity over time.
A good rack hanger is so inexpensive there is no reason not to own one.