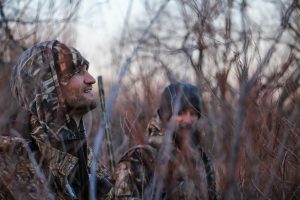 Your gun is one of your most expensive pieces of gear.
It deserves protection.
If you are looking to protect your investment, you came to the right place.
Today we are going to share exactly which waterfowl guns cases we think are the best on the market.
Top Pick
After reviewing all of the cases on the market, we selected the Tanglefree Flight floating case as our top pick. This case is full of great features and is extremely well made.
We think it is hands down the best shotgun case for duck hunting.
The 5 Top-Rated Waterfowl Gun Cases
Best Waterfowl Gun Case: Tanglefree Flight Floating Case
Although we hadn't heard of them before, we ended up selecting the Tanglefree Flight floating case as our top choice. This case is as close to perfect as we have come across.
This case is made from durable 600D Polyester and has a bunch of extra paddling to protect your gun.
It also floats with up to 12 lbs. in it so nearly all modern shotguns will float without a problem. A Super Black Eagle weighs about 7 lbs. for reference.
The construction of this case is excellent, it is very well made. It is water resistant and the opening is Velcro.

The case also has a nice pocket and a carabiner for easy hanging.
If you have a high end shotgun, this case is worth protecting your investment.
It also comes in the Optifade Timber camo.
Key Features:
600D Polyester
Floats Up to 12 lbs.
Carabiner Hanger
2 Camo Options
Runner Up: RIG'EM RIGHT Waterfowl Deluxe
The RIG'EM RIGHT Waterfowl Dexule is our first runner up. It is another high end gun case.
This case is built like a tank. The outershell is a tough and rigid EVA material that protects both ends with extra padding.
The RIG'EM RIGHT is also a floating case so in the even your gun falls in the water it will be safe.
It has a waterproof zipper to keep your gun dry and the liner is made of a soft quilt-like pattern.
There is one pocket, a shoulder strap, and a handle.
If the price doesn't bother you, you won't find a more protective case that this.
Key Features:
EVA Shell
Floating
Waterproof Zipper
Runner Up: Drake Waterfowl Floating Case
The Drake Waterfowl case might be the most popular shotgun case used by hunters. We have heard of hunters owning the same case for over 10 years.
This is another floating case and the outershell is made from a durable and waterproof HD2 material.
The Drake case features a zipperless side flap, making getting your gun in and out quick and easy.
It has a nice pocket where you can keep accessories and has a shoulder strap as well as a handle.
These have been popular with duck hunters for years for good reason. This is another quality case.
Key Features:
Waterproof HD2 Shell
Floating
Zipperless Flap
Runner Up: Allen Company Floating Waterfowl Case
The Allen Company is our final runner up. Although we prefer the cases above, this is still a well made case.
The case is made from a durable Endura fabric and constructed in the U.S.A.
It uses a hook and loop closing design which allows you to get the gun in and out quickly.
The case comes in Realtree Max 5 camo and has both a shoulder strap and handle.
Key Features:
Endura Shell
Floating
Hook and Loop Closure
Best Budget Waterfowl Case: Banded Impact Case
The Banded Impact case is our top pick for hunters on a budget. You get many of the same features as the models above at a good price point.
The shell is made from durable 900D Polyester and the padding is made from floating foam in case your gun finds it's way into the water.
A few hunters mentioned this case isn't big enough for longer shotguns, so make sure your gun is within the length requirements.
It has a nice pocket, shoulder strap, and handle as well as a convenient hanger.
Key Features:
900D Polyester
Floating
Buckle Latching Flap
Who Should Buy Waterfowl Gun Case
Anyone hunting waterfowl should consider getting a floating waterfowl case, especially if you have a nice high end shotgun.
Hunting conditions when hunting waterfowl are often extreme. It can be cold, wet, and rainy.
And given that ducks love the rain, we don't have much choice as hunters.
There is no sense in getting your gun unnecessarily wet and grimy.
There is always a risk that your gun winds up in the water. No point in chancing losing it forever when these floating cases exist. Losing a good gun is a terrible way to put a quick end to your hunt.
This may be obvious but we wanted to mention that you should always unload your shotgun before putting into the case.
Important Features to Consider
Water Protection. As you are aware, most waterfowl hunting takes place around water. That's why we think it is important that your gun case provides some protection from H2O.
Floating. In the unlikely even your gun somehow finds it's way into the water, you want a case that is going to save it from sinking to the bottom and ruining your hunt. All the cases recommended above are floating. We recommend a good duck blind bag that floats for the rest of your gear as well.
Padding. The whole point of a gun case is to protect your gun. The case should have adequate padding such that if it falls your gun will not be damaged.
Durability. Waterfowl hunting can be rough on your gear. You want a case that is going to hold up season after season. We have heard of hunters using the models above for over 10 years. If you think of the case as insurance for your gun, it only costs about 1-2 cups of coffee a year to protect your investment.
Straps/Pockets. Straps and pockets can make the case more convenient to use. A pocket can be used to store extra chokes, earplugs, calls, etc. We like cases that have both handles and shoulder straps.
FAQs
Will a scoped gun fit?
None of the cases recommended above are designed to be used with scoped guns. It is possible they will work but you will need to take measurements of your gun and check the specifications.