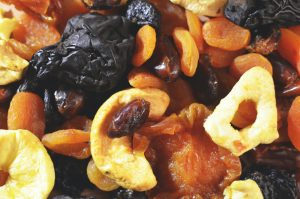 Snacks… who can resist?
If you're anything like us, you love tasty snacks when hunting.
This isn't just about indulging yourself with unhealthy foods as often as possible.
Snacks are important when hunting because your body can be burning tons of extra calories and it's not always convenient to cook up a full meal in the middle of your hunt.
Today's article lists our favorite deer camp snacks. For each we highlight why we like it and some of the benefits specific to that snack.
Try them out on your next hunting, we hope you enjoy them as much as we do.
Deer Camp Snacks
Jerky
Jerky is a classic choice when it comes to snacks when hunting. It is a great source of protein, can be kept in your pockets without spoiling, and tastes great. Jack Link's is a good, tasty option.
Nuts
Nuts are another staple when it comes to hunting snacks. Just like jerky, they are easy to carry and are a great source for energy. Just make sure to drink some water or get some that aren't too high in sodium. Some of our favorites are almonds, pistachios, and cashews.
Dried Fruit
Dried fruit is another great source of fuel for your hunts. They contain a good amount of carbohydrates, fiber, and antioxidants. Raisins, craisins, mangos, bananas… there are tons of options. Make sure you get some without too much sugar added.
Trail Mix
Take the two items above and create your own trail mix with your favorite nuts and fruits. Here are a couple of pre-made mixes we like.
Energy Bars
Energy bars are another great option that are easy to stuff in your pockets and usually have a good mixture of fats, carbohydrates, and protein. A couple that we like are Clif Bars, Quest Bars, and RXBARs.
Cured Meat
Cured meat is another fantastic snack, especially if you are looking for something with a lot of flavor. We usually stick to homemade deer salametti.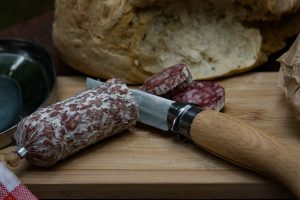 Cheese Sticks
While not as healthy as the choices above, cheese sticks are another tasty snack that is easy to transport. And the cheese will go excellent with your salami or proscuitto.
Dark Chocolate
Some dark chocolate chunks added to your trail mix can liven it up and help prevent you from getting tired of eating trail mix. Just be careful to not get too carried away.
Sandwiches
Sandwiches are another great option, especially if you have some saran wrap and you can pre-make your sandwich. A couple of great, easy options are PB&J, PB and bananas, or salami and cheese.
What Makes a Good Snack
The best snacks are both tasty and good for you. Shoot for snacks with a good mixture of fat, carbohydrates, and protein. All of these are important, especially if you are hiking around a lot.
Some snacks to avoid while hunting are:
Pastries: These are full of sugar and don't provide much else.
Chips: Okay in small quantities but try not to get carried away. Again, not much besides bad carbohydrates here.
Candy Bars: Like the two above, full of sugar. All these will do is make you jittery and crash. Not what you want when trying to hold your rifle steady.
Summary
There you have it, a list of fairly healthy snacks to take with you next time you are in deer camp. Hopefully we gave you some ideas. If we think of any other good snacks we will add them to the list.