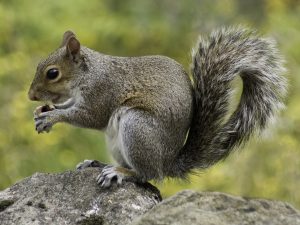 Looking for a good pair of game shears?
A good set of game shears can make life a lot easier when cleaning small game like squirrels and rabbits.
In this article we review what we consider to be the best game shears on the market.
Top Pick
After our research, we selected the Camillus MultiFunction Game Shears as our top pick. In all honesty, the decision wasn't even close. Unlike most other shears, these are made of titanium and have a bunch of awesome features built into them in addition to the shears.
The 4 Top-Rated Small Game Shears
Best Game Shears for Squirrels and Rabbits: Camillus MultiFunction Game Shear
If you are looking for the ultimate small game shears, the Camillus MultiFunction Game Shears should be your top choice.
As mentioned above, these are actually made out of titanium rather than steel. Titanium is about 3x stronger than most steels.
In addition to the shears, these also have other tools built in. These include:
Serrated Blade: This blade is great for cutting through small bones as well as small branches if necessary.
Flat Head Screw Driver: While not necessary for cleaning squirrels, a flat head screw driver is always handy to have around.
Bottle Opener: Another handy tool to have around, especially after a successful hunt.
These also have a nut cracker, jar opener, and bone notch. Quite a lot of uses for such a low price. And they come with a nice molded sheath.
We include reviews of other shears below but considering the price, we highly recommend these and think they are the best game shears out there. They are perfect for field dressing squirrels and rabbits.
Key Features:
Titanium Blade
Serrated Edge
Multi-Functional
Molded Sheath
Runner Up: Outdoor Edge Game Shears
We are big fans of Outdoor Edge products, and the Outdoor Edge Game Shears are no exception.
A unique feature on these shears compared to the other models we reviewed is the spring loaded mechanism. This can make the shears much more friendly to use once they get gunked up during use.
The blades are made from high quality 420 stainless and include a bone notch. These come with a nylon woven sheath for carrying.
One of the best things about Outdoor Edge is their excellent customer service. If you ever have any issues with one of their products they are very helpful and responsive in helping you solve your problem.
Key Features:
420 Stainless Blades
Excellent Customer Service
Runner Up: Leatherman Raptor
The Leatherman Raptor shears are another pretty cool multi-tool shears than would work well on small game.
Leatherman is well know for their high quality multi-tools and the Raptors are no different. In addition to the shears, these include a strap cutter, ring cutter, ruler, 02 tank wrench, and glass breaker.
These are more targeted towards survival situations and for that, they are perfect.
The biggest drawback for us is just how much more they cost than the Camillus above. But if you want something more survival oriented and don't mind the price increase, you can't go wrong with these.
Key Features:
6 tools built into one
High Quality
Runner Up: Camillus 8″ Game Shears
The Camillus 8″ Game Shears are the more basic version of the shears above. If you are looking for a good pair of basic game shears, these are your bet.
Although they don't include all the multi-functional features as the shears above, these are still high quality and well made.
The blades are made from a titanium bonded 420 stainless so they will hold up and stay sharp for a long time.
They come with a fabric case which isn't as nice the molded one on the 9″ pair.
We still think the 9″ Camillus above are a better choice but you will be happy with this pair of shears.
Key Features:
Titanium – Stainless Bonded Blade
Woven Sheath
Who Should Buy a Game Shears
A good set of game shears can make field dressing small game like squirrels and rabbits quick and easy. Anyone hunting small game would benefit from having a pair. Often times when hunting these small game you will be dressing quite a few animals so any bit of time savings adds up.
The basics of how to clean a squirrel with game shears are shown in the video below.
Important Features to Consider
Blade Material. The material the blades are made of is going to determine how well the shears stay sharp after use. You want something that is going to stay sharp especially when field dressing lots of small animals like squirrels and rabbits.
Durability. Nothing is worse than a tool that doesn't hold up. You want a pair of game shears you can count on without having to worry about handles breaking or the shears coming apart when you don't want them to.
Multi-Functional. If you are going to be carrying game shears we think you might as well carry a pair that serves other purposes as well. Extra tools always come in handy.
FAQs
Can they be sharpened?
Most shears shouldn't have any issues with being sharped but we recommend you take them to a professional who has the right equipment for doing so.
Are they dishwasher safe?
You shouldn't have any issues cleaning the shears we recommended in the dishwasher. We do recommend you clean them of large debris as much as possible so you don't clog up your dishwasher.
Do they come apart for cleaning?
All the shears recommended above do come apart. With that said, the Leatherman shears appear to be a bit more difficult to disassemble than the others.
Game Shears to Avoid
Unfortunately many Gerber products have had their manufacturing moved over seas and the quality just isn't what it used to be. For the same price as these, you can get our top choice shown at the top of the article.
These shears by Fiskars are nothing more than a renamed pair of scissors. They do not compare to the quality and performance as the game shears we recommended above. We would avoid them.