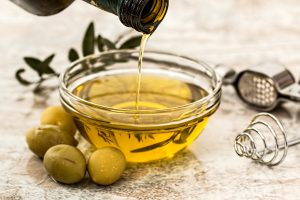 Removing camo face paint after a hunt can be a real chore.
Luckily, with a few tips the job becomes a lot easier.
Once you know the which products to use, the paint will come off without a struggle.
You will be wondering why you didn't know this sooner.
4 Ways to Remove Camo Face Paint
If you are looking for tips on how to remove camo face paint after a hunt, then surely you have tried and found it more difficult than you expected. Don't worry, many of us have had the same experience of practically rubbing our face raw trying to get the stuff off.
So, here is what you need to know: As a general rule of thumb, if it doesn't mix with water, it will probably work well at removing camo face paint.
1. Mineral Oil (Baby Oil)
Baby oil is our go to face paint remover. This stuff works excellent. Put a little splash on a soft towel and before long your camo will be gone.
Baby oil is easy on the skin as it is meant for babies. You might even find that your skin is more moisturized than normal after using it.
2. Olive Oil
Olive oil is another great choice for removing face paint and one that you might already have on hand. It is popular for removing makeup and works just as well for camo face paint.
3. Coconut Oil
While it might seem like coconut oil is the answer to all of your problems these days, in this case it actually is. It is a bit thicker than mineral and olive oil which you may or may not prefer but it works well for removing face paint.
4. Camo Off Wipes
Hunter Specialties has come out with these camo off wipes specifically for removing camo face paint. They come in a small pack and cost about the same as a cup of coffee.
We like these because you can just toss the pack of wipes in your hunting pack and have them handy for after your hunt. They have good reviews among hunters, check them out.
Additional Tips
Another tip we have heard from a few hunters is to use baby wipes. We have never tried these and are not sure how well they will work since the first ingredient is water. But if you already have some on hand, give it a shot and see what happens.
If you are looking to buy some face paint for pennies on the dollar, visit your local Walmart or Target right after Halloween to find all the face paint heavily discounted.
Summary
If you are having trouble removing camo face paint give one of the suggestions above a try. You will find the face paint should come off nice and easily without having to do a ton of scrubbing.