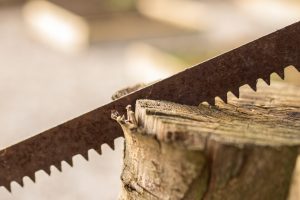 If you made your way to this page you are probably in the market for a bone saw to help you field dress deer.
Lucky for you this article highlights the best bone saws available as well as pointing out a few models you are going to want to avoid.
If you haven't used a bone saw before, you are in for a surprise.
A good bone saw can make some of the more difficult parts of field dressing an animal much easier.
Read on to find out which bone saw is right for you.
Top Pick
After a lot of research, we selected the Havalon Hydra as our top pick. This knife is just so versatile. It combines the Baracuta bone saw and the Piranta knife into a single tool. This is an ideal choice for anyone looking for a saw that doubles as a knife and can do it all.
The 5 Top-Rated Bone Saws for Deer
Best Bone Saw for Deer: Havalon Hydra
If you are looking for the ultimate hunting saw-knife combo, the Havalon Hydra is a fantastic choice. It combines the Baracuta bone saw with the Piranta knife.
This is about as versatile hunting tool as you are going to find. Everyone I know that has one loves it.
These blades are quite resilient and hold up well. It comes with 3 extra Baracuta blades and 12 Piranta blades, so you will be set for a while.
The best part about Havalon knives is the fact that you can replace the blades. You never have to spend time trying to sharpen the blade again. Just pop the used blade off and replace it with a brand new, razor sharp blade.
Another great feature is that you can use this will the different style Piranta blades Havalon makes. These include different lengths as well as blades with gut hooks.
The Baracuta blades can also be swapped with these fillet blades if you want to use it for filleting fish.
Anyone who has used a Havalon knife before knows how razor sharp their blades are.
This could be the last hunting knife you ever need to buy.
Key Features:
Zytel handle with extra grip
15 extra replacement blades
Fits other Havalon blades
Razor sharp
Runner Up: Havalon Baracuta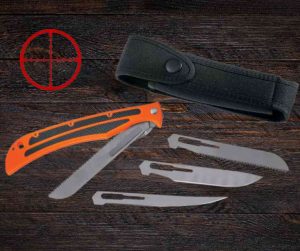 The Havalon Baracuta is a little different than most of the others listed below. This saw features disposable blades you replace after they wear out. If you are not familiar, Havalon burst onto the scene this past decade with their Piranta knife and have become very popular among hunters and fishermen.
This saw does an impressive job on bone. We were a little concerned it might not hold up to use with replaceable blades but we were wrong. The creators of these knife blades had longevity in mind when designing them. The combination of the lightweight handle and replaceable blades keeps the weight so low you won't even notice you are carrying it.
As shown, it comes with extra blades and replacements can be purchased fairly cheap but you shouldn't need any for a while.
Key Features:
Zytel handle with extra grip
Can replace blade with fillet blades
Weights only 3 oz.
Best Lightweight Bone Saw: Sagen Hunters Field Saw I
Are you looking for something as lightweight as possible? Then the Sagen Hunters Field Saw I is a great choice for you. This model is specially designed to field dress deer, bear and sheep.
Also relatively inexpensive, this saw easily cuts through pelvis and rib bones. The designer also added a protective end in order to not puncture the bladder during use.
The T-style grip is comfortable to use and it takes up very little room in your pack.
Key Features:
Very lightweight 2 oz.
Protective tip
T-grip
Best Bone Saw for Elk and Moose: Sagen Hunters Field Saw II
Are you hunting for something larger than a deer like elk or moose? Then consider the Sagen Hunters Field Saw II. It was designed specifically to be used on elk, moose, large deer.
Make no mistake, this is a big game hunters saw. It is 30% bigger, longer and stronger than the smaller version listed above but for a large animal like an elk you will certainly be thankful for the beefed up size.
The saw has all the same advantages as the smaller version. It is a well thought out design that does what it promises.
If you plan on hunting big game this is your best bet.
If you don't plan on hunting anything larger than deer, go with the orange version.
Key Features:
30% bigger, stronger, and longer than is little brother
Lightweight 3 oz.
Bright yellow handle so you don't lose it
Best Budget Bone Saw: Gerber Exchange-a-Blade
The Gerber Exchange-a-Blade is a good choice for hunters who are looking for a saw and on a tight budget. (I am always looking for deals on hunting gear.) While this saw doesn't quite compare to our top picks, it is still good enough to get the job done.
Gerber designed this to be used with different blades depending on whether you are cutting wood or bone. It comes with a fine toothed blade for bone and coarse blade for wood.
The pitfalls of this model are that the blades are a bit thin and flimsy. If you only plan to use this on occasion then it will get the job done but if you want something that will hold up to years of heavy abuse invest in a better saw.
Key Features:
Weight: 8.7 oz.
Interchangeable blades
Costs less than a few cups of coffee
Who Should Buy a Bone Saw
Anyone hunting large mammals should consider carrying a bone saw. Field dressing large animals is a lot of work so you should consider using tools that make the job easier whenever possible. The nice thing about bone saws is that they don't take up much space or add much weight to your pack.
However, in the out in the field isn't the only place where a good bone saw can come in handy. Many times you come across a tough cut when butchering your game and end up dulling the blade of your butchering knife. Sometimes a bone saw is a great choice for these tough cuts.
Important Features to Consider
Size and Weight. If you plan on carrying the saw with you while you hunt, you are probably going to want something that is easy to pack and fits in your pack nicely. Similarly, weight is always worth considering especially if you do a lot of hiking while hunting.
Grip. Bone saws are typically very sharp and have aggressive cutting teeth. Additionally, when you are using a bone saw you are often times putting a good amount of effort into the cut. This is not the time you want your hand to slip and end up with a cut up hand or worse.
Blade. A good blade is critical when selecting a bone saw. You want something that is sharp and durable. Another consideration is whether you want to purchase a design that allows you to swap out a used blade and replace it with a fresh one instead of having to sharpen it.
Quality. Many manufacturers have outsourced their production to different locations in order to cut costs. It is important to keep an eye out for a design that has had recent quality issues as this might be a sign of a products quality degrading.
FAQs
Can they be sharpened?
This depends on the saw but for the most part you probably want to avoid sharpening the blade and just buy a replacement. A lot of times the saw blade is hardened to increase longevity. This will make it difficult to sharpen and the hardest layers of the saw will be removed in the process.
Do they cut both directions?
Traditionally saws cut in one direction but some of the saws listed, like the Bahco, actually cut in both directions which speeds the cut significantly.
Can they be put in the dishwasher?
While it is possible that some models are dishwasher saw, we don't recommend it. The saw isn't that difficult to clean by hand and it is not worth risking damaging your saw to save a little time. If you really must put it in the dishwasher we recommend you contact the manufacturer to make sure it is safe.
Are blades replaceable?
This really depends on the make and model of the saw. Some companies like Havalon base their whole design around the blades being replaceable. Others like the Sagen will require you to sharpen the blade or buy a new saw.
Do they come with extra blades?
The Havalon Baracuta and the Gerber Exchange-a-Blade are the only saws we reviewed that come with extra blades.
Bone Saws to Avoid
Unfortunately it seems Gerber missed the mark with this design.
The saw is too short. The short blade just makes it difficult to get into any sort of rhythm while cutting. This causes it to jam up easily when trying to cut something.
In addition to the short blade, it feels cheaply made.
We are sure you could make this saw work if you don't have a choice but if you are in the market for buying one, look elsewhere.
Other Bone Saws We Reviewed
The Bahco Laplander is an amazing outdoor folding saw. The cutting action of this saw feels natural.
It is very compact when folded, very easily carried in your pocket. The handle is comfortable and doesn't tear your hand up during use. The locking mechanism is very secure.
In addition to bones, this is an excellent choice for a general purpose outdoors folding saw.
The saw stays sharp even after heavy use.
The reason it didn't make the list about is that it is designed for general purpose outdoor use so the tooth profile is not optimized for cutting through bone.
Key Features:
Blade Length: 7.5 inches
TPI: 7
Locking Handle
Weight: 7 oz.
Here is the consensus on the SOG. It is lightweight and packs well.
The locking mechanism could be improved, feels like it could fail during use.
The blade is thin in order to reduce the weight but unfortunately this hurts its ability to cut well. If your blade catches on the forward stroke it has a tendency to bend.
Overall it seems like SOG put a little too much emphasis on making this saw lightweight and it ends up hurting its performance.