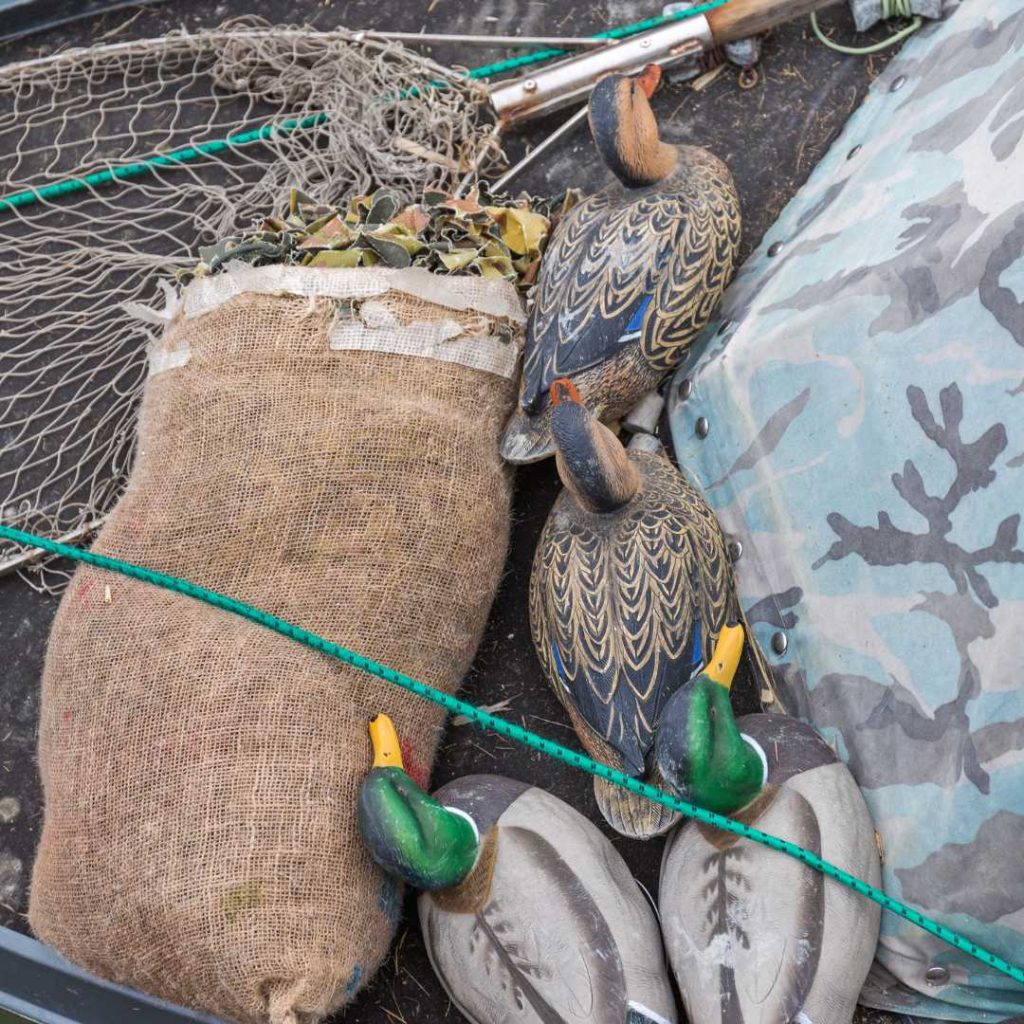 Here is our review of the best decoy gloves for waterfowl hunters.
Cold hands are the worst.
Nothing sucks more than having icicles for fingers trying to shoot some ducks.
A good pair of decoy gloves can help keep you hands dry when placing (and pulling) your decoys.
This way you don't start the day off with frozen hands.
After comparing all the decoy gloves on the market, we selected the Drake Refuge Waterfowl gloves as our top pick. These gloves have many of the same benefits as the other gloves we reviewed but use higher quality materials and features to achieve them.
The 5 Top-Rated Decoy Gloves
Best Decoy Gloves
1. Drake Refuge Waterfowl
When it comes to the best gloves for placing and pulling decoys, the Drake Refuge Waterfowl gloves are our top pick.
They are designed specifically for setting waterfowl decoys.
These ideal gloves feature a waterproof Goretex outer membrane to keep your hands dry. What is nice about the Goretex membrane as opposed to neoprene is that they give you more dexterity. You could shoot with these gloves on with more control than you could we a neoprene pair.
The outershell is also treated with a DWR coating to further improve the waterproofing.
The palm of the gloves is made out of leather, giving it the most durable palm of any glove we reviewed.
There is a strap at the wrist and a cord you can tighten around your arm to make the gloves fit nice and snug.
Since the gloves are elbow length, this will help prevent any water from making its way inside of the gloves.
These are great gloves, you will be happy using them next time you are placing decoys in the freezing cold.
Key Features:
Waterproof Goretex Gloves
Extra DWR Coating
Leather Palms
Elbow Length
Wrist Strap
Arm Cord
2. Glacier Decoy
The Glacier Decoy gloves are our first runner up. These are another great decoy glove.
These gloves are made from neoprene which keeps your hands dry and warm once the gloves are submerged in water.
They are lined with fleece for insulation to keep your hands warm on the coldest of days.
Glacier makes these so they are seamless so you won't have to worry about these starting to leak after a few hunts worth of use.
The gloves are full length and fit snug to the arms so water won't get into the gloves.
The palms are textured for added grip when placing and pulling decoys.
All in all, these are great decoy gloves especially considering the price.
Key Features:
Neoprene
Waterproof Gloves
Fleece Lined
Elbow Length
Textured Palms
3. SITKA Delta Deek
For all you SITKA fans, the SITKA Delta Deeks are solid decoy gloves.
SITKA uses a Gortex outershell for it's waterproofing so these gloves provide a lot of dexterity.
They feature a removable fleece liner for insulation. The liner keeps you warm but can be removed for washing or if you are hunting on a warmer day.
The fleece liners are very nice and can also we warn on their own.
The palms are waterproof 3-layer Goretex making them waterproof as well as breathable.
Our only gripe with these gloves is the high price tag.
Key Features:
Goretex Shell
Waterproof Gloves
Removeable Fleece Liner
Elbow Length
Goretex Palms
Best Budget Decoy Gloves
1. Extreme Cold PVC
If you are looking for decoy gloves on a budget, the Extreme Cold PVC are our pick. These are hard to beat for the price.
These are 100% PVC coated to provide complete waterproofing.
Instead of fleece, these gloves use ThinsulateTM insulation which many prefer to fleece and helps keep the price down.
The gloves are a little loose around the arms so even though they are elbow length there is a little higher chance of water getting inside of the gloves compared to the picks above.
These gloves do not have textured palms but the entire glove has a sandy finish which does improve grip.
Key Features:
100% PVC Coating
Waterproof Gloves
ThinsulateTM Insulation
Elbow Length
Sandy Finish
2. Redneck Convent Shoulder Length
Another great budget option is this pair of waterproof decoy gloves by Redneck Convent.
These are unique compared to the others in this article in that they go all the way up to your shoulders.
At first we thought they might be awkward to wear because of this but they are actually pretty comfortable.
They are one size fits all and are held in place by a convenient strap that connects the two across your back.
As far as waterproofing, the PVC coating makes them completely waterproof while also giving a good level of durability when handling your decoys and other gear.
The textured finish also provides a solid grip when handling things that are wet.
Key Features:
100% PVC Coating
Waterproof Gloves
One Size Fits Most
Shoulder Length
Textured Grip
Why You Should Consider Decoy Gloves
Placing and removing decoys often takes place early in the morning in cold weather.
Anyone who has had that experience will realize the value of a good pair of decoy gloves.
Getting your hands wet with freezing cold water is no fun.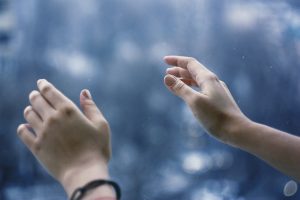 No one wants to sit in a blind with cold hands, especially when they need to be ready to shoot.
Many duck hunters put their decoys out every day they hunt. Decoy gloves are so cheap, they will pay for themselves in no time.
Just keep in mind, these aren't the best duck hunting gloves. We are talking strictly for setting up your blind.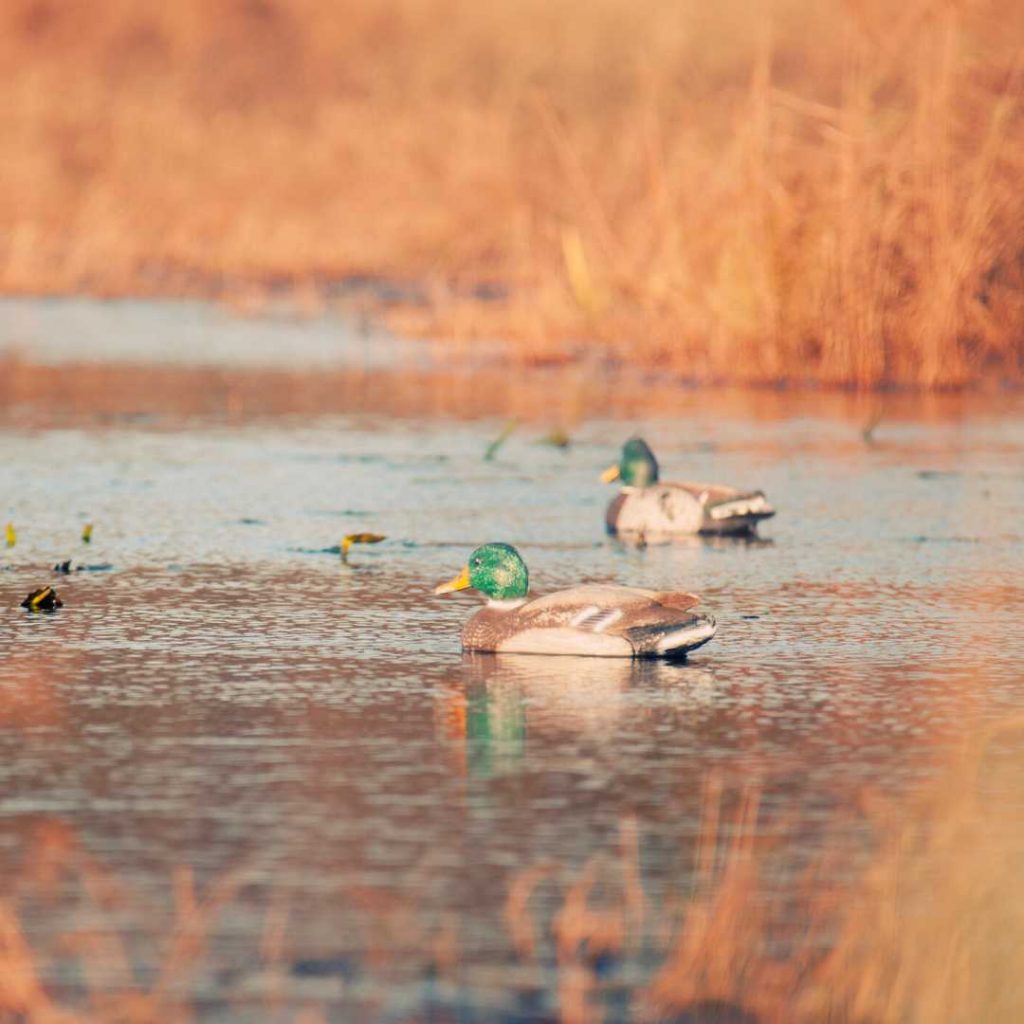 Guide to Buying Waterfowl Decoy Gloves
When choosing decoy gloves, there are several factors to keep in mind. We will take a look of the ones we think are most important below.
Key Glove Features to Consider
Waterproof
We think waterproof decoy gloves are mandatory when placing decoys in the cold.
If they are not waterproof, what's the point?
Your hands will not stay warm for long even if you are wearing gloves.
Insulation
The whole point of decoy gloves is to keep your hands dry and warm.
Having an insulation layer really helps a lot with the second point.
Cold weather is just part of waterfowl hunting. There is not avoiding it.
And even the cheapest gloves above provide insulation so it's a feature worth including.
Length
Normal gloves aren't going to cut it.
At minimum, elbow length gloves are worth considering for placing decoys.
The chances of water getting into the gloves are pretty high if they are normal wrist length gloves.
Getting water inside the gloves defeats the purpose and is something you want to avoid at all costs.
If you want to be extra cautious, give the Redneck Convent a shot. They are inexpensive. Even if you don't love them, worst case you have a backup pair of waterproof gloves.
Seamless
Any seams in the gloves open the possibility of leaks happening in the future.
In the past with other hunting gear we have found seams to be a common spot for a leak to develop.
We prefer the designs without seams the best so this doesn't happen.
Our Verdict
For most waterfowl hunters, we recommend Drake Refuge Waterfowl.
They are waterproof, well made, and will keep your hands warm even in cold weather conditions.
But not everyone's needs are the same so take a look at the other options mentioned as well. Hopefully they will help you find the ideal gloves for you.
If this post didn't have quite what you're looking for, checkout our review of the best cold weather hunting gloves for more options.
FAQs
Can I shoot with decoy gloves on?
Most use different duck hunting gloves when shooting. Because the dexterity isn't great when it comes to decoy gloves, your trigger finger isn't very easy to shoot with.
Can I text with decoy gloves on?
All of the gloves above would probably be pretty tough to text with. Even if they work, it would probably be too difficult to place your finger well.
If this is priority for you consider a half finger design or gloves made from thin material.
Is there anything I can do if they start to leak?
We have heard of hunters having success with flex seal. In the event yours leak, you could give it a try.