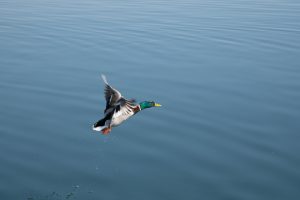 If you are looking for an alternative to a good blind bag,
maybe something that can hold more gear…
You might want to consider a backpack for duck hunting.
There are some really great backpacks on the market these days,
checkout the article below to find out which backpacks stand out from the pack.
Top Pick
When it came time to pick our favorite duck hunting backpack, the choice was clear. We selected the SITKA Timber Pack as our top pick. SITKA really hit it out of the park on this one. Everything you could ask for has been included.
The 5 Top-Rated Duck Hunting Backpacks
Best Duck Hunting Backpack: SITKA Timber Pack
One of the most popular waterfowl hunting backpacks on the market also happens to be our top pick. The SITKA Timber Pack is the best we have come across.
This pack manages to include all the features one could hope for. Included are:
A tree strap for hanging the pack in the tree for convenient access while keeping it up out of the water.
An aluminum gun hook for hanging your shotgun.
8 nooses for carrying ducks.
The backpack also has a rugged bottom and a water resistant exterior. It has a number of different pockets for keeping your gear organized.
The only real downside to this pack is that it is the most expensive one on our list. We would agree that some SITKA gear is overpriced but this is one piece of gear where we feel the price is justified.
Key Features:
Tree Strap
Aluminum Gun Hook
Noose Carrying System
Water Resistant
Rugged Bottom
Runner Up: Drake Waterfowl Swamp
Our first runner up right behind the SITKA is the Drake Waterfowl Swamp. This is another excellent backpack that is well designed and has many great features.
First off, it has a ton of storage. Easily enough to carry an extra layer of clothing.
The exterior is made from a PVC back 600D polyester and has a rugged hard bottom.
There are a number of pockets on both the exterior and interior, giving you a lot of options for organizing your gear. It even has a hard case pocket for your glasses and has 10 loops for holding extra shells.
Pretty much everything a waterfowl hunter needs is included.
Key Features:
PVC Backed Polyester
Rugged Hard Bottom
Security Pocket
10 Shell Loops
Runner Up: Allen Company Waterfowl Backpack
Next up is another great choice, the Allen Company Waterfowl Backpack. This is a rugged, tough backpack.
The main compartment is large and can hold a good amount of gear.
The molded water resistant base will keep your gear dry and helps the backpack stay upright.
There are 5 exterior pockets and it also has removable noose straps for carrying ducks.
Allen Company did a good job on this by offering a well made backpack at a solid price.
Key Features:
Molded Base
5 Exterior Pockets
Noose Straps
Best Bucket Backpack: Peregrine Venture
If you haven't seen a bucket backpack but are open to the idea, checkout the Peregrine Venture Bucket Pack.
It is a pretty interesting and unique idea for a backpack and they seemed to have pulled it off well.
The backpack holds a standard 5 gallon bucket inside a polyester exterior.
It includes a lid which both keeps your stuff dry as well as serves as a seat.
There are a 5 different pockets around the exterior as well, giving this pack tons of storage.
You can even use the inside as an ice chest while using the outer pockets for your gear.
While it may sound odd at first, this backpack offers a ton of unique value at a solid price.
Key Features:
5 Gallon Bucket Interior
Polyester Exterior
Swiveling Lid
5 Exterior Pockets
Best Budget Duck Hunting Backpack: Banded Arc Welded
I am always looking for discounts on hunting gear.
For those of you looking to spend less than our top picks, our favorite budget option is the Banded Arc Welded backpack.
The Banded is made from 600D polyester exterior with welded seams and a water-resistant zipper.
It has a completely waterproof pouch on the side in addition to 2 other exterior pouches.
This is a big backpack and has a ton of storage, 1680 cubic inches to be exact.
Key Features:
600D Polyester
Waterproof Pouch
1680 Cubic Inches of Storage
Who Should Buy a Waterfowl Hunting Backpack
If you are a duck hunter, chances are you need some sort of bag to carry extra gear. While some hunters will prefer a blind bag, others like having additional space and the comfort that a backpack provides.
By carrying your gear in a backpack, it leaves your hands free for carrying other gear like your gun, decoys, etc.
Since you will usually be hunting near water, often in wet conditions, a backpack is great for keeping your stuff dry.
Backpacks are also great for hanging up in a tree to allow easy access to your gear while keeping them off of the ground.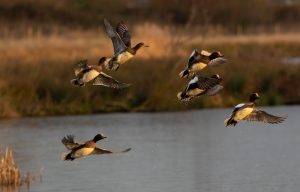 Duck Hunting Backpack Buyers Guide
Water Resistant. Since ducks like the rain, having a bag that is water resistant is pretty much a necessity. Don't bother getting a backpack that isn't going to keep your gear dry.
Compartments. While it depends on what you plan on carrying in your backpack, most of us prefer to have some compartments and pockets for organizing our gear.
Rugged Bottom. A solid, waterproof bottom is a great feature to have on a waterfowl backpack. Since there is a good chance of the bottom getting wet, it pays to get something with a rugged bottom. This will make the backpack last much longer as well since it is not susceptible to having the bottom ripped or torn.