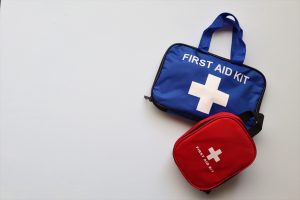 Here's the deal,
Disaster can strike at any time, and it seems to coincide with when you are least prepared for it.
That's why it's best to plan ahead and be ready. A first aid kit can literally save your (or someone else's) life.
There are many great first aid kits on the market today. This post lists our favorites.
Top Pick
After surveying the market, we selected the Adventure Mountain Hiker first aid kit as our top pick. This kit offers the best blend of contents and size for a hunter. You can feel safer knowing you have it with you in the event an emergency happens.
The 5 Top-Rated First Aid Kits for Hunting
Best First Aid Kit for Hunting: Adventure Mountain Hiker
If you are looking for a great first aid kit to carry hunting, the Adventure Mountain Hiker is our top pick.
This is a 68 piece kit that offers a great blend of size vs. capability.
Designed with the hiker in mind, it weighs just under 8 ounces, making it light enough to through in your hunting backpack.
The outside is water resistance and it has a helpful map telling you which supplies are located where.
Included are a trauma pad, blister aid, basic medications, and more.
The contents are good quality and for this price there is no reason not to carry one with you.
Key Features:
68 Items
Weight: 8 oz.
Water Resistant
Best First Aid Kit for Backpack Hunting: Adventure Ultralight .5
For you hunters that are backpack hunting and looking to shave every ounce possible, checkout the Adventure Ultralight .5.
This kit is the most slimmed down, quality kit we could find. It is indeed ultralight, weighing only 3.6 oz.
The ultralight does cut down to bare essentials but it still includes contents for treating trauma, blisters, bug bites, and basic pain medications.
The container is not very organized because Adventure tried to pack it in a bag as efficiently as possible. The kit is watertight.
Key Features:
48 Items
Weight: 3.6 oz.
Watertight Bag
Best Waterproof First Aid Kit: Surviveware Waterproof
If you are looking for a the best waterproof first aid kit, the Surviveware Waterproof is the best we could find.
The container on this is robust and 100% waterproof with an IPX7 rating. They even weld the seams to keep water out.
Surviveware claims this kit can stay submerged in water for up to 30 minutes at 1 meter deep and still stay dry.
The contents are well organized in conveniently labeled pockets.
The kit also includes a brief guide on how to deal with common types of emergencies.
It includes high quality contents like stainless shears and a one-way cpr mask.
The level of care possible with this kit is a step up from the models above.
The kit is a bit bigger and costs more but if you are not turned off by either of those, this is an excellent first aid kit.
Key Features:
IPX7 100% Waterproof
Weight: 36 oz.
Emergency Guide Included
Best First Aid Kit for Camp: Adventure Sportsman 200
If you are looking for a larger kit to keep at camp or in your cabin, checkout the Adventure Sportsman 200.
This is a nice kit with tons of supplies. It includes 127 items and accommodates 1-4 people for 1-4days.
It has everything you need to treat trauma wounds, broken bones, and fractures.
The kit also comes with a Wilderness First Aid Quick Guide to help you navigate through stressful emergencies.
Another nice feature is that it has a small, detachable field kit that you can carry with you and leave the larger kit back at camp.
Key Features:
Wilderness First Aid Guide Included
82 Pieces
Weight: 20 oz.
Detachable Field Kit
Runner Up: Surviveware Small
Another great choice for a small, all-around first aid kit is the Surviveware Small.
This kit is made from a durable, water resistant, 600D polyester case and holds 100 items.
The kit only weighs 1 lb. so it is still light enough that you can take it backpack hunting if you want.
It contains shears, a cpr pouch, butterfly closures, and everything you need to deal with common pains and problems.
Key Features:
100 Items
600D Polyester Case
Weight: 16 oz.
Who Should Buy a First Aid Kit
A properly stocked first aid kit is something everyone should have at their disposal and should be on your hunting checklist. You never know when an emergency is going to strike.
Anyone spending time hunting or hiking in the outdoors needs to have a first aid kit nearby.
The size of your kit and the contents depends a lot on how you plan to hunt. If you are backpack hunting, you obviously are going to want to keep it lightweight so you won't be able to fit a kit with every possible piece of gear you might need.
If you hunt from a camp, cabin, or hunting vehicle you can probably afford to get a bigger first aid kit that houses more equipment.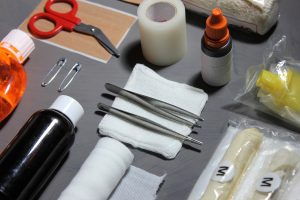 In addition to the contents of the kit, you should also write down your emergency contacts somewhere inside the kit.
Always make sure to check the expiration dates from time to time and replace items as necessary.
If you are looking for guidelines on what should be in a first aid kit, you can see what the Red Cross recommends here.
Important Features to Consider
Size and Weight. The size of your kit is important for a few reasons. Are you planning on backpacking or camping? If so, you will probably want a small, compact kit. How many people are in your group? The larger the group, the larger first aid kit you should have. Finally, how quickly can you make it to a hospital if necessary? At minimum, you want a kit with enough supplies to make it there.
Weight. If you plan on carrying the kit with you while you hunt, you are probably going to want something that is easy to pack. Similarly, weight is always worth considering especially if you do a lot of hiking while hunting.
First Aid Guide. How much first aid training do you have? Do you know what to do in most emergency situations? If not, you should consider purchasing a kit that includes a first aid guide that can help walk you through what to do in common scenarios.
FAQs
Is the kit waterproof?
The only kit recommended above that we would trust to be completely waterproof is the Surviveware Waterproof. The others are water resistant and water tight but if you plan on the kit getting wet, consider purchasing this model.