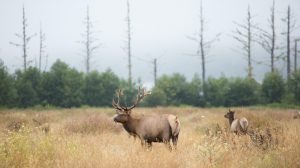 Looking for some good game bags for your next hunting adventure?
Game bags can come in handy when you are trying to keep your meat clean and dry when out in the field, especially if bugs or dirty conditions might be of concern.
We have used many game bags over the years including diy bags, synthetic bags, and many others.
In this article we review and present what we think are the best choice for your next hunt.
Top Pick
In our experience, the best game bags are the BlackOvis Lightweight Game Bags. They are well made bags capable of holding a lot of meat. The breathe well and do a great job of protecting your precious meat.
The 5 Top-Rated Game Bags for Hunting
Best Game Bag for Hunting: BlackOvis Lightweight Game Bags
If you are looking for the best all around game bags, the BlackOvis Lightweight Bags are our pick. We think these are the best game bags for deer on the market.
These are synthetic material bags designed to maximize breathability while protecting your meat from dirt and bugs.
The BlackOvis bags are well made and very durable. They should hold up to years of use.
This set comes with 4 quarter bags and one extra bag for the remaining cuts.
Overall, we think you will be well served by these game bags.
Key Features:
Synthetic Material
4x 38″x21″
1x 28″x15″
Best Game Bags for Elk: Alaska Game Elk Quarter Bags
For those of you in need of game bags for elk, we recommend these Alaska Elk Quarter Bags.
They are tough, yet lightweight and can be washed and reused.
They are designed to breathe well and they roll up nicely so you can stuff them in your pack.
This kit comes with 4 48″ bags which will be plenty big for elk quarters.
At this price, the quality is hard to beat.
Key Features:
Best Antimicrobial Game Bags: Koola Buck Antimicrobial Game Bags
If you are wanting to try game bags designed to be antimicrobial, Koola Buck Game Bags are our pick.
They claim these bags protect meat from bacterial growth better in warmer weather and many owners confirm their performance.
The material is also supposed to repel insects like flies which are one of the most common reasons for meat spoiling.
Koola Buck sells different size bags depending on the game you hunt. Make sure you select the ones most appropriate for you.
Overall, these are a great choice for anyone backcountry hunting or hunting in warm climates.
Key Features:
Cotton/poly Blend
Different Sizes Available
Best Budget Game Bags: Alaska Game Deer Bags
For you hunters looking for quality game bags at a great price, we recommend the Alaska Game Deer Bags.
These are the same material as the elk bags recommended above but are 48″ instead of 60″. The set still comes with 4 bags which is plenty for a complete deer.
The Alaska games bags are one of the most popular game bags on the market and have many great reviews.
All in all, these are a great choice for all hunters.
Key Features:
Best Full Body Game Bags: Allen Backcountry Full Body Bag
The Allen Backcountry Full Body Bags are a good choice for anyone in the market for a game bag big enough for a full deer.
These are great if you have a nice place to skin a buck and want to cover it while hanging in one piece.
Perfect for keeping flies off, the material is lightweight and breathes well. The material is a little lightweight for use on a backcountry hunt but will work great in the majority of cases.
These are probably not big enough for an elk so if that's what you're looking for you will want to pick a larger bag.
Key Features:
Wicking Material Blend
36″ x 72″ Full Bag
Best DIY Game Bags: Pillow Cases
Pillow cases have long been a popular choice for many hunters. Before game bags existed on the market, hunters used pillow cases and sown sheets to protect their game.
We ourselves have multiple game bags that are either pillow cases or sown sheets and have never had any issues with meat spoiling.
The downside to using these is that in comparison to modern game bag materials they are not going to be as durable or breathe as well.
They also won't pack into your backpack as well for those of you that carry your bags in your hunting backpack.
If you can afford it, we would recommend one of the options above but if you must, a pillow case will get the job done.
Who Should Buy Game Bags
Anyone hunting big game should consider having some game bags on hand. They are a great tool for preserving your meat and preventing it from potentially spoiling.
Game bags prevent insects like flies from landing on your meat and laying eggs that can cause your meat to spoil.
Most hunters have plenty of extra room for game bags in their pack. Game bags can usually be compacted and crammed into the bottom of your bag.
The best place to hang your game bags is in a cool, shaded, well ventilated area. If you are out in the woods, you are going to want to hang them on the side of a tree with the least amount of sun exposure. When you hang them, make sure that they do not touch each other. You want all sides of the bag to be fully exposed to the air so they get good airflow.
You also want to make sure you keep them in a location where bears cannot get access to them. Get it up high enough in a tree where a bear cannot easily get to it.
Important Features to Consider
Size. When selecting game bags, you want to make sure you select bags that are the correct size for game you are hunting. For example, you probably will not want bags large enough for elk if you are hunting smaller deer like blacktail.
Material. While the best material is debatable, you want to select a material that breathes well and is durable.
Quality. Nothing is more useless than a poorly constructed game bag. If your bag rips easily when loaded up with meat, you are going to be in a miserable situation especially if you are out on a backcountry hunt when the meat is exposed to dirt and bugs and can spoil.
FAQs
What is the best game bag material?
The best material is up for debate. Some say cotton is fine while others preach the benefits of sythetic materials. One thing is for certain, you want to use materials that breathe well. All of the recommendations above should be adequate for most hunters needs.
How many game bags do I need for a full animal?
This depends on the type of game you are hunting. Obviously larger animals like elk and moose are going to require larger or more bags. We recommend paying attention to the bag sizes. At the very least you will want a bag for each quarter and one extra for cuts like the backstraps, tenderloins, etc.
How long do game bags last?
If well cared for, your bags should last multiple seasons. This means as soon as you are bag home and empty the bags, wash them with a good detergent, dry them, and store them in a dry place until your next hunt.