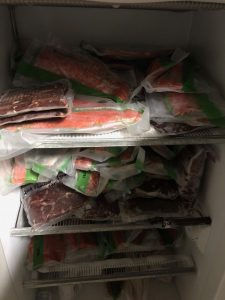 If you want to make your game meat last 3-5x longer, you're going to need the best vacuum sealer for hunters.
Luckily, that's exactly what today's post is all about.
I think you will agree with me when I say:
Processing your game from start to finish is A LOT of work.
Letting your meat go to waste or get ruined by freezer burn would be tragic.
Imagine unwrapping the backstraps from a buck you killed 6 months ago only to have your stomach sink in terror when you see the meat covered with ice.
Luckily, there is a solution.
It turns out you can get 3-5 times longer storage life of your food and significantly decrease the risk of freezer burn by using a vacuum sealer.
Today's post will go through the best vacuum sealers for hunters and help you decide which one is right for you.
Whether you are processing elk or deer meat, don't risk letting your hard earned kill getting ruined in the freezer.
Even if you take your animal to a butcher, you may want to repackage it.
Summary of Best Vacuum Sealer for Hunters
For starters, you're probably here because you are in the market for a vacuum sealer and you don't know which is best.
If you are short on time, here is a summary of the best vacuum sealer for hunters.
The 7 Best Vacuum Sealers for Hunters
Avid Armor USV32 Chamber Sealer: Best Vacuum Sealer for Wild Game
The Avid Armor Chamber Vacuum Sealer is the best all-around vacuum sealer for hunters.
In fact, whether you are a hardcore hunter or you just want to vacuum seal a lot of game, this is an excellent choice.
Want to know why? Let's dive in…
Adjustable Vacuum
The chamber vacuum force is superb.
Here's why:
Unlike a typical vacuum sealer that tries to suck all of the air out of the bag, a chamber sealer pumps all of the air in the chamber out.
The result?
A truly airtight seal.
In addition to doing a better job of getting air out of the bag, this also means you can vacuum seal liquids like soup or venison stew.
What's great about the Avid Armor is that the vacuum time is completely adjustable. It can be set from 15 seconds to 60 seconds to maximize vacuum when you need to.
Checkout this video to see it in action:
The first time you see a chamber sealer in action, you will quickly see why they have benefits over traditional vacuum sealers.
Now that we have covered chamber vacuum sealing, let's move onto…
Adjustable Sealing
3 to 9 seconds.
That is how much time you are able to adjust the seal time on the Avid Armor.
When you happen to buy a different brand of bags that are a little thicker or thinner, you can easily adjust the time setting to get a good seal on your bags of meat.
You won't have to worry about seals failing and your meat getting freezer burnt because the Avid Armor does a great job.
Let's move onto another feature I love about the Avid Armor…
Chamber Bags
Traditional vacuum sealer bags can get expensive.
Especially if you are processing a deer or other large game.
Luckily, chamber bags are much cheaper!
Let's look at an example:
A 3 pack of  FoodSaver 11″ x 16′ vacuum sealer rolls costs around $28 online, likely more in local stores.
With this, you can make about 44 13″ bags. This works out to about $0.63 per bag.
By comparison, you can buy a pack of 250 11″ x 13″ chamber bags for about $35.
So, each bag costs about $0.14, which is 75% less than the FoodSaver bags!
This is a huge savings for anyone processing a lot of meat!
Key Features/Specifications
Dimensions: 14″ x 12″ x 8.25″
Chamber Size: 12.25″ x 8.5″ x 3″
Clear Glass Lid
Adjustable Vacuum Time
Adjustable Seal Time
Pros
Chamber vacuum does a great job of removing air.
Adjustable seal time allows you to easily adjust to different bags.
Can use chamber bags which are cheaper than traditional vacuum sealer bags.
Cons
Unit is larger than typical vacuum sealers, they also sell a smaller USV20 version
Summary
If you are looking for the best vacuum sealer for hunters, I can't recommend the Avid Armour Chamber Sealer enough.
It has everything you need for deer processing, fish, other wild game, you name it.
Sure, it costs more than some of the common vacuum sealers but if you plan on using it a lot, it is worth the money.
VacMaster VP210 Chamber Vacuum Sealer: Best High-End Vacuum Sealer
If you are looking for a top of the line vacuum sealer for all your big game processing needs, checkout the VacMaster VP210 Chamber Sealer.
Don't let the high price tag dissuade, sometimes you get what you pay for.
This is the Cadillac of vacuum sealers. If money is not a concern or you are looking for a serious commercial vacuum sealer you found the right choice.
While it is a big investment, the quality, function, and durability of VacMaster is a serious machine.
This bad boy is build to last a lifetime.
Here's why I think it is so great:
Vacuum Chamber
Like the Avid Armour, this is a chamber vacuum sealer so you get all the same benefits as above.
All the air is vacuumed out of the chamber.
And, the VacMaster has the highest pressure vacuum of any unit I have seen.
So you wind up with nice, tightly sealed meat nearly every time.
Plus, the vacuum time is adjustable so you can fine tune it to your liking.
Here is a video if you want to see it in action:
Adjustable Double Sealing
The bag sealing with the VacMaster is hands down the best.
It actually has a double seal wire, meaning it puts a double seal on the bag.
So even if one seal fails, the second seal will prevent air from getting into your bag and spoiling the meat.
Just like the vacuum time, the seal time is completely adjustable.
Key Features:
Dimensions: 21″ x 24″ x 14.5″
27-29 Hg Vacuum Pressure
Maintenance Free Pump
Double Seal Wire
Cycle Time 20-60 Seconds
Pros:
Higher Vacuum that typical units so you get much tighter sealed meat.
Double bag seal so you never have to worry about a failed seal.
Vacuum and Sealer are both completely customizable.
Can package liquids like venison stew, Sous Vide etc.
Cons:
By far the most expensive vacuum sealer I have tried
Unit is large, heavy and not as easy to store
Summary
The VacMaster can be considered the best vacuum sealer for hunters if you don't factor in the price tag.
If you are a serious hunter who often ends up processing multiple animals per year you will benefit from the investment in this wonderful machine. The only problem is all your buddies will be lining up to use it once they hear how great it works.
Note: 10" wide bags max, common 11" wide will not work.
FoodSaver GameSaver Wingman: Best Sealer for Casual Hunters
The FoodSaver GameSaver Wingman is the best vacuum sealer for the casual hunter.
Whether you want something to vacuum seal deer meat after your year trip, or something you can use now and then when you go fishing, this is a great choice.
In fact, one of my buddies that hunts and fishes a few times a year uses this exact model.
Keep reading if you want to find out more…
Designed for Wild Game
If the camo top didn't give it away, FoodSaver designed the vacuum sealer specifically for wild game.
Most consumer vacuum sealers are meant for all types of food, not just meat.
This unit has been beefed up with a stronger pump because with larger pieces of meat it can be hard to get all the air out of the bag.
And, the unit has a sensor to automatically detect when it has reached the right pressure.
Another feature I really like is the…
Wide Sealing Strip
Like I said, this is meant for wild game.
So, FoodSaver made this unit with a longer than normal sealing strip so you can easily use 11″ bags.
And the strip is also capable of doing 60 consecutive seals so you can pre-seal one of a bunch of bags at once.
FoodSaver says you can use the unit to process up to 180 lbs. of wild game continuously.
Key Features:
Wide Sealing Strip
Locking latch
Build in roll holder and cutter
Moist and Dry settings
15″ Hg pressure
Pros:
Good reviews
60 consecutive seals
Small and portable (5.75 lb)
Automatic pressure sensor
Cons
Vacuum not as powerful as chamber models
Summary
If you are looking for a vacuum sealer for deer meat or other wild game, you can't go wrong with the FoodSaver GameSaver Wingman.
It has everything you need if you plan to use this a few times a year on your hunting and fishing trips.
The unit is portable, easy to use, and reliable.
For the price, you should get a lot of value out of this sealer.
NutriChef PKVS: Best Budget Vacuum Sealer for Hunters
The NutriChef PKVS Vacuum Sealer is the perfect budget vacuum sealer for hunters.
If that's what you're looking for, let's explore why…
Automatic Vacuum System
For a low-cost vacuum sealer, you might not have high expectations.
But the NutriChef was a pleasant surprise.
The unit has a one-button vac-seal function that automatically vacuums the bag to the correct amount and then seals it all in one simple step.
While this isn't going to allow you to customize the settings to your exact liking, this works well for most users.
A lot of hunters aren't looking for a commercial sealer with all the bells and whistles.
You just want something that you can rely on now and then when you need to process some game meat.
Key Features
Dimensions: 14.5″ x 6″ x 3″
Takes Up To 12″ Bags
1-Button Fully Automatic Vacuum Sealing
2 Sealing Modes
Pros
Very popular budget option on Amazon
Compact size
Lightweight (3 lbs.)
Optional accessories available
Cons
May not be suited for heavy, frequent use
Summary
The NutriChef is nice and compact which is perfect for transporting on hunting trips and it doesn't take up a ton of cabinet space. It has a nice high tech feel with its touch buttons.
It also includes a wine stopper accessory to allow you winos to preserve open bottles longer.
My only hesitation with the NutriChef is whether it will stand up to heavy use required by big game. With that said I still think it is a great budget option.
FoodSaver GameSaver Big Game: Runner-Up
If you are looking for a close alternative to the Wingman above, the FoodSaver GameSaver Big Game is worth a look.
To keep it simple:
They are pretty similar.
The Big Game is slightly larger and meant to be a little more heavy duty.
It has many of the same features as the Wingman but is larger and a bit more rugged.
For instance:
Instead of being rated for continuous use processing 180 lbs. of wild game, the Big Game is rated for 240 lbs and 80 consecutive seals.
One cool addition that I like:
It comes with a 12V DC adapter so it can be powered with a vehicle.
The model is heavier and more rugged but other than that the performance is comparable.
Key Features:
Dimensions: 23.7″ x 10.2″ x 5.2″
Limited lifetime warranty
Has a 12V DC adapter
Built in drip tray
Grab handle
15″ Hg pressure
Automatic pressure sensor
Pros:
Popular with hunters
80 consecutive seals is capable of processing a large animal
The 12V DC adapter is great if you are wanting to use on a boat or in an RV
Rugged Design so you can bring it along on your hunting and fishing trips
Cons:
Doesn't vacuum as well as the chamber models.
Summary
The bottom line is if you're leaning towards the FoodSaver Wingman, the Big Game is also worth considering.
If you hunt large game, and process a lot of meat this is the vacuum sealer for you. The Big Game will continually process up to 240 lbs of meat.
This unit is a heavier duty model than the Wingman weighing in at 9lbs. While it may not be as easy to lug around you can rest assured it will stand up to some serious abuse.
Nesco VS-12: Budget Runner-Up
If the NutriChef above doesn't sound quite right for you, the Nesco VS-12 is another budget option.
The Nesco is a nice machine and a well known brand.
It has some nice features such as a manual override in case you are working with something fragile like bread. It also has built in protection that will prevent overheating the sealing strip.
If you buy the Nesco, make sure to get the black/silver unit because it has all the features.
Key Features:
Dimensions: 15.75″ x 8″ x 4.5″
Easy-Lock Handle
3 Vacuum Settings
Automatic Vacuum Sealing
Holds Up to 11.8″ Bags
Pros:
Nesco is a reputable brand
Good quality sealer for the price
Cons:
The unit is fairly large. Cabinet space is often hard to come by and something you may want to take into consideration.
FoodSaver V440: Not My Favorite Vacuum Sealer for Hunters
I'll be honest. This is one of the first vacuum sealers I used for a while.
And I thought it was solid.
But after using some of the other models in this article, especially the chamber sealers, I was less impressed.
Don't get me wrong, the FoodSaver V4440 is still a quality vacuum sealer and will work just fine for processing meat, I think your money is better spent elsewhere.
If you still want to learn more about it, keep reading.
Key Features
Dimensions
Automatic Bag Detection
Built-in Roll Storage and Cutting
Pros
Fully Automatic Operation is pretty simple to use.
Pull-Out Drip Tray is nice for catching excess juices and liquids.
The built in bag storage is nice because you don't have to store your bags separately.
Cons
The sealer gets hot and needs time to cool down after repeated use.
Doesn't vacuum air out as well as other models.
Sometimes lets air in between vacuuming and sealing.
Summary
If you are looking for a vacuum sealer to use for brief periods and for food besides wild game, the FoodSaver V4440 will get the job done.
But if you plan on vacuum sealing big game after a hunt, it might disappoint you.
The sealer seems to be the biggest issue. Sometimes it needs to cool down and it seems to let a small amount of air in between vacuuming and sealing.
I would stick to one of the other models above that is in your price range.
What are the benefits of a vacuum sealer for hunters?
Using a vacuum sealer makes it easy to prevent the tragic scenario above. Anything you vacuum seal will:
Keeps meat fresh longer
Not get ruined by freezer burn
Taste better because the food retains its natural moisture
You save time and money
Makes it easy to keep your freezer organized
You don't have to limit yourself to game like venison either.
They work great for organs, fish, and store bought meat as well.
The next time your favorite cut is on sale you can stock up and vacuum seal many packs at once.
This allows you to enjoy your food (that's usually expensive) at your leisure instead of having to eat it all before it spoils.
How long does frozen game meat usually last?
The conventional storage life of meat is ~6 months.
For fish, typically even less.
Foodsaver claims that once vacuum sealed, the life can extend to as much as 3 years!
What causes freezer burn and why does vacuum sealing help?
Contact with cold dry air pulls the moisture out of the food leaving it dry and tasteless.
Freezer burn is caused by the moisture getting pulled out of food by the cold dry air in a freezer. Not only is the flavor ruined but the texture is destroyed by the moisture as it freezes and makes its way to the surface of your food.
Checkout this failed vacuum seal on a salmon fillet: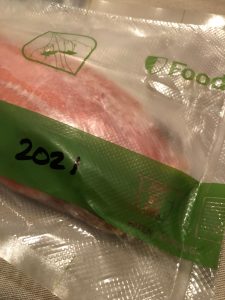 When this happens, the salmon is exposed to oxygen. Many bacteria species need air to grow and multiply. Most bacteria that cause food to spoil need oxygen to grow and multiply.
Mold is similar. Without air they are starved and unable to survive.
Here is what a good vacuum seal should look like: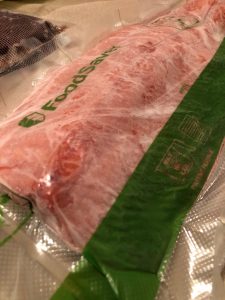 Now the salmon is protected from pesky bacterial and mold due to the limited oxygen exposure.
By sucking all the air molecules out of the bag, bacteria that needs air to multiply are starved and unable to grow.
Vacuum Sealer for Wild Game Review Criteria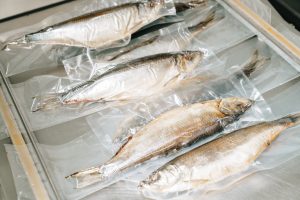 Vacuum force: The higher the vacuum pressure, the better the air will be removed from the bag before sealing.
Sealing: Vacuum sealers use heat to melt the plastic bag and create an airtight seal. You want your vacuum sealer to create an airtight seal.
Ease of Use: If the unit is time consuming and frustrating to use it will offset the benefits gained. Automatic bag sealing and cutting are also nice time saving features. Automatic sensing when all air has been removed from the bag helps keep you from wasting time over or under vacuuming.
Storage: Unless you have a place to setup and leave your sealer, you will probably prefer a sealer that stores nicely.
Portability: For hunters and fishermen who want to bring their vacuum sealer with them on their trips.
Bag size: If you plan to use your vacuum sealer to preserve game you kill you will want a unit that is able to use large bags. Many pieces of meat on large game can be quite large.
If you would like to find out more about how we review hunting gear, checkout How We Rate Hunting Gear.
Why Should You Trust Me?
Because I use a vacuum sealer for deer meat, fish, and other wild game.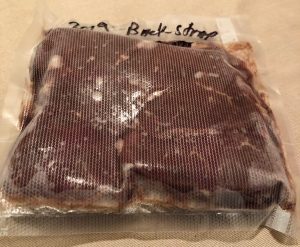 Over the years I have tried quite a few different models.
And because I actually hunt and when I harvest game, I want to feel confident knowing that all the meat will last so it doesn't go to waste.
I am not affiliated with any of the companies recommended in this article and did not receive any endorsements.
My reviews are based off my own experience and opinions.
If you purchase a vacuum sealer based on my reviews and use one of my links, I receive a small commission (usually a couple %). You do not get charged any extra. This money goes towards keeping the site running, buying more gear, and rewards me a little for the time it takes to put these articles together.
FAQs about Vacuum Sealers for Game Meat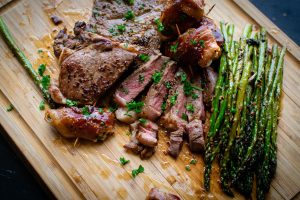 How do I prep meat for vacuum sealing?
Here are a few helpful tips:
Freeze meat slightly ahead of time, 30 min-1hr to firm up.
You can also pre-wrap meat with plastic wrap to create extra protection from air.
Cut bags slightly bigger than you need. It's better to cut to large than too small.
How does a vacuum sealer work?
A pump inside the machine sucks the air out of the bag until there isn't any left or it cannot create anymore pressure. This is why higher pressure units do a better job of getting the air out.
Why should I use a vacuum sealer instead of a container?
As mentioned many other times in this article, food will retain its freshness and last much longer once air is removed with the use of a vacuum sealer.
How long does it take to vacuum seal a bag?
It usually takes somewhere between 5-60 seconds depending on the size of the bag and what is in it.
Do vacuum sealers require any maintenance?
After some use your sealer may require you to replace gaskets. This will help maintain the suction that pulls the air out of the bag. Replacing a gasket is quick and easy.
Where can I get more vacuum sealer bags?
While you will be able to find extra bags in your local stores, I think you can get much better prices if you purchase them online.
Most brands are interchangeable as along as the bag width is within what your unit can handle.
You can make your own pouches by buying rolls or buy pre-made bags which only require sealing on one side. You can even wash and reuse bags.
Conclusion
Anyone processing wild game for their freezer needs to get themselves a vacuum sealer.
And I think the best vacuum sealer for hunters is the Avid Armour USV32 Chamber Sealer.
I hope you found this post helpful. The reason it is so long is because vacuum sealers aren't cheap and I wanted to do my best to help you figure out which model will work for you.
So now you should have a better idea:
Which vacuum sealer is best for your hunting needs?
If you are still on the fence about purchasing, just think of how much longer your deer meat could last in the freezer.
Also, if you are looking for great recipes to prepare your deer meat, I highly recommend Buck, Buck, Moose.