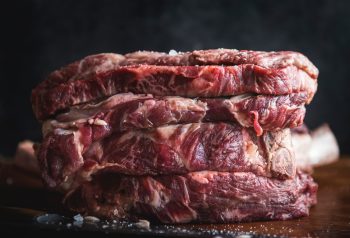 Do you have meat to freeze?
Do you want your meat to last 3-5x longer?
I think you will agree with me when I say:
Processing your game from start to finish is A LOT of work.
Letting your meat go to waste or get ruined by freezer burn would be tragic.
Imagine unwrapping the backstraps from a buck you killed 6 months ago only to have your stomach sink in terror when you see the meat covered with ice.
Luckily, there is a solution.
It turns out you can get 3-5 times longer storage life of your food and prevent freezer burn significantly decrease the risk of freezer burn by using a vacuum sealer.
Today's post will go through the best vacuum sealers for hunters and help you decide which one is right for you.
Don't risk letting your hard earned kill getting ruined in the freezer. Even if you take your animal to a butcher you may want to repackage it.
If you are in a hurry, here is a summary of our top picks ranking vacuum sealers.
PREMIUM PICK

BEST CHOICE

BEST VALUE

VAC-VIDA VS301 Vacuum Sealer
Foodsaver V4400 Vacuum Sealer
PREMIUM PICK

VAC-VIDA VS301 Vacuum Sealer
BEST CHOICE

Foodsaver V4400 Vacuum Sealer
BEST VALUE

What are the benefits of a vacuum sealer?
Using a vacuum sealer makes it easy to prevent the tragic scenario above. Anything you vacuum seal will:
Last longer
Not get ruined by freezer burn
Taste better because the food retains its natural moisture
You save time and money
Makes it easy to keep your freezer organized
You don't have to limit yourself to game meats either.
The next time your favorite cut is on sale you can stock up and vacuum seal many packs at once. This allows you to enjoy your food (that's usually expensive) at your leisure instead of having to eat it all before it spoils.
How long does frozen meat usually last?
The conventional storage life of meat is ~6 months.
For fish, typically even less.
Foodsaver claims that using vacuum sealer can extend this to as much as 3 years!
What causes freezer burn and why does vacuum sealing help?
Contact with cold dry air pulls the moisture out of the food leaving it dry and tasteless.
Freezer burn is caused by the moisture getting pulled out of food by the cold dry air in a freezer. Not only is the flavor ruined but the texture is destroyed by the moisture as it freezes and makes its way to the surface of your food.
Protects vs bacterial and mold growth by limiting exposure to oxygen. Many bacteria species need air to grow and multiply. Most bacteria that cause food to spoil need oxygen to grow and multiply. Mold is similar. Without air they are starved and unable to survive.
By sucking all the air molecules out of the bag, bacteria that needs air to multiply are starved and unable to grow.
Reviews of Vacuum Sealers for Hunters
Has a drip tray
Includes a handheld sealer
Build in bag storage
The FoodSaver V4440 is a very popular vacuum sealer for first time buyers. With the 2-in1 abilities it offers a versatile setup. It has some nice features like a built-in storage area for bag rolls as well as an automatic bag detection.
Instead of the more classic clamshell type design, the V4440 has an automatic bag detection system. As a result, you will find yourself using this system much more frequently. It is much easier to use, more user friendly than conventional models.
Works with 8" and 11" rolls. FoodSaver also offers accessories you can buy for sealing other types of containers.
Good reviews
60 consecutive seals
Small and portable (5.75 lb)
15″ Hg pressure
Automatic pressure sensor
The GameSaver Wingman is specifically designed to handle heavy use when you have a large animal to process. The unit is capable of 60 consecutive seals before getting hot. It also features an extra wide sealing strip to guarantee a strong seal.
If you don't need quite the capabilities of the big game and want something a bit smaller and more portable.
Pros:
Limited lifetime warranty
80 consecutive seals.
Has a 12V DC adapter so it can be powered with a vehicle, boat, or RV
Built in drip tray
Grab handle
15″ Hg pressure
Automatic pressure sensor
If you hunt large game, and process a lot of meat this is the vacuum sealer for you. The Big Game model will continually process up to 240 lbs of meat.
This unit is a heavier duty model than the Wingman weighing in at 9lbs. While it may not be as easy to lug around you can rest assured it will stand up to some serious abuse.
Reputable brand
Built-in roll storage
Vacuum sealing is automatic
Up to 11.8″ bags
The Nesco is a nice unit and a well known brand. It has some nice features such as a manual overide in case you are sealing something fragile like bread. It also has built in protection that will prevent overheating the sealing strip.
What I don't like about this unit:
The unit is fairly large. Cabinet space is often hard to come by and something you may want to take into consideration.
If you buy the nesco, make sure to get the black/silver unit because it has all the features.
Very popular budget option on Amazon
Compact size
Lightweight (3 lbs.)
Optional accessories available
Unit is nice and compact which is perfect for transporting on hunting trips and it doesn't take up a ton of cabinet space. It has a nice high tech feel with its touch buttons.
The NutriChef also includes a wine stopper accessory to allow you winos to preserve open bottles longer.
My only hesitation with this model is whether it will stand up to heavy use required by big game. With that said I still think it is a great budget option.
Extra heavy duty
¼ hp pump
Great customer service
Built like a tank
Easy to use (only 3 settings)
Fully automatic
This is the Cadillac of vacuum sealers. If money is not a concern or you are looking for a serious heavy duty vacuum sealer you found the right choice.
While it is a big investment, the quality, function, and durability of Vac-Vida is head and shoulders above other models.
This bad boy is build to last a lifetime.
Note: 10" wide bags max, common 11" wide will not work.
If you are a serious hunter who often ends up processing multiple animals per year you will benefit from the investment in this wonderful machine. The only problem is all your buddies will be lining up to use it once they hear how great it works.
Extra Bags
Bags have built in ridges to aid in sucking the air out of the bag. Most brands are interchangeable as along as the bag width is within what your unit can handle.
You can make your own pouches by buying rolls or buy pre-made bags which only require sealing on one side. You can even wash and reuse bags.
Sale
Vacuum Sealer Rolls Bag, 6 Pack 8"x16.5' and 11"x16.5' Food vacuum Saver Bag Rolls with Cutter Box,100 feet Sous Vide Roll Bag,By KitchenBoss
Better Value and Easy to Use: Includes 3 rolls 8"x16.5' and 3 rolls 11"x16.5' with cutter-box. Kitchenboss food saver bags rolls come with newly designed cutter-box. This eliminates the fussing with scissors and no longer worry about the bags rolling freely. Cutter-box can be reused.
High quality: Good vacuum effect, high transparency, tensile strength and durability, easy to heat sealing, sealing good, not easy ageing etc.
Safe and convenient: Can be microwaved, frozen, re-used, washed, boiled and dishwasher safe. Great for sous vide cooking. Friendly tips: If you want to use it in a microwave oven, you need to open the bag.
Review Criteria
Vacuum force: The higher the vacuum pressure, the better the unit will remove air from the bag before sealing.
Sealing: Vacuum sealers use heat to melt the plastic bag and create an airtight seal. You want your vacuum sealing unit to create an airtight seal.
Ease of Use: If the unit is time consuming and frustrating to use it will offset the benefits gained. Automatic bag sealing and cutting are also nice time saving features. Automatic sensing when all air has been removed from the bag helps keep you from wasting time over or under vacuuming.
Storage: Unless you have a place to setup and leave your sealer, you will probably prefer a sealer that stores nicely.
Portability: For hunters and fishermen who want to bring their vacuum sealer with them on their trips.
Bag size: If you plan to use your vacuum sealer to preserve game you kill you will want a unit that is able to use large bags. Many pieces of meat on large game can be quite large.
FAQs about Sealing Game Meat
How do I prep meat for vacuum sealing?
Here are a few helpful tips:
Freeze meat slightly ahead of time, 30 min-1hr to firm up.
You can also pre-wrap meat with plastic wrap to create extra protection from air.
Cut bags slightly bigger than you need. It's better to cut to large than too small.
How does a vacuum sealer work?
A vacuum pump inside the machine sucks the air out of the bag until there isn't any left or it cannot create anymore pressure. This is why higher pressure units do a better job of getting the air out.
Why should I use a vacuum sealer instead of a container?
As mentioned many other times in this article, food will retain its freshness and last much longer once air is removed with the use of a vacuum sealer.
How long does it take to vacuum seal a bag?
It usually takes somewhere between 5-60 seconds depending on the size of the bag and what is in it.
Do vacuum sealers require any maintenance?
After some use your sealer may require you to replace gaskets. This will help maintain the suction that pulls the air out of the bag. Replacing a gasket is quick and easy.
Conclusion
Anyone storing meat in their freezer needs to get themselves a vacuum sealer. Don't put it off another season, order yours now. You will be happy you did.
If you are looking for great recipes I highly recommend Buck, Buck, Moose. A more detailed review can be found in our post on our favorite hunting books.
P.S. I highly recommend you buy extra vacuum sealer bags online. They are much more expensive in stores.