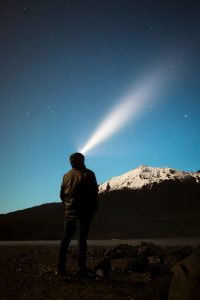 Life is more difficult when you can't see.
That's why a good headlamp can make things a lot easier, especially when duck hunting.
Headlamps can help you when getting set up before you hunt early in the morning before daybreak.
We have reviewed many of the headlamps on the market today to help you figure out which one will work best for you. We focused on finding lights that are bright, lightweight, comfortable, and waterproof.
Top Pick
Our top choice is the Black Diamond Icon700. It offers tons of great features and is lightweight, high-performance, and very durable.
The 5 Top-Rated Headlamps for Duck Hunting
Best Headlamp for Duck Hunting: Black Diamond Icon700
If you want the best headlamp possible, we think your best bet is to go with the Black Diamond Icon700. This light offers many great features you will love.
First, it has red, green, and blue night mode settings so you can select which helps you see the best.
It is very bright at 700 lumens and offers settings for long distance as well as close up.
The battery life is great and it is comfortable on your head.
It is very well made, and with a water resistance rating of IPX67, you won't have to worry about it cutting out on you if it gets wet.
Key Features:
700 Lumens
Red, Blue, and Green LEDs
Waterproof to 1 meter
Runner Up: Fenix HL60R
Fenix makes great lights, and the HL60R is no exception.
This light is very bright at 950 lumens and offers various intensity settings.
It comes with rechargeable 18650 batteries which last much longer than a typical AA.
Another nice feature is the easy to use switch which helps when wearing thick gloves.
It is extremely well made and has an IPX8 so water is not a concern.
Key Features:
950 Lumens
White and Red LEDs
IPX8 (2 meter) Water Rating
Up to 100 Hour Battery Life
Runner Up: Nitecore HC60
The Nitecore HC60 is another great choice for a headlamp. It is similar to the Fenix in that it uses a rechargeable battery done with a USB cable.
This is a nice feature as it doesn't require you to remove the battery to recharge it.
It is very bright at a max intensity of 1000 lumens and has 5 different light levels. It has an IPX7 rating so it should be plenty waterproof for duck hunting.
The only downsides are that the button is a little worse than some of the other models and it does not not have multiple color choices like some of the others reviewed.
Key Features:
1000 Lumens
White LED
IPX7 (1 meter) Water Rating
Runner Up: Streamlight ProTac HL
The Streamlight ProTac HL is another contender you should consider.
Streamlight is a very popular light manufacturer, especially in the tactical community. This light is marketed as a tactical light but would be a solid choice for hunting as well.
Like some of the others, it is very bright at 1000 lumens and comes with green and red color caps.
It has a nice 90 degree tilting feature which reduces neck strain, and is well constructed.
At IPX4, it doesn't have as good of a water resistance rating but it is still sufficient for duck hunting. It also doesn't have quite as good of a run time as some of the others.
Key Features:
100 Lumens
White LED with Color Caps
IPX4 Water Rating
Up to 20 Hour Battery Life
Best Budget Headlamp for Duck Hunting: Streamlight 61070
As you are aware, hunting can be an expensive hobby. The Steamlight 61070 is an excellent choice for hunters on a budget.
This headlamp features both white and green LEDs with various levels of brightness setting.
The quality of this light is good, what you would expect from Streamlight.
It also has a pretty good water resistance rating of IPX4 which will be fine as long as you don't submerge it.
It isn't the brightest light we reviewed but still provide more than enough light for hunting use.
We like this model so much, it is the one we use.
Key Features:
80 Lumens
White and Green LEDs
IPX4 Water Rating
Up to 63 hours runtime
Low Battery Warning
Who Should Buy a Headlamp for Duck Hunting
If you are hunting duck early in the morning then you will find a good headlamp to be a useful investment.
Being able to see what you are doing when it is cold, dark, even rainy, makes duck hunting much more enjoyable.
We would go as far to say that having one is a necessity.
Technology has come a long way in making compact, high-performing lights. Gone are the days of fumbling around with a flashlight while needing an extra hand. Having it mounted to your head keeps both hands free for whatever task is at hand.
Important Features to Consider
Size/Weight: In most cases, you are going to prefer a small light when it is strapped to your head. A lightweight headlamp will prevent you from getting any additional neck strain.
Brightness: The whole point of a headlamp is to make it so you can see what you are doing in the dark. You are going to want something that is sufficiently bright.
Waterproof: Duck hunting almost always involves being around a body of water. If often takes place in less than ideal weather so you want a headlamp that will still work if it gets wet.
Battery Life: The longer the battery lasts, the better. You don't want a light that is constantly going dead that requires you to carry a bunch of extra batteries.
FAQs
Is it waterproof?
The headlamps reviewed offer various levels of water resistance ratings. Each review includes the rating for the light. If you want to learn more about IP ratings, see this Wikipedia page.