Hey there, fellow hunter!
Ever stood in the heart of the woods, flashlight in hand, and wondered what the world looks like through a deer's eyes?
Well, you're in for a treat! We're about to embark on a journey to discover the secrets of deer vision, especially when it comes to that mysterious red light.
Deer, with their gentle steps and watchful eyes, see things a bit differently than we do.
And for us hunters, understanding this can be a game-changer.
Can they see the red beam of our flashlights? Does it alert them or let them be?
These are questions many of us have pondered during our quiet moments in the forest.
So, let's dive deep into this topic. Together, we'll uncover how deer perceive light and color.
Let's get started!
Understanding Deer Vision
Have you ever wondered how deer see the world?
Their vision is quite different from ours, and understanding it can offer fascinating insights, especially if you spend time in the woods or are an avid hunter.
Eyes on the Sides: A Wide View
Deer have their eyes on the sides of their heads. This gives them a big, wide view of the world. It's like having panoramic vision!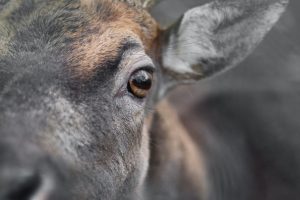 This helps them spot predators (or hunters like us) from almost any direction.
A Different Color World
Deer don't see colors the same way we do. While our eyes can see lots of colors, deer see fewer.
This is because of special cells in their eyes called 'cones.' We have three types, but deer only have two.
This means bright colors like red look more muted to them, kind of like soft browns or grays.
Their vision is termed 'dichromatic,' which means they see using two types of cone cells. In contrast, humans have 'trichromatic' vision, using three types of cone cells, allowing us to see a broader range of colors.
Ever noticed how deer can move so easily at night?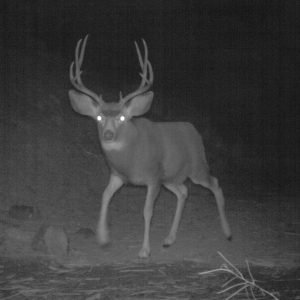 They have a special layer in their eyes that helps them see better in low light. It's like they have built-in night vision goggles!
Red Light: A Soft Glow
Because of how their eyes work, red light doesn't look super bright to deer. Instead, it's more like a gentle glow.
Scientific studies on deer vision have varied findings. Some suggest that deer perceive red light as a very faint glow. Others believe they see it as a slightly brighter light, though still not as bright as humans do.
So, if you've ever used a red flashlight in the woods, now you know: to a deer, it's just a soft shimmer.
Takeaway for Hunters
For us hunters, understanding deer vision is critical. It tells us how to move and what lights to use. If we know how deer see, we can be better prepared in the woods.
Deer have a unique way of seeing the world. It's a mix of wide views, different colors, and night vision.
The Science Behind Deer Perception of Red Light
Let's dive deep into the scientific intricacies of how deer perceive the color red, especially when illuminated by our hunting gear.
The Anatomy of Deer Eyes
Deer eyes are anatomically distinct from human eyes.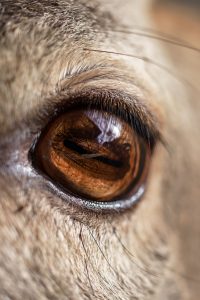 They possess a higher ratio of rod cells, which are sensitive to low light conditions, allowing them to see better in the dark (aka night vision).
However, when it comes to cones, which detect color, deer have a different setup.
Dichromatic Vision: A Limited Color Spectrum
Humans possess trichromatic vision, meaning we have three types of cone cells that detect red, green, and blue light.
Deer, on the other hand, have dichromatic vision.Many think deer are color blind, but this isn't quite true.
They primarily have cones sensitive to blue and green wavelengths, making their perception of reds limited and closer to muted browns or grays.
This is why blaze orange can work so well for hunters.
The Red Light Phenomenon
Scientific studies have shown that due to the absence of red-sensitive cones in deer eyes, red light appears dimmer to them.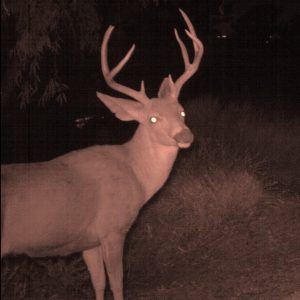 It's not the vibrant hue we perceive but rather a subdued, gentle glow that deer struggle to notice.
White it isn't quite color blindness, this muted perception is why red lights are less alarming to deer.
Research Insights
Extensive research has been conducted on deer vision. Some studies indicate that deer perceive red light as a very faint illumination, almost blending into the background.
Others suggest they might recognize it as a slightly more pronounced glow, but it's still not as vivid as human perception.
For those keen on observing deer in their natural habitat, understanding this science is crucial. Using red light minimally disrupts their environment, allowing for more authentic observations and interactions.
Practical Implications for Hunters
If you're like me, you've spent countless hours in the woods, hunting or just soaking in nature. Knowing how deer see red light can be a game-changer for us. Let's dive into what this means for hunters and how we can use this knowledge to our advantage.
Does Red Light Spook Deer?
Deer are curious creatures. While we see a bright red light, they see it as a soft glow.
So, if you're using a red flashlight or a trail camera with a red light, here's some good news: deer are less likely to get scared by it. It's more like a gentle shimmer to them, not a glaring spotlight.
Red Light: A Hunter's Friend or Foe?
Many hunters swear by red lights.
Why?
They say it spooks deer less than bright white or green lights. The red light blends into the background, making it less noticeable.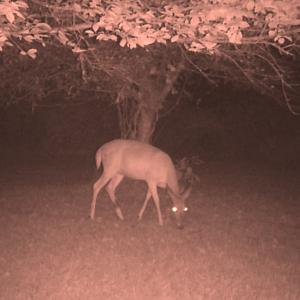 But remember, it's not just about the color. The brightness matters too.
A super bright red light might still alert a deer. So, it's best to use it wisely.
Trail Cameras and Red Light: A Perfect Match?
If you've set up trail cameras, you know how valuable they can be.
And guess what? Deer don't seem to mind the red light from these cameras. Many photos and videos show deer acting natural, not bothered by the red glow.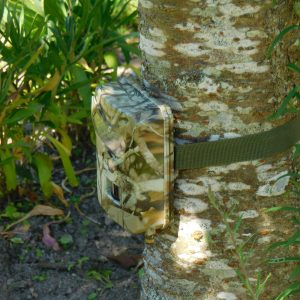 Tips for Using Red Light in the Wild
Don't Shine Directly: Even if deer see red as a dim light, don't shine it right at them. They can still notice the brightness.
Use Sparingly: Just because it's less alarming doesn't mean you should overuse it. When night hunting, be smart and use it when needed.
Combine with Other Techniques: Using red light is just one tool. Also focus on scent control, camouflage, and being quiet.
So, next time you're out in the wild, remember these tips. Use your red light wisely, and you'll have a better chance of a successful hunt.
Alternatives to Red Lights for Hunting Deer
So, you've heard about using red lights in the woods, but did you know there are other options too? Let's explore some alternatives to red lights for hunting. Each has its own perks, so let's dive in and find the best fit for your next adventure.
Green Light: The Night Hunter's Friend
Green lights are a popular choice among many hunters. Why? Deer and other game animals often don't react much to green light.
It's bright enough for us to see clearly, but it's less likely to spook our prey. Plus, it's great for spotting animals in the dark.
White Light: The Classic Choice
White lights are the most common. They give the brightest view, making it easy to see everything.
But be careful! Bright white lights can scare off deer. If you use one, it's best to keep it dim and use it sparingly.
Infrared Light: The Invisible Beam
Infrared lights are unique. We can't see them, but cameras can.
If you use trail cameras to scout, infrared is a top pick. Photo and video evidence has proved this. It will help prevent deer noticing the camera, and you'll get clear shots of them in their natural state.
Picking the Best Light for Your Hunt

Think About Your Goal: Are you scouting? Hunting? Just observing? Pick a light that fits your needs.
Test Before You Go: Try out different lights before your big hunt. See which one you like best.
Stay Safe: Always have a backup light. You don't want to be stuck in the woods in the dark.
While red lights are a solid choice for many hunters, it's good to know all your options.
Whether you pick red or green light, white, or infrared, the key is to understand how each light works. That way, you can make the best choice for your hunting style and have a successful trip.
Wrapping Up
We've explored the mysteries of deer vision, the glow of red lights, and the many alternatives we have in our toolkit for hunting lights.
Understanding how deer see the world is more than just a fun fact. It's a tool. A tool that can make our time in the woods more successful and respectful.
Whether you're using a red flashlight, a green light, or even an infrared light, it's all about blending in and being a part of nature.
Remember, hunting isn't just about the catch. It's about the experience, the bond with nature, and the stories we bring back. Knowing about deer vision and lights adds to those stories. It makes us better hunters.
So, the next time you're out in the wild, think of all we've learned. Use your knowledge, respect the animals, and enjoy every moment.
FAQs
Can deer see red light?
Absolutely! But not like we do. To deer, red light looks more like a soft brown or gray.
It's not as bright and flashy to them as it is to our eyes. So, when they see red light, it's like a gentle glow in the night.
Does red light spook deer during hunting?
Generally, red light is less likely to scare deer compared to brighter lights.
But remember, it's not just about the color. If the red light is super bright, it might still get their attention. So, it's always a good idea to use it wisely and not shine it directly at them.
What are the alternatives to using red light for hunting?
There are a few good options! Green light is popular because they're bright for us but less alarming to deer.
White lights are common but can be more noticeable to animals.
Infrared lights are invisible to our eyes but great for trail cameras.
Each has its own perks, so think about your hunting goals and choose the best fit.