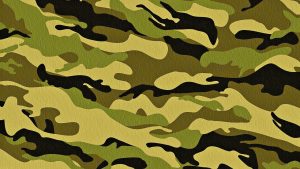 Does your face stick out like a sore thumb?
A good camo face paint can make a world of difference when trying to conceal yourself from wild game.
We have tested all the popular face paints on the market. Below is a list of what we think are the best hunting face paints currently available.
Top Pick
After reviewing and testing many different face paints, we selected the Carbomask as your top pick. This clay-based mask goes on easy and stays on. It holds up well to water and sweat and doesn't cause face blemishes after use.
The 4 Top-Rated Face Paints for Hunting
Best Hunting Face Paint: Carbomask
If you are searching for the best face paint, try Carbomask. We feel this is the best stuff on the market.
This kit comes with 3 different colors (and they have a few options) as well as a mirror on a nice little paracord loop.
You only need to use a small amount of each to cover your whole face. The 3 bottles should last you a couple of hunting seasons no problem.
What we like is that this formula isn't oil based like most other face paints. As a result, it doesn't lead to getting blemishes and breakouts after use.
Make sure to select colors that fit best with your camo and terrain.
Key Features:
3 Colors
Mirror Included
Scent Free
Runner Up: Hunter Specialties
The 3 color kit from Hunters Specialties is another great option and our first runner up. The kit comes with mud brown, flat black, and leaf green.
These colors go on easy and blend well. It doesn't run with sweat or moisture and holds up well.
A small amount is all that is needed and spreads over a large area.
When it comes time to take it off, using a oil based cleaner takes it right off without issue.
No noticeable scent is given off by these colors.
Key Features:
Runner Up: HME 3 Color Camo Paint Stick
For hunters who prefer a a face paint that comes in a single stick, we like the HME Camo Paint Stick.
This paint stick has 3 colors; brown, green, and black. Having a single stick makes applying the paint quick and easy.
The dispenser is similar to a deodorant stick and fits nicely in your hunting pack.
It is not greasy or running and holds up well to sweat and moisture.
We didn't find it to irritate our skin at all. When time to remove it, it comes off well with olive or mineral oil.
No noticeable scent is detectable.
Key Features:
3 Colors
Stick Dispenser
Scent Free
Runner Up: Arturus 3-Color Camo Face Paint
Arcturus 3-Color Camo Face Paint is another decent option used by a lot of duck hunters.
In our experience it goes on pretty well and comes off really easily.
It actually comes off a little too easy in our opinion. If you put the face paint on before all of your clothing, there is a good chance some of it is going to end up on your shift.
The other thing we don't love about it is that it is pretty shiny.
The container has a mirror built in which is nice for applying or reapplying in the field.
Overall it is a solid choice and will definitely get the job done, we just like the choices above a bit better.
Key Features:
3 Colors
Scent Free
Build in Mirror
Who Should Buy Hunting Face Paint
All hunters should consider using some form of face concealment. This is especially true if you are hunting ducks or turkeys. Turkeys have amazing eyesight so you need to do anything you can to camouflage yourself.
Many hunters do not like the feel of a face mask or balaclava. If you are hunting in warmer weather or have to do a lot of hiking, a face mask can make you hot and sweaty real quick.
Important Features to Consider
Easy to Apply. We prefer face paint that goes on quick and is easy to apply. You don't want to be spending more than a few minutes applying your face paint when you could be doing more important things like calling.
Easy to Remove. Similar to applying, you don't want to use a face paint that takes forever to remove. All of the picks above come off fairly easily if you use a good face paint remover.
Easy on Skin. Although we don't always pay attention to it, us hunters get skin blemishes too. Different people react differently to certain ingredients. Our top picks are formulated so they do not aggravate your skin and leave you with breakouts the days after your hunt.
Durability. The last thing you want to do when you are out hunting is have to reapply your face paint. Our top picks above are durable and don't flake off easily during your hunt.
FAQs
Does it come with a mirror?
The only picks that comes with a mirror are Carbomask and Arcturus. You can use your phone or buy a cheap mirror if you want to go with one of the others.
How do I remove the face paint?
Your best bet is to use something oil based like olive oil or mineral oil. Checkout our article on best ways to remove camo face paint for specific recommendations.
Does face paint have a scent?
All of our picks above are scent free.
Face Paints to Avoid
We really like the idea behind the Allen Company face paint. Having the mirror in the same container is very convenient.
Unfortunately the paint itself doesn't apply well and takes too many coats to get it to look good.