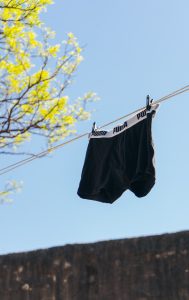 When it comes to hunting gear, underwear doesn't get a lot of attention.
But just like the rest of your clothing, underwear is important.
If fact, we would go as far to say that underwear is the most underrated part of hunting gear.
A good pair of underwear can make hunting more comfortable, help remove moisture, and prevent you from smelling.
Today we are going to review exactly which pairs we like the best.
After putting the underwear listed below to the test, we selected the Ridge Merino Boxer Briefs as our top pick. These offer the best combination of performance and comfort. They are great at wicking moisture and perform well even after a hard day of hunting.
The 5 Top-Rated Pairs of Hunting Underwear
Best Hunting Underwear: Ridge Merino Boxer Briefs
Although we didn't expect it, the Ridge Merino Boxer Briefs are our top pick. These offer amazing value for the price.
The merino blend is soft and doesn't irritate the skin and is great at regulating your temperature. They work great both when it's hot and when it's cold.
The slim fit conforms well to the body. Ridge Merino designed these specifically with the outdoors in mind.
Your skin won't feel clammy from moisture and the odor resistant material will help prevent you from getting scented.
No more chafing! These will leave you hooked after one use.
Key Features:
83% Merino Wool, 12% Nylon, 5% Spandex
No Stink Blend
Runner Up: SITKA Merino Core Boxer
Another excellent option is the SITKA Merino Core Boxers. We honestly like these as much as the Ridge underwear but rated them slightly lower due to the higher price.
The fit on these is great. They form to your body without feeling too tight or constricting and they stretch well when you need to sit or crouch.
The merino fabric feels good on your skin and does a great job at preventing moisture build up.
If you are willing to spend the money, you will be very happy with these.
Key Features:
Merino Wool
Polygiene Odor Control
Layering 101: With Sitka Founder, Jonathan Hart from SITKA Gear on Vimeo.
Runner Up: First Lite Wick Boxer Brief
We like First Lite gear along and the First Lite Boxer Briefs are not exception.
With the specially designed high heat-to-weight ratio, you will stay warm or cool when it counts.
Their special merino wool blend called AeroWool is naturally odor resistant and does a great job at wicking away moisture from your skin.
The fabric is very quick drying in our experience.
We have used these for a while now and they are holding up great.
Key Features:
AeroWool
Lightweight
Odor Resistant
Runner Up: Durawool Nomad Camo Boxer Brief
The Nomad Camo Boxer Briefs are another good option, especially for you hunters wanting something in camo.
These are really comfortable and fit well.
We did not experience any discomfort after a day of use.
Our preference is still some type of merino wool like the pairs above, mainly because we find the moisture wicking performance to be better.
With that said, we think any hunter would be happy with the performance of these.
Key Features:
60% Merino Wool, 36% Nylon, 4% Spandex
Scent Suppression
Anti-Microbial
Runner Up: MERIWOOL Boxer Briefs
The MERIWOOL Boxer Briefs are out last runner up but that doesn't mean they aren't worth a try.
These are 100% Merino wool. The fabric is very soft.
Much like the pairs above, they wick moisture well and are odor resistant.
One nice thing about MERIWOOL is that they offer a 90 day money back guarantee if you are not satisfied with your purchase.
That alone makes them worth trying. Worst case, if you don't like them, send them back free of charge.
Key Features:
100% Merino Wool
Snug Fit
90 Day Return Policy
Who Should Buy Hunting Underwear
You might think it sounds unnecessary to buy high performance underwear for hunting but we think you should give it a chance. A good base layer for hunting is important.
Hunting can be an extremely demanding physical activity, including long, difficult hikes in harsh conditions. Most hunters would benefit from a good pair of underwear and would notice a difference.
Whether you hunt in warm or cold weather, a material like Merino Wool can help regulate your body temperature and control your scent.
The moisture wicking properties of these materials do a much better job of pulling sweat away from your skin so your clothing doesn't become saturated and your skin doesn't get irritated.
Important Features to Consider
Material.The material your underwear is made of makes all the difference when it comes to performance. You absolutely want to avoid cotton. Cotton does a terrible job of pulling moisture away from your body and get saturated with sweat. You want a material like Merino Wool that is excellent at wicking away moisture. Polyester is much better than cotton as well.
Fit. Nothing is worse than clothing that doesn't fit. If you are going to be wearing and hiking in underwear for potentially days at a time, you want a pair that fits well and are comfortable. You want to avoid anything that is baggy and prone to bunching up under your hunting pants.
Odor Control. It's no secret that demanding physical activity makes us smell. And most wild game like deer have much better have a much better sense of smell than us humans. Hunters have tried for ages to mask their scent from game. A good pair of underwear can help significantly.
Hunting Underwear to Avoid
While we like many products made by Carhartt, these boxer briefs are not one of them.
The 100% polyester material is okay but the fit isn't very good. They are baggy and tend to bunch up. We did not find them comfortable at all.
For the same price you can buy a good pair of Merino Wool underwear like one of the pairs recommended above.
ExOfficio used to be our favorite underwear but somewhere along the line something changed about the production of these. They are not of the same quality as they were a few years ago. The material doesn't feel the same and they aren't as durable as they used to be.
Stick with one of the recommended pairs above.