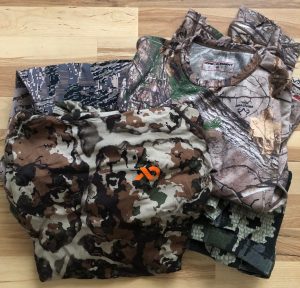 Every hunter should carefully consider their base layers.
But most don't.
Wearing the right base layer for the weather conditions you hunt in will make your hunt much more enjoyable.
There is a big difference between preparing for cold weather and hot conditions.
If you wear something lightweight in cold weather, you will be cold. Wear a heavyweight base layer on a sweltering, early season hunt and you will  be sweating your tail off.
This article lists my favorite base layers for every condition and will help you decide what to wear on your next hunt.
The 9 Top-Rated Base Layers for Hunting
Best Hunting Base Layer Top: First Lite Wick
If you are looking for the best all-around base layer top, my top pick is the First Lite Wick Crew.
This top is made from a mixture of 17.5 micro Merino wool and nylon fibers. It also has 125 gram Aerowool in areas like the armpits (shown below) to provide additional ventilation.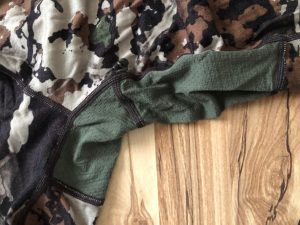 First Lite designed this top for early and mid season hunts so it is on the lighter side. With that said, it can still work well in cold weather if combined with warm outer layers.
The top is extremely lightweight, making it an excellent choice for back-coutry hunters who spend a lot of time hiking.
Pros:
Excellent Breathability and Moisture Wicking
Super Soft on Your Skin
Lightweight
Cons:
Probably not the best for extreme cold
Fit is slightly loose if you are thin
My Experience with First Lite Wick
The First Lite Wick has become my go-to base layer top. The fit and feel of it is so nice that I even find myself wearing it around the house when I am not hunting.
I really like the Aerowool ventilation in the arm pits. I have worn it multiple days in a row and did not notice myself starting to stink at all.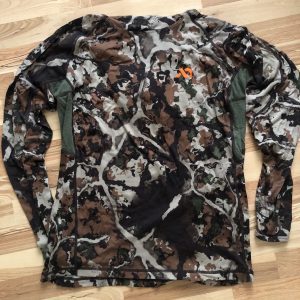 It works well hunting in both warm and cold weather. Usually if I am hunting in the cold I will add an insulating layer down jacket and find that I am plenty warm. From now on I plan on exclusively using this top as my base layer unless I am hunting in the extreme cold.
Key Features:
Merino Wool, Aerowool, Nylon Mixture
Extra armpit ventilation
Also available in t-shirt and hoody
Best Hunting Base Layer Pants: SITKA Core Midweight
If you are looking for the ultimate all-around base layer bottoms, the SITKA Core Mideweight is a fantastic choice.
Unlike many of the other recommendations in this article, these are made almost completely from Polyester.
The polyester material does a very good job of wicking away moisture despite the thickness of these bottoms.
SITKA did a great job designing these bottoms with a very small number of seams. Seams tend to be where clothing first starts to show signs of breaking down. The lack of seams also means there are fewer places for your skin to become irritated.
Pros:
Very few seams
Can be used in warm and cold weather
Moisture drys quickly
Cons:
There are warmer options out there
Price on the high side
My Experience with SITKA
At first, I was a bit turned off by the fact that it didn't contain any Merino wool. I thought a merino wool base layer was critical. But after doing some research, I became convinced that polyester synthetic base layers are just as capable and provides equivalent moisture wicking and odor blocking (scent control) benefits.
These are the bottoms I use on almost all my hunts. I have used them in both warm weather and cold weather with great success. If I am going on a hot, early season hunt, I will skip the bottoms all together and just wear the SITKA Merino boxers below along with my hunting pants.
Key Features:
96% Polyester, 4% Elastane
Low-Profile Flacklock Seams
Machine Washable
Best Base Layer for Cold Weather Hunting Top: SITKA Merino Heavyweight
For those of you looking for a thicker, warmer base layer, the SITKA Merino Heavyweight top is my top pick.
These are made from a mixture of 59% 17.5 micron Merino wool, 35% Polyester, and 6% Nylon.
SITKA designed this top for maximum odor control and warmth.
If you are someone who gets cold easily, this is a great piece to start with when building layers that will keep you warm.
Even though it is meant for warmth, I find it is still very lightweight and comfortable to wear.
Pros:
Great Odor Control
Very Warm Base Layer
Cons:
Key Features:
59% Merino Wool, 35% Polyester, 6% Nylon
Designed for cold weather hunts
Machine Washable
Best Base Layer for Cold Weather Hunting Bottom: SITKA Merino Heavyweight
If you are hunting in the extreme cold, the SITKA Merino Heavyweight bottoms are my top recommendation.
These bottoms are made from a mixture of Merino wool and polyester, combining the best of both materials.
The thicker fabric of the heavyweight bottoms help keep you warm when you are out in the cold trying to stay warm.
These are the perfect way to start your layering for cold weather hunting.
The quality is high, what you can expect from any SITKA gear. The waistband is elastic and they come in multiple camo patterns.
The main downside to these is that they are not cheap. But if you are hunting cold weather and willing to pay the price, you will be very happy with them.
Pros:
Warm due to thicker material.
Moisture wicking despite added thickness.
High Quality
Cons:
Price is on the high side
Key Features:
59% Merino Wool, 35% Polyester, 6% Nylon
Designed for cold weather hunts
Machine Washable
Best Base Layer for Hunting Boxers: SITKA Merino Core
Your base layer includes your boxers, and my favorite pair is the SITKA Merino Core Boxers.
In my opinion, there is no better way to start your base layers than with these boxers. These are the best boxers on the market.
They are made primarily from Merino wool, making them soft and comfortable against your skin. The fabric wicks away moisture quickly and is antimicrobial, fighting off bad body odor.
Pros:
Soft on your skin
Keeps you from stinking
Lightweight yet warm
Cons:
Need to be replaced after a few seasons.
Price makes it hard to own many pairs.
My Experience with SITKA
These boxers are awesome in my experience. They are comfortable and the material is nice and soft.
The fit is on the tight side but not in an uncomfortable way. I find this actually helps them from riding up while wearing.
The antimicrobial Merino wool keeps odor under control and I have not experience any chafing.
Key Features:
Merino Wool
Lightweight yet warm
Athletic fit
Runner Up Base Layer Top: SITKA Merino Core Lightweight
If you are looking for an alternate to the First Lite wick recommended above, checkout the SITKA Merino Core lightweight top.
The top is made from a 17.5 micron Merino wool spun around a nylon core. This provides a solid foundation that combines warmth as well as moisture control.
SITKA designed this to be used as either a stand-alone hunting top or the start of a layering system.
The fit is athletic and form fitting. This keeps air pockets from forming next to your skin which cause inefficient thermal insulation.
Pros:
Warm yet lightweight
Minimal seams
Material is super soft
Cons:
Price is on the high side
Fit is snug for bigger hunters
Key Features:
Merino Wool, Nylon Mixture
Multiple Camo Patterns Available
Machine Washable
Runner Up Base Layer Bottom: First Lite Furnace Long John
Coming in at a very close second place for a base layer bottom is the First Lite Furnance Long John.
These are made from Merino wool and designed for use in cold weather.
The quality of these base layers is high. You can tell a lot of skilled effort goes into making them.
The furnace long johns are meant to be used in cold weather. They will likely be too warm for hunts in moderate to hot temperatures. If you plan on doing a lot of hiking, these probably aren't the best choice.
Pros:
Very Warm
High Quality
Odor Control
Cons:
Too warm for moderate temperatures
Key Features:
Thick Fleeced Merino Wool
Odor Blocking
Machine Washable
Best Budget Base Layer for Hunting Top: MERIWOOL Midweight
Not everyone wants to spend as much on the picks above. If that's you, checkout the MERIWOOL midweight top.
This top is made from 100% Merino wool. All the benefits of moisture wicking and odor control can be found here.
The fit of the top is on the athletic side, tight but not too tight. The feel of the fabric is still soft. There are more seams and they are a bit rougher than the top picks above.
The quality of the workmanship is not quite as high as SITKA and First Lite but it is still quite good. I would say you are getting 80-90% of the quality for close to half the price.
While still not "cheap", it does offer the potential for some $ savings compared to the SITKA and First Lite picks.
Pros:
Budget Friendly
Merino Wool
Cons:
Not Camo
Not as high quality as First Lite and SITKA
Key Features:
100% Merino Wool
30 Day Hassle Free Returns
Machine Washable
Best Budget Base Layer for Hunting Bottom: MERIWOOL
My top pick for budget base layer hunting bottoms is again, MERIWOOL.
These are the equivalent bottom to the top recommended above, so what I wrote there applies here as well.
The 100% Merino wool wicks moisture and blocks odor well. The material is a bit on the thin side so these probably aren't the best choice for cold weather.
With that said, for moderate hunting conditions, these should do just fine.
Pros:
Budget Friendly
Merino Wool
Cons:
Not Camo
Not as high quality as First Lite and SITKA
Key Features:
100% Merino Wool
30 Day Hassle Free Returns
Machine Washable
Who Should Buy Hunting Base Layers
Anyone hunting should consider starting their clothing layers with a good base layer. Whether you are cold weather hunting and sleeping in a tent or out in the blistering sun during early season, you can benefit from a good base layer.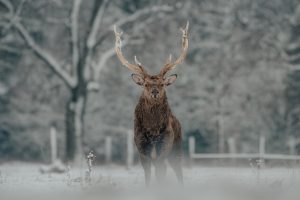 The reason you can benefit regardless of the conditions is because your base layer determines your moisture wicking abilities. Every clothing material handles moisture differently.
Materials like cotton are a poor choice because their moisture wicking is practically nonexistent. Cotton soaks up sweat and holds it. If you have ever sweat while wearing a cotton t-shirt, you know what I am talking about. Base layers for hunting need to wick away moisture.
Luckily, there are clothing materials that do an excellent job of moisture wicking. The best natural fabric for moisture wicking is Merino wool.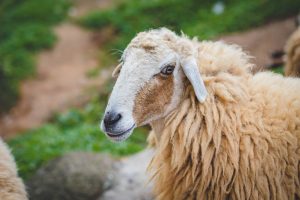 Merino wool is grown by Merino sheep. Unlike typical wool, it is much thinner and softer hence making it an excellent choice for a base layer.
There are also synthetic materials that do a great job of breathing and moisture wicking. A great choice is polyester. Polyester absorbs about 19 times less moisture than cotton.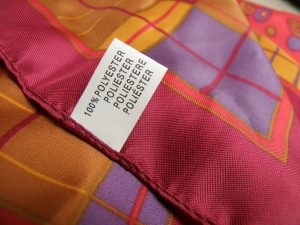 In both cases, you get the scent control benefits from a good hunting base layer.
All of the recommendations in this article are made primarily from either Merino wool or polyester.
Important Hunting Base Layer Features to Consider
Material. The two best choices for material for your base layer are Merino wool and polyester. Most good base layers are made from one of these two materials. Synthetic base layers can be just as good as natural fabrics. Clothing manufacturers will include other materials in the mixture for durability and comfort. Just make sure the main material is either Merino wool or polyester.
Moisture Wicking. As mentioned above, you want to stick to good moisture wicking materials for your base layer. Your base layer plays a critical role in regulating your body temperature. Removing moisture away from the skin is critical.
Fabric Weight. Now that you know which materials to choose from, you want to make sure you select the right material weight/thickness for the conditions you hunt. For early season hunts opt for something thinner and more lightweight. For extreme cold conditions, go with something thick for added warmth.
Quality. Many manufacturers have outsourced their production to different locations in order to cut costs. It is important to keep an eye out for a design that has had recent quality issues as this might be a sign of a products quality degrading. That's why I always recommend purchasing important gear from reputable manufacturers. Don't go for the cheapest thing on Amazon or what's on sale at your local outdoor shop.
Other Cold Weather Hunting Base Layer Tips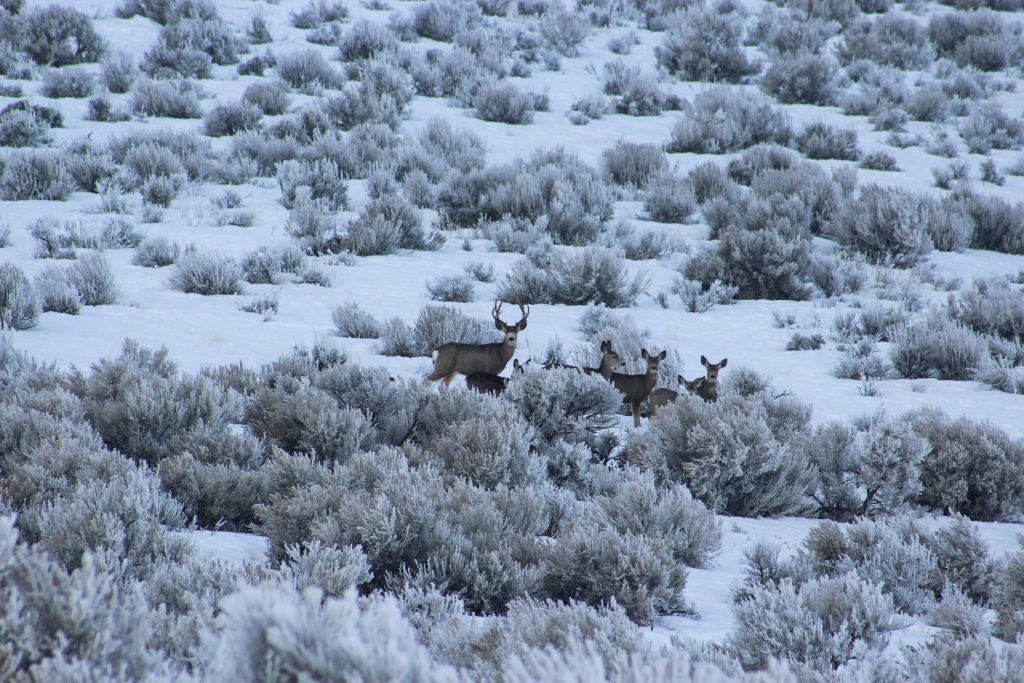 So now you should be able to pick the best base layers for hunting in your situation. But what if you are hunting in extreme cold and are still having trouble staying warm?
Layers for Hunting Cold Weather
Your first line of defense against the extreme cold should be proper layer technique. Once you have your base layers for cold weather, the next layer is your insulating or middle layer. This layer is what is going to provide the most protection against the cold and help you retain heat.
For your middle layer, think puffy, fleece or down material. You want to try to keep this layer lightweight if moving around but the puffy space will trap air that will heat and create a barrier to keep the cold out.
Finally, you want to finish off with an outer shell to protect you from the elements you are hunting. The two main elements you want to keep out are water and wind. This is the layer where you will get your waterproofing and windproofing.
Gloves, Socks and Beanie
In addition to your clothing layers, make sure to keep your feet, hands, and head well covered. Even though it's a myth that we lose half our heat through our head, any part of our body that is exposed to extreme cold is going to lower our core temperature and make us "feel" cold.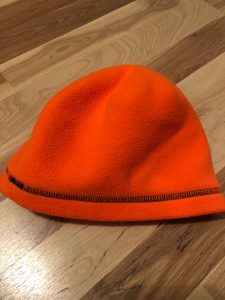 Hand Warmers and Heaters
If you are hunting somewhere you can use a heater, do it. It will make a huge difference in keeping you warm. If you are on the go or out in the woods where a heater isn't an option, then hand warmers can also provide additional warmth and comfort.
Frequently Asked Questions
What should I wear if I hunt in cold and hot weather?
The easy answer is to have different base layers for both conditions. But I realize not everyone can afford to purchase base layers for every possible condition they hunt. My recommendation is to go with something on the lightweight side and use additional layers on top when you are hunting in cold weather. But extreme cold conditions may require thicker base layers.
Do I need 100% Merino Wool?
No, while Merino wool is a great base layer fabric, having a blend of other materials or using a synthetic like polyester is fine too. One thing I like about Merino wool is that it is antimicrobial so it will help fight off odor-causing bacteria.
What size should I get?
You will typically be fine getting the same size as you wear for your everyday clothing. I prefer my base layer slightly tight so it conforms to the body. This leaves less space for air and helps wick moisture away more efficiently.
Do you have any recommendations for socks, gloves, and beanies?
Yes, I have done reviews on the best cold weather hunting gloves, warm hunting socks, and the best hunting beanies for different conditions. Checkout these articles for recommendations depending on the conditions you hunt.
Are there any other ways I can stay warm?
If you are still cold after selecting the right base layer for hunting and are wearing warm socks, gloves, and a beanie, there are a few things you can do.
You can use hand warmers in both your gloves and your socks.
If you hunt from a blind, you can get yourself a blind heater. This should keep you nice and warm.
Wrapping Up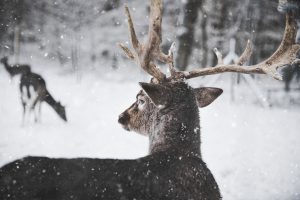 This article had one goal, to help you select the best base layers for hunting no matter how/where you hunt. The recommendations can be summarized as follows:
Pick fabrics that wick away moisture and provide scent control.  Merino wool and polyester are the best choices.
Choose the fabric weight depending on the typical temperatures of the terrain you hunt.
Once you have a good base layer, add the correct additional layers for extra warmth and protection against rain and wind.