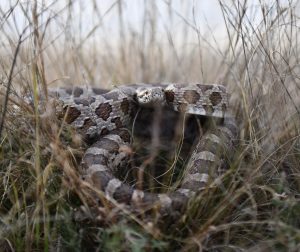 Are there snakes where you hunt?
If so you might want to take some precautions to protect yourself…
A run in with a snake can spell disaster for a hunter.
Luckily there are many great boots on the market today designed specifically to protect against snake bites.
The post below lists our favorites and why you might want to consider each pair.
Top Pick
After reviewing all the boots on the market, we selected the LaCrosse 4xAlpha 16″ as our top pick for protecting against snake bites. They are well priced, comfortable, and offer the protection you are looking for.
The 5 Top-Rated Snake Boots for Turkey Hunting
Best Snake Boots: LaCrosse 4xAlpha 16″
Our top choice for snake boots are the LaCrosse 4xAlpha 16″. We really like these boots.
These LaCrosse boots are made from rubber, making them completely waterproof. The mold of the rubber fits the foot and lower leg very well which is probably why they are so comfortable.
Another major benefit of them being made out of rubber is that they do not leave scent behind.
The boots also have a 4 layer insole for added comfort which also has the benefit of insulating the bottom of your foot from the cold ground.
You can wear them when it is cold with some good wool socks or get the version that is neoprene insulated.
The foot, shin, and heel all have extra thick rubber to make the boots even more durable.
All in all, these are great boots even without considering the fact that they are snake boots.
Key Features:
Durable Rubber
Waterproof
Comfortable
Runner Up: LaCrosse Venom 18″
Our first runner up is the LaCrosse Venom 18″. These are another great pair of boots made by LaCrosse.
The construction of these boots is a bit different. They are made from a combination of leather, rubber, and 1000D Nylon upper to provide excellent snake protection.
The mixture of nylon and leather makes the boots a little more flexible in certain areas that are subject to a lot of bending.
When taking them on and off you have two options. They have laces that go all the way from the toes up to the top of the boot. Once you have those nicely tightened for your leg, the boots also have a zipper up the side for and easy on/off.
The Venom's are waterproof and have a extra thick toe cap for increased durability.
Key Features:
Leather with Nylon Upper
100% Waterproof
Runner Up: Danner Sharptail 17″
Next up are another pair of really nice snake boots, the Danner Sharptail 17″.
In addition to being good looking, these boots provide great protection against snakes with a combination of full-grain leather and partial nylon upper.
They go a full 19″ up from the ground, giving you protection all the way up to your knee.
The boots are easy to slip on and off, and have an adjustable buckle down by the foot.
Additionally, the boots are completely waterproof so you will stay dry in addition to staying safe.
The sole is rubber and has an aggressive pattern for good traction.
Key Features:
17″ Tall
Full-Grain Leather
Waterproof Leather Upper with Nylon
Runner Up: Chippewa 17″
Having been around since 1901, Chippewa is another longtime boot maker. We picked the Chippewa 17″ as our next runner up.
We really like the look of these boots as well. They are made from a mixture of leather and what we believe is nylon.
The boots are comfortable and appear to be well made.
If you plan on doing a good amount of hiking in them, your feet will enjoy the fact they have a Vibram sole.
Our main gripe with these boots is that we wish they were a little less expensive.
Key Features:
17″ Tall
Thick Leather/Fabric Mixture
Vibram Sole
Best Budget Snake Boots: Rocky Knee High
For those of you on a tighter budget, checkout the Rocky Knee High snake boots. We were pleasantly surprised by these given the price.
These boots are most similar to the LaCrosse Venom above but do not have the zipper up the side.
Rocky makes these from a mixture of leather and nylon, providing good protection against snake bites.
The boots lace from toe to boot top so they can be fit snug to your leg or however you prefer them.
While they are not insulated, they should be plenty warm in all but really cold temperatures.
The Prolight BioMech outsole provides good traction and the boots are waterproof.
Overall, you get a lot of useful features at a good price point.
Key Features:
16″ Tall
Leather/Nylon Mixture
Waterproof
Who Should Buy Snake Boots
Snakes can hide anywhere. Most of the times they go unnoticed but the possibility of stepping on one and pissing it off is always there. Hunting and being outdoors in general often takes place in more remote locations where emergency services are not readily nearby. That's why you might want to consider a pair of boots with added protection like the pairs above offer.
Getting bit by a snake can be deadly. It can happen so fast that you will not be prepared to react. Those who are hunting alone are especially at risk of serious danger if you are to get bit. That's why we would argue it is better to be on the safe side and invest in a good pair of snake boots if there are snakes where you hunt.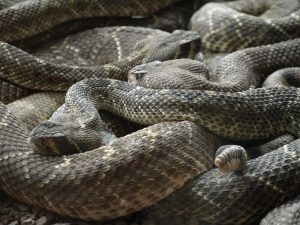 Important Features to Consider
Comfort. If you are hunting turkeys you may end up doing your share of walking/hiking. Nothing is worse than hiking in a pair of boots that are uncomfortable. Sore feet and blisters are not the reward any of us are looking for after the labors our hunt.
Protection. Obviously the whole point of wearing snake boots is to protect yourself from snake bites. You want to make sure that the pair you select will in fact protect you in the event that you get bit.
Water Resistance. While the main point of snake boots is protection, you are also going to want something that is at minimum water resistant if not outright waterproof.
Durability. Hunting is rough on gear, especially footwear. You want the investment of your hard earned money into a pair of boots to pay dividends for years to come. It is important to keep an eye out for boots that have had recent quality issues as this might be a sign of a products quality degrading.