Are you struggling with sweaty feet?
For those of you in a hurry, Darn Tough Coolmax Socks are the answer to your stinky footed prayers.
For the rest of you,
I have a quick story.
For years I have been trying to figure out why I always seem to get blisters when hunting.
Top Pick
I have tried:
Different boots
Different socks
Pre-applying moleskin
Layering pairs of socks
But, I still seemed to get those dreaded blisters…
It was in search of a solution for my blisters that I actually figured out the problem. A friend of mine who is an avid runner was telling me about how when he switched to a moisture wicking sock he stopped getting sweaty, sore feet. His experience perked my interest.
What if I had sweaty feet and it was causing my blisters?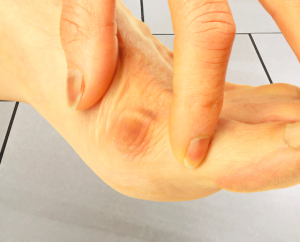 Curious, I did some research and tried the Darn Tough Coolmax socks. I stopped getting blisters.
I am now convinced that the key to foot comfort while hunting lies in wearing good socks.
The 5 Best Hunting Socks
Best Hunting Socks for Sweaty Feet: Darn Tough
In this article I am going to tell you what I have tried, what has worked, and what hasn't.
In addition to socks I will let you in on a few other tips I found helped with sweaty feet.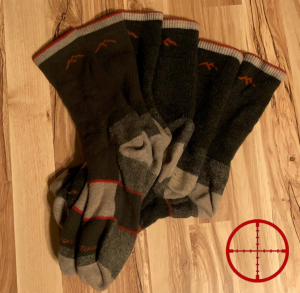 WARNING: After I started wearing Darn Tough socks hunting, I had to try their socks for everyday use. Now they are the only brand I buy.
You may be alarmed when you see the price for one pair of socks, but I assure you, they are WORTH EVERY PENNY.
Top Pick: Darn Tough Coolmax
Why are the Darn Tough Coolmax socks so great?
Fast Wicking Material: Darn Tough makes the socks from a mixture of 37% Nylon, 34% Coolmax Polyester, 26% Acrylic, 2% Lycra Spandex, and 1% other.
Versatile: Due to the great mixture of materials, they both keep your feet warm when it's cold as well as dry and comfortable when it is hot.
Antimicrobial: The materials used are naturally antimicrobial. This means your feet and socks will not start to smell as quickly.
Lifetime guarantee: Darn Tough offers an unconditional lifetime guarantee which is pretty amazing. No strings attached, guaranteed for life.
Runner Up: Darn Tough Hiker
The Darn Tough Hikers are another excellent pair of socks. The reason I prefer is the Coolmax over them is because I find the Coolmax to do better with my sweaty feet.
They are made from a mixture of wicking materials and are very high quality just like all of their models. These actually feel a little more durable than the Coolmax to me.
Key Features:
Moisture wicking Merino blend of material
U.S. Made
Lifetime Guarantee
Best Budget Pick: Realtree Merino Socks
In my search for the best hunting socks I came across the Realtree Merino Wool Socks. My gut instinct said that they were nothing special. My guess was that they were Kirkland merino wool socks rebranded.
It turns out, I was wrong.
While I don't like them quite as much as Darn Tough, the Realtree are solid hunting socks.
What I like about the Realtree Merino Socks is that they use a mixture of Merino wool, Nylon, and Spandex. This is a great combination for keeping your feet dry and they cost about 1/3 of the price per pair as the Darn Tough.
Best Hunting Socks for Cold Weather: Darn Tough Merino Full Cushion
If you are looking for something with a bit more warmth than the above options, the Darn Tough Merino Full Cushion socks are the perfect pick. These are one of the thickest models the company offers.
The combination of the extra thickness and the Merino material offer the perfect mixture for someone wanting socks that will keep them warm but still breathe well.
Key Features:
Thick Merino Material
U.S. Made
Lifetime Guarantee
Best Warm Weather Hunting Socks: Darn Tough Light Hiker
Living out on the west coast, a lot of my early season hunts take place in 90F+ weather. I usually switch up my footwear but have found the Coolmax socks to work amazing in warm weather.
With that said, sometimes I prefer something a little lighter and these Darn Tough Light Hikers are really nice.
Especially if you have extra sweaty feet during the summer months, you will love these after you try them.
My only complaint is that they seem to run a little on the small side.
Problems Associated with Sweaty Feet While Hunting
Uncomfortable
Wet Feet = Cold Feet
Wet Feet = Blisters
Smelly Feet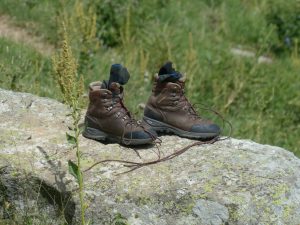 Thanks to the modern scientific materials we now have available this no longer has to be the case.
IMPORTANT
Socks made of cotton are the worst choice while hunting. Cotton does a very poor job of wicking away material.
What are the best wicking materials for hunting socks?
Natural: Merino Wool
Synthetic: Nylon, Polyester, Polypropylene
Thanks to the excellent moisture wicking materials now used to make hunting socks, you can enjoy the following benefits:
Your feet stay dry
Your feet stay warm
You are less likely to get blisters
Your feet do not stink
The antibacterial, fast wicking materials work so well, I am often able to wear the same pair of socks again the next day.
Other Solutions for Sweaty Feet While Hunting
Antiperspirant Spray
I learned this one from a fellow hunter. When you are planning a long hunt and are prone to sweaty feet a quick spray of this stuff can make a big difference.
I try not to use it all the time but there is no doubt it works.
If socks don't seem to be helping, give this a try.
I recommend this Extra Dry Aerosol Antiperspirant by Arrid.
Let your footwear dry overnight
It is often recommended to switch footwear daily when you have sweaty feet. This can be tough when you want to hunt multiple days in a row.
Luckily you can buy a boot dryer like the one above. In my experience boot dryers work much better than setting your boots by the fire.
Goldbond Powder
While not the ideal solution, the classic approach of putting Goldbond powder in your socks does help.
Why do my feet get so sweaty while hunting?
There are many factors that go into how sweaty you feet get.
Genetics: Some people have sweatier feet than average. This one is out of your control unfortunately.
Socks: Different materials react differently to moisture. Some materials like cotton hold moisture and do not wick. It is important to wear socks made of materials that wick away sweat.
Footwear: How well your shoes deal with moisture also matters. Some materials like rubber do not breathe at all. If you need waterproof footwear try to get shoes with a breathing technology like Goretex.
Why Should You Trust Me?
I have tried just about every manufacturer of hunting socks out there and have come to the conclusions in this article from experience.
I have gotten countless blisters, there is no need for you to do the same.
And because I actually hunt and put these socks to the test.
I am not affiliated with any of the companies recommended in this article and did not receive any endorsements.
My reviews are based off my own experience and opinions.
If you purchase a pair of hunting socks based on my reviews and use one of my links, I receive a small commission (usually a couple %). You do not get charged any extra. This money goes towards keeping the site running, buying more gear, and rewards me a little for the time it takes to put these articles together.
If you want to learn more about my rating criteria, checkout our page on How We Rate Hunting Gear.
Frequently Asked Questions About Hunting Socks
Do they shrink when washed?
I have not noticed any shrinking compared to when they were new.
Are the Coolmax socks warm enough for winter?
I have worn these socks in temperatures down to 0F and have not had any issues with my feet getting cold.
Are they actually guaranteed for life?
Yes, you contact Darn Tough and send in the socks along with information on how frequently and what conditions you wore the socks.
How well do they wick away moisture?
Darn Tough Coolmax socks wick away moisture better than any other socks I have tried.
What if my feet don't get that sweaty?
I would recommend trying Darn Toughs Merino Wool socks. When I am doing short hunts or am hunting in very cold weather these are the socks I prefer.
What are the best moisture wicking socks for work?
Again, I would recommend Darn Tough Coolmax. Hunting is pretty demanding on your socks, I don't see any reason to use something different when working.
Conclusion
If you are tired of sweaty feet don't wait any longer. Buy yourself a pair of Darn Tough Coolmax socks today. I promise it will be the best purchase you have made in a while.
P.S. Checkout our write-up on hunting boots if you want to learn more about hunting footwear.