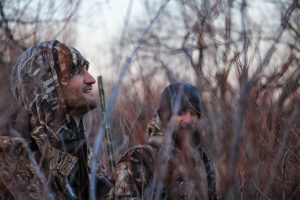 Are you looking for a lightweight, high performance turkey hunting glove?
A good pair of gloves are important for keeping out of sight of turkey.
In this article we go through what we think are the best options currently on the market.
Top Pick
Our top pick for turkey hunting gloves are the Allen Shocker Turkey Gloves. These are excellent gloves for turkey hunting. The are lightweight and breathe well and the camo pattern is the official pattern of the National Wild Turkey Foundation (NWTF).
The 4 Top-Rated Turkey Hunting Gloves
Best Turkey Hunting Gloves: Allen Shocker Turkey Gloves
The Allen Shocker Turkey Gloves are our top pick for turkey hunting gloves. These are great gloves for hunting turkey.
The gloves use the Mossy Oak Obsession camo pattern which is the NWTF official turkey pattern.
They are well made and the material is lightweight and soft. They also have a small pocket on top for holding mouth calls.
The palm of the glove has a spur ruler which is another nice feature. You no longer have to wait to see how big your trophy is, you can know immediately with these gloves.
The finger tips also have a touch screen friendly fabric, allowing you to use your phone without taking them off.
The best part might be how inexpensive they are. Overall, these gloves are perfect for hunting turkey.
Key Features:
Mossy Oak Obsession Camo
Lightweight Breathable Fabric
Spur Ruler
Best Fingerless Turkey Hunting Gloves: Hot Shot Copperhead Three Finger
Our top fingerless pick is the Hot Shot Copperhead Three Finger Glove. For anyone looking for fingerless gloves, we recommend these.
Like the Allen Shockers, these gloves are lightweight and comfortable.
The half-finger design on the thumb and pointer finger is perfect for those who prefer a better feel on the trigger or when drawing their bow. You will never have to worry about taking your glove off again when it's time to take a shot.
Key Features:
Realtree Edge Pattern
Half-Finger Thumb and Pointer
Runner Up: Primos Stretch-Fit Gloves
The Primos Strech-Fit are another good choice for turkey hunting gloves. These gloves are very popular among turkey hunters.
While they don't have all the features our top two picks have, they will still work well for most hunters and the price is very inexpensive.
These come in a few different camo patterns so you can match your hunting terrain. Anyone looking for a lightweight hunting glove will be happy with these.
Key Features:
Realtree APG HD
Mossy Oak Break-Up
Runner Up: Nomad Fingerless Turkey Glove
We also really like the Nomad Fingerless Turkey Gloves. Similar to the others above, these are made from lightweight, moisture wicking polyester.
Again, the fingerless design offers you better control over your weapon when it comes time to take your shot.
These gloves are offered in 3 different camo patterns so be sure to pick the pattern that suits you best.
The main reason we rank them behind the others is that they cost slightly more and don't have as many reviews.
Key Features:
Fingerless Thumb and Pointer
Mossy Oak Obsession
Mossy Oak Green Leaf
Mossy Oak Bottomland
Who Should Buy Turkey Hunting Gloves
When it comes to turkey hunting, concealment is one of the easiest advantages you can give yourself. Turkeys have great eyesight. You do not want to set yourself up to get seen when it is fairly easy to blend in.
The gloves above are inexpensive so you might want to consider purchasing a few pairs once you find gloves you like. It is always a good idea to keep a spare pair in your pack or glove box.
Many turkey hunters prefer thinner gloves which our picks above are tailored around. If you are looking for warmer gloves checkout our article on cold weather hunting gloves. You can combined a pair of gloves recommended above with some of the tips in that article to keep your hands warm while still using thin gloves that make handling your weapon easy.
Even if you decide you don't want to wear gloves when hunting turkey, consider putting some camo paint on them. There is no reason not to have some form of camouflage on your hands.
Important Features to Consider
Size. Many hunting gloves used for turkeys only come in one size. It is important that you take this into consideration if you have especially small or large hands. Luckily, the materials used stretch well and can accommodate most hunter's hands.
Camo. When selecting a glove for turkey hunting, make sure the camo pattern works well with both the terrain you hunt and the rest of your clothing. Also, do not wear a glove that has red or blue on it. This is dangers as these colors are seen in turkey and could cause other hunters to think you are a turkey.
Fingerless. Many turkey hunters prefer gloves without fingers, especially the trigger finger or fingers used to draw their bow. There are good fingerless options available as shown above.
FAQs
Are these gloves waterproof?
The gloves recommended above are all lightweight, performance gloves. They are not waterproof but they do wick moisture well so in the event that they get wet, they will dry quickly.