When we talk about the best tasting deer meat, it ain't just one flavor fits all, nor is it a singular texture that graces the palate.
Different deer species, regions, and individual foraging habits contribute to an exciting spectrum of venison experiences.
With venison, whether it be from Whitetail, Mule Deer, Fallow, or other deer species, the cuts themselves each weave their own tale.
The tenderness and subtle richness of a backstrap, the flavorful and gratifying chew of a hindquarter steak, or the slow-cooked delight of a shoulder roast – each cut invites you to a different culinary adventure, a different story of the wild.
As we saunter through the flavorful terrains of these various species, we are offered a window into their worlds. The meadows they've grazed, the forests they've wandered through, all delicately mirrored in the textures and flavors on our plates.
So, as we dine, let's tip our hats in respect and gratitude for the hunt, the stories, and the wild essence shared with us through each and every bite.
Different Deer Species and Their Flavors
Embarking upon the multifaceted journey through the venison landscapes, we find ourselves immersed in a tapestry woven with rich, divergent flavors, each strand representing the diverse species of deer that grace our wild expanses.
Picture this: a world where each variant of deer, from the dense woodlands to the sprawling prairies, offers not merely a meal but a unique story told through its meat.
This isn't your average supermarket beef.
The flavors, ranging from the starkly gamey to the tantalizingly sweet, encapsulate the essence of their habitats and diets, providing a varied palette that is as wild and free as the terrains they traverse.
Here is a table summarizing the best tasting deer species and highlight how diverse they are.
| Deer Species | Flavor Profile | Gamey-ness | Texture | Common Subtle Flavors |
| --- | --- | --- | --- | --- |
| Whitetail | Robust, Rich | High | Firm | Nutty, Earthy |
| Mule Deer | Earthy, Slightly Sweet | Medium | Moderate | Herbal, Sweet |
| Coues Deer | Mild, Earthy | Low | Variable | Pine, Desert Vegetation |
| Red Deer | Mildy Gamey, Vibrant | Medium | Lean | Grassy, Fresh |
| Fallow Deer | Delicate, Buttery | Low | Tender | Sweet, Velvety |
Whitetail Deer
First, we start with the most popular species, the White Tailed Deer.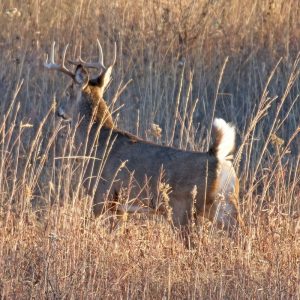 Famous, but also delicious, Whitetail brings a tricky but beautiful, strong flavor that gently spreads as it moves over our tongues.
You'll find it robust, a touch gamey perhaps, but a delightful taste that's rich and somewhat familiar to those acquainted with venison.
The Whitetail's food, a mix of acorns, hickory nuts, and plants, gives its meat a big, brave taste, holding the real heart of the wealthy lands it walks through.
In its flavors, we taste the wild, free spirit of the varied American places.
Mule Deer
Now, traverse the landscape to the vast, dry stretches where a Mule Deer roams, and it introduces a leaner, subtler meat, with a whisper of the wild herbs and sagebrush it feasts upon.
The terrain, the diet, they speak through the meat – offering us a tangible connection to the distant fields and forests.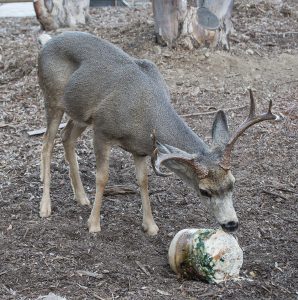 With its somewhat slimmer body and special antlers, the mule tells a quieter, more detailed story, where the quiet voices of sagebrush and the loud memories of wild herbs move through its meat.
The tastes of the mule deer meat quietly charm, with soft, a bit sweet notes and a strong earthy taste, showing the mixing of desert winds and mountain freshness.
Coues Deer
Go to the southwest, and you'll meet the Coues Deer, an animal with grace and hard-to-describe tastes, moving through the dry deserts and pine woods.
Eating lots of different plants, its meat shares a story that's clearly gentle but also interestingly wild.
Including a lightly gamey hint mixed with a background of earthy deepness, Coues Deer meat asks your taste buds to a dance where the tough desert meets the quiet talks of the pines.
Red Deer
As we go over the sea, the Red Deer takes us into its deep, European story.
A creature with a grand look and royal behavior, the Red Deer gives us meat that tastes kingly and warmly welcoming.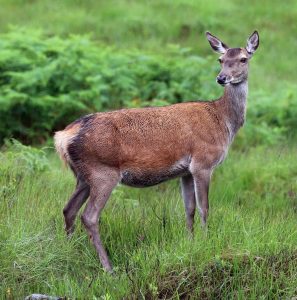 Eating in the green highlands and thick woods, their food of heathers and wild grasses softly shapes a meat that's at the same time lean, slightly wild-tasting, and freshly lively.
A bite of red deer takes us through the green fields of Scotland and the tough, hearty lands of Central Europe, where every small bite is a part of its journey across the continent.
Fallow Deer
Lastly, our tasty journey brings us to meet the magical Fallow Deer.
Fallow Deer, a species known for it's white spots, finds its meat often described as more forgiving to those a bit wary of the wilder notes of game.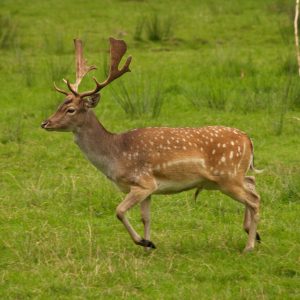 If you are looking for something similar to beef, this is your best bet when it it comes to tasting venison.
Widely known for its clear, tender, almost butter-like profile, it's gentle, with a subdued, almost careful gamey undertone and a soft, almost luxurious texture. It's here where you find a meat that's versatile, happy to mingle with a myriad of flavors and dishes without dominating the culinary conversation.
It shares stories of rich European fields and, interestingly, of different worldwide lands, as this species has made a home in varied places across the world.
The range goes from strong and wild-tasting to gently sweet, with each kind of deer meat offering a complex mix of flavors and feels to check out and love.
Comparing Elk to Deer Species
Now, when you cross-reference these with Elk – a creature mighty in stature and flavor – there's a noticeable shift.
Elk meat, from the backstrap to the hindquarters, carries a confidence in its flavors: bold, yet not overwhelmingly gamey, with a hearty texture that's satisfyingly chewy without being tough.
An Elk steak from an animal that's been grazing in alpine meadows might share the palate with a gentler sweetness, a subtle nod to the lush, wildflowers and grasses consumed during its alpine summers.
The Culinary World of Venison
Venison! It's a word that echoes in the culinary world, carrying with it bold, wild, and untamed flavor notes.
Yet, beyond those hearty bites of this splendid meat, lies a realm teeming with narratives, methodologies, and a rich tapestry interwoven with cultural nuances.
The deer, in all its varied breeds, presents a truly versatile meat that converses profoundly through its tastes and textures.
The diversity embedded in each bite draws us deeper into understanding the profound richness and array of textures unveiled through different cooking approaches.
Understanding Venison mandates a curious palate and a respectful nod towards its natural origins.
Texture
Its texture, a harmonious fusion of tenderness and solidity, its flavor, a delicate ballet between savory and sweet, converge to project a meat that is not simply consumed but experienced.
The nutritional merits of venison, with its lean profile and robust protein, further elevate it to a pedestal where wholesome and gourmet seamlessly blend.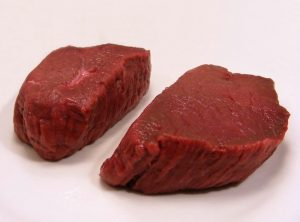 We journey further to decipher the culinary secrets that amplify the splendid flavors of venison.
From aging, a meticulous process where the meat is allowed to tenderize, developing a depth and mellowness to its original robustness, to the intricate techniques of preparation – each step is a chapter, articulating the narrative of the venison on our plates.
Cooking
Whether it's grilling, smoking, or slow cooking, each method coaxes a unique tale from the meat, showcasing the flavors that are inherently carved by nature and enriched by culinary craft.
From the smoky barbeque pits of the American South to the refined, hearty stews of European sophistication, venison dances through cultures.
Venison, in all its preparations, from sausages that narrate of smoky, hearty mornings to elegant roasts that adorn the most celebratory of tables, enriches the global culinary arts with its vibrant and versatile portrayals.
Venison doesn't merely satiate; it enlightens, guiding us through a sensory exploration of the wild, pristine landscapes, echoing the tales of the deer that traverse them.
It's a culinary adventure, where each bite speaks, narrating tales of wild meadows, brisk, frosty mornings, and the pure, untamed essence of nature.
Let's embrace venison with gratitude for its origins, respect for its journey, and an unwavering enthusiasm for the flavorful adventures it pledges.
Best Practices for Procuring the Best Tasting Deer
The guidelines and approaches to hunting are more than just a routine; they're a sacred exchange between us and the untamed wilderness.
This relationship doesn't only assure a sustained yield but also fosters a connection with both, the wild terrains and the creatures that inhabit them.
The pursuit of the most flavorful deer begins with a foundational respect. Acknowledge that each animal bestows upon us a gift, a blend of nourishment and flavors that mirror their life's adventures.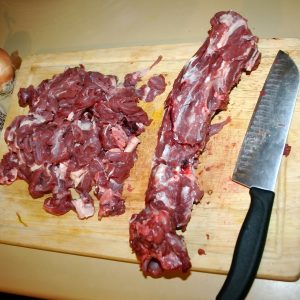 Adhering to ethical hunting practices, which encompass careful selection, ensuring swift, humane kills, is imperative. This elevates our culinary experiences, enabling us to savor venison that is not only flavorful but also rich in tradition and honor.
Immersed in the wilderness, where the earth narrates ancient tales beneath our boots, let's pledge to honor the deer.
By ensuring that our practices celebrate and respect their existence, we carve a path where sustenance and reverence coexist.
Wrapping Up
As our journey through the bountiful universe of venison winds down, let's acknowledge there isn't one best tasting deer species.
We've tread lightly across diverse and verdant landscapes, intertwining our senses with the myriad tales conveyed through bold and subtle flavors.
With every bite, the deer have bestowed upon us not merely sustenance but narratives of meandering through meadows and navigating forests..
FAQs
What is the most delicious deer species?
In a quest for the peak of venison taste, folks often tip their caps to the Fallow Deer.
Now, its meat, tender with a light, gentle flavor, lends itself beautifully to various culinary endeavors, offering your palate a mild, butter-like welcome.
It's got a kind of tame wildness to it, and a flexibility in its texture that's made a beloved spot among deer meat lovers, ushering all into a pleasantly mild, yet thoroughly engaging, journey into nature's pantry.
How does the diet of a deer affect its meat's flavor?
Envision moseying through vibrant fields, taking time to savor each piece of vegetation under a warm sun.
The diet of a deer, brimming with elements from its terrain, infuses into the core of its meat.
By consuming a blend of plants, nuts, or maybe desert foliage, the deer takes in the essence of its surroundings.
So, where a deer has grazed, what it's grazed on, carves a clear imprint, creating a flavor that is a potent echo of its stomping grounds.
Are there any legal restrictions on hunting certain deer species?
Indeed, keeping nature in balance and maintaining our interaction with it often involves abiding by legal frameworks.
Various areas enforce distinct restrictions and guidelines to ensure the sustainable and ethical hunting of deer species.
This might include fixed hunting seasons, specific permits, and perhaps, protections for certain species teetering on vulnerability.
It's critical that hunters adhere to these guidelines, showing respect not just for the law but also for the delicate ecological balance.
How to cook venison to preserve its authentic flavor?
Ah, the gentle art of cooking venison, where we become the stewards of its wild, native tales!
Keeping the authentic flavor of venison calls for a soft, respectful approach in the kitchen.
Favoring slow-cooking methods, using marinades to tenderize and enhance, and crucially, avoiding overcooking this inherently lean meat.
Let the venison speak, pure and truthful, inviting your palate on a journey through soft meadows and dense forests, and honoring the noble creatures that once roamed them.