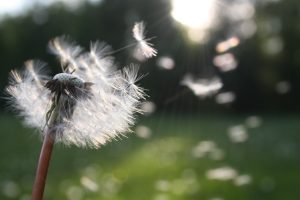 Wondering why you're not seeing any game?
You might be getting scented.
Scent control and wind awareness are key when hunting.
In today's article we pick out the best wind direction powder as well as review another cool wind checking device on the market.
Top Pick
After researching the market, we selected the Dead Down Wind as our top pick. This stuff is inexpensive and works great. It costs so little that you can buy a few bottles to throw one in your jacket, pack, truck etc.
The 3 Best Wind Checkers for Hunting
Best Wind Direction Powder for Hunting: Dead Down Wind
If you are looking for an easy to use wind powder to use hunting, Dead Down Wind is a great choice.
Although some people will tell you that baby powder will work, this stuff is actually scentless unlike baby powder.
Even in the sligtest of winds, this powder will make it obvious which way the wind is blowing.
It comes in a nice little bottle and costs less than a cup of coffee.
Might as well buy yourself a couple spare bottles just so you are never without it.
Dead Down Wind also sells a complete kit that also helps you limit scent. Another cool, highly rated product.
Runner Up: Hunter Specialties Windicator
If you are looking for an alternative to the Dead Down Wind, the Hunter Specialties Windicator is another good choice.
This powder is also inexpensive and generally liked by hunters.
It puts out a nice, easy to see puff of powder that makes it obvious which way the wind is blowing.
It would be better if the bottle was slightly smaller but in general this is a good choice.
Best Vapor Wind Indicator: Cirrus
This wind indicator tool made by Cirrcus is a pretty innovative product. In addition to helping you indicate wind direction, it can also serve as a flashlight and serve as a power bank for other portable hunting devices.
Another advantage it has over traditional powder solutions is that it is capable of more than twice as many puffs for indication as a typical powder bottle.
One small complaint that a few buyers have mentioned is that it does have a very slight scent.
The other downside is that it costs quite a bit more than a bottle of powder.
Overall, we think this is a pretty cool product to add to your hunting tool kit and performs well.
Who Should Buy a Wind Indicator for Hunting
The reality is that every hunter should have some form of wind indicator to help them plan their paths when hunting.
Even if you are using a product like Ozonics, using the wind in your favor will improve your success rate.
Scenting an animal is the fastest way to find yourself not seeing any game on your hunt. Most animals are highly sensitive to smells that are outside what they are used to smelling in the wild. They have been trained for hundreds of years to know what smells normal and what doesn't.
If they sense anything that seems off, they are very prone to being spooked and leaving the area in a hurry.
Hunting Mule Deer in High Winds
In order to give an example of how much wind can matter, we are going to go over how to hunt mule deer in high winds.
When the wind is especially high, mule deer can act a bit erratic.
Although all game might disappear at first, often times large bucks that are usually well hidden will be flushed out by the high winds.
An advantage of these high winds is that the increased noise will allow you to move a bit more freely without having to worry about getting heard.
With that said, you will want to be checking the wind direction often to try and do your best to move with the wind coming from the direction you are heading.
Other Wind Checkers We Reviewed
Primos Wind Checker is another powder on the market but there are a few things we didn't like compared to the others recommended above.
First, it is quite a bit more expensive for what is essentially the same product.
A few users mentioned that this powder also has a tendency to clump and that the bottle is sometimes faulty.
Code Blue is another option but we had a few concerns with this one as well.
Some buyers mentioned that they had a tough time getting a good puff of powder to come out of the bottle, saying they had to practically hold the bottle upside down to get it to work.
There is also not as much powder in the bottle, and the price is high compared to the Dead Down Wind.
Overall, we would recommend going with one of the indicators at the top of the article.