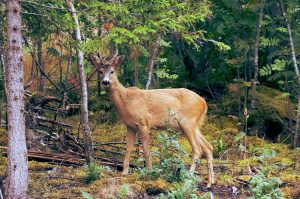 Smell that?
Deer have an excellent sense of smell so it makes sense why ozonics are a hotly debated topic among hunters.
Some claim it is all smoke and mirrors but there are many satisfied customers and their products generally have great reviews.
Many have reported deer displaying behavior that they picked up on something but then going back to their business.
But, there is a difference between a deer smelling "something" and smelling a human.
Overall I believe they are effective enough that if you are considering purchasing one, you should give it a try.
Sure, they are not cheap, but that can be said for many pieces of your hunting gear.
Here are what I believe are the top 5 scent eliminator units on the market for hunters.
Top Pick
After a lot of research, I selected the Ozonics HR-230 as my top pick for an ozone generator. It is a well made unit that has all the important features and most importantly, it has reviews from users that say it does in fact increase chances of success.
The 5 Top-Rated Ozone Generators for Hunters
Best Ozonic Unit: Ozonics HR-230
If you are looking for the top ozone hunting unit, the Ozonics HR-230 is my top recommendation.
The HR-230 is a well built unit that delivers long lasting performance when out in the field.
It has 2 different operating modes. One for when you are in a blind (standard mode). And the other for when you are in a treestand (boost mode).
In standard mode the battery lasts up to 5 hours. And in boost mode it lasts up to 4.
The two different modes vary the amount of ozone released into the surrounding area.
When you are in a treestand, it will take more ozone to destroy the scent in the open area around you.
Although there are still nonbelievers, the Ozonics units have many raving reviews from hunters who have had great success using them.
The unit comes with an EZ mount. It is quick and easy to setup.
Despite a few reviews that say otherwise, I found the fan to be pretty quiet.
It has green indicator lights that display the mode setting as well as the battery life.
Key Features:
Up to 5 Hours Battery Life
Ozone Modes for Both Blind and Treestand
Integrated Pulse Technology
Super-Quiet Fan
Runner Up: ScentLok OZ Radial EZ
The ScentLok OZ Radial EZ is my pick for first runner up.
This unit is more affordable than the Ozonics. It is a quality unit at a solid price.
The ScentLok features 4 operating modes so you can vary the amount of ozone depending on your hunting setup.
On the regular setting, the unit will operate for up to 8 hours on a single charge.
You also have the option to have the unit release ozone in intervals ranging between 5 and 30 minutes, further extending the battery life.
Another thing I like a lot about the ScentLok is how small and portable it is.
I find it to be more convenient to haul around than any other unit in this article.
Like the Ozonics, the battery life and mode setting are shown by indicator lights on the unit.
Key Features:
Up to 8 Hours Battery Life
360 Degree Output
4 Operating Modes
Interval Modes
Runner Up: Ozonics Orion
Next up we have the Ozonics Orion.
The Orion is the top end offering from Ozonics.
Compared to the HR-230, the Orion has the ability to release more ozone.
The Hyper-boost mode produces approximately 25% more ozone than the boost setting on the HR-230.
The XL battery option doubles the battery life of the standard unit to 10 hours.
I also like the over mold housing on the Orion.
It both makes the unit more durable and helps muffle the sound of the fan.
I think this is the quietest unit on the market.
The biggest downside to the Ozonics Orion is the higher price tag.
If money is not a major concern, this is the highest performance ozone generator I have come across.
Key Features:
Up to 10 Hours Battery Life
Hyper-Boost Mode
Over Mold Housing
Integrated Pulse Technology
1.9 lbs.
Best No Ozone Unit: Wildgame Innovations Ion Field Generator
If you are looking for a scent blocking unit that uses something other than ozone, checkout the Wildgame Innovations Ion Field Generator.
This technology works a bit different than ozone generators.
The Wildgame releases positive and negative charged ions that bind to odor molecules to neutralize scent.
So if you are concerned about the health aspects of using ozone, this unit is a great option.
Users have reported success using this technology, highlighted by it's solid reviews.
The Ion Field Generator runs for up to 6 hours on a single charge and comes with a second battery that can be swapped out in the field.
Key Features:
Up to 6 Hours Battery Life
8-12 Hours Battery Life with Extra Battery
Field Ion Technology
No Ozone
Best Budget Ozone Generator: Dead Down Wind
If you are on a tight budget but still want to give an ozone generator a try, consider the Dead Down Wind.
It is an affordable unit that doesn't sacrifice any functionality.
The Dead Down Wind has 4 output settings, varying the amount of ozone released.
The battery is solid, lasting between 4-8 hours depending on the operating mode.
One unique feature about the Dead Down Wind is that in addition to using ozone, it pre-treats the air with UV light in attempt to kill odor causing bacteria.
While not my top choice, this is still a good pick for someone wanting an ozone generator without breaking the bank.
Key Features:
Up to 8 Hours Battery Life
4 Output Settings
Digital Display
UV Plus Ozone
Do Ozonics Work?
So, do these things actually work?
Do they improve your chances of hunting success?
Well, to start. The science is real.
Ozone does remove unwanted scent particles from air. This is why ozone units have been used for years in cars and households.
But does it work for hunting?
Well it depends, but I believe in the right conditions a good ozone unit can be effective.
If you are hunting from a blind or treestand, where scent control is critical, anything that can help should be considered.
Checking the wind is something you should always be doing, but sometimes it is out of your control.
This is where using ozone can help.
Even when the wind is not your favor, it can help mask/eliminate smells that would otherwise tip the deer off.
When will the ozonic unit not work well?
If the deer approach from a direction other than the one where the unit is set up.
When the wind is more than a breeze, or erratic in direction and speed, it is going to be hard to use the unit in a predictable way.
If you are short on space for gear and/or you have a long hike to your hunting spot, an ozone generator might not be worth the extra hassle.
Who Should Buy an Ozone Generator
If you are doing the majority of your hunting from either a treestand or a ground blind, an ozone generator is worth considering.
Sure, they do cost a few hundred dollars. But let's be honest, hunting is not a cheap sport.
Ozonics offer you an easy way to increase your chances of success overnight.
All you need to do is set the unit up and let it do it's thing.
Like I mentioned above, if you move around a lot when hunting or do a lot of hiking, an ozone generator might not be worth it.
Important Features to Consider
Size and Weight. As with all your gear, size and weight are always important. Unless you are hauling your gear to your blind with a good deer cart, every pound matters. This is less of a concern for those of you that don't have far to travel to your spot.
Battery Life. Ozone generators are only useful if they actually work. If the unit has a short battery life, it is useless. Ideally pick a model that has a battery life as long as your typical hunt.
Durability. Most hunting gear takes a beating over time. The more durable the unit, the better. Watch for units that have negative reviews about breaking. All the units above seem fairly robust and hold up well to normal use.
Ozone Setting. Depending on the type of hunting you do, the ability to change the ozone setting can come in handy. Treestand hunting will require units that produce more ozone compared to hunting in a blind. The units recommended in this article should all be sufficient for both types of hunting.
FAQs
Do ozone generators work?
The jury is still out but the science is real. Ozone does kill odor molecules. It has been used for years to eliminate unwanted odor in automobiles and houses.
There are many great reviews from users. So in my opinion, yes, ozone generators can be effective.
Can ozone generators be used in a treestand?
All of the units mentioned in the article can be used in a treestand. Most of the units have different ozone setting. You will want to use the setting that generates the most ozone when hunting from a treestand.
How long does the battery last?
All the units in this article have good battery life. They range from 5 to 10 hours. The Ozonics units have optional larger batteries for even longer battery life. The battery life of each unit is mentioned in the section on the model above.