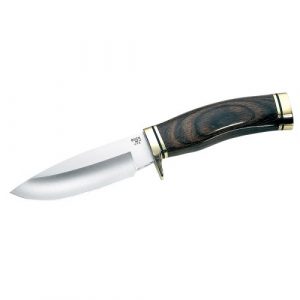 Picking a hunting knife can be hard.
Nowadays there are so many manufacturers and options to choose from.
Much like many of you reading this article, I have been into knives since I was young. I have purchased and used countless knives, from budget buys to high end.
What have I learned from owning so many knives? The classics are classics for a reason.
This article highlights every little detail about the Buck Vanguard. But if you are in a hurry and trying to decide whether to buy one, I will summarize with this: buy it!
If I had to pick one knife to take hunting with me for the rest of my life, it would be the Buck 192 Vanguard.
Read on to find out why I like this knife so much.
Buck Vanguard Review (192)
Buck Knives 192 Vanguard Fixed Blade Knife with Leather Sheath
Razor Sharp Blade - Full tang construction with integrated finger guard and a deep choil help make this knife one of the best options for serious hunters and outdoor enthusiasts with a true appreciation of quality. 8-1/2" Overall Length, Weight, 6.3 oz.
Durable Build - Full tang construction with integrated finger guard and a deep choil help make this knife one of the best options for serious hunters and outdoor enthusiasts with a true appreciation of quality. 8-1/2" Overall Length, Weight, 6.3 oz.
Ergonomic Grip - Classic Heritage Walnut handle with contoured grip make maneuvering through field dressing a breeze. The polished brass pommel/guard provides a perfect combination of beauty and balance
Buck Knives are the most popular hunting knife brand in the history of hunting. They have been making knives since 1902. It is safe to assume that at this point, they know what they are doing and there is a reason they have been around this long.
The Vanguard 192 has been popular with hunters since it first came out decades ago. It is not uncommon to find hunters who carry one that used to belong to their father or grandfather.
The blade itself is 4-1/8″ long drop point made from 420HC Steel. This steel does a good job of holding an edge, withstanding abuse, and resisting corrosion.
Buck's classic offering features a Heritage Walnut handle. The wood is beautiful, rugged, and does a good job of maintaining its grip when wet.
Buck also offers the knife with a rubberized handle at a reduced price for those wanting something with even more grip.
The ergonomics are top notch, it feels perfect in your hand and allows you to have great control.
You really can't appreciate how well Buck designed this knife until you have held it in your hand, something about it feels just right.
HuntingSage Rating: 9.8/10
Another great feature of the Buck Vanguard is Buck's Forever Warranty. The warranty covers defects in material and workmanship. They will repair or replace any knife that they deem defective.
Even if you damage the knife doing something that you shouldn't, Buck will either repair the knife for a reasonable fee or offer a one-time offer to buy a new one at 50% off the standard price.
Sheath
The sheath that comes with the Vanguard is made of leather and has a strap that secures the knife.
It also has an integrated belt loop.
While there isn't anything specific I dislike about the sheath, I do feel like it is not quite up to par with the high quality of the knife.
With that said, it is a decent sheath and it shouldn't prevent you from buying this great knife.
Buck 192 Vanguard Pros and Cons
Pros:
Excellent Value: high quality knife at a reasonable price.
Made in U.S.A.
Lifetime Warranty
Cons:
Sheath isn't as high quality as the knife.
My Experience with the Buck Vanguard
Like I mentioned in the intro, I have used a lot of knives for various hunting tasks from gutting to butchering.
I find the Buck Vanguard to be so well rounded that a strong argument can be made that it is the only hunting knife you need.
Let's start with gutting. I find the Vanguard to work well for gutting. While a good hunting bone saw can help with field dressing, the Vanguard is capable of getting the job done all on it's own.
The knife is on the shorter side which is nice when working inside an animal when you are unable to see. It reduces the chances of you accidentally cutting yourself.
When it comes to skinning, the Vanguard excels. The shape of the blade and the way the knife handles make it perfect for skinning. I have also found it does a great job of maintaining it's sharpness during use.
Lastly, for butchering, again I find it does a very good job. I cannot overstate the comfort of using this knife. It is a dream to work with and I don't have much bad to say about it.
How to care for your Buck Vanguard
Buck includes some general tips on caring for their knives on their website.
Their recommendations include:
Keep the knife dry
Keep the knife clean
Oil the knife after use
Keep the knife sharp
Store in a dry place
I like to always wipe my knife down after use and make sure to get it as clean as possible. I will then wipe it down with light coat of oil like 3-1.
Doing the above in combination with keeping the knife sharp will ensure your knife lasts for years if not decades. Maybe you will even pass it down to future generations like so many others have.
Buck Alaskan Guide Series
If you are looking for an even higher end version of this knife, checkout the Alaskan Guide Series.
This is the same knife as the 192 Vanguard with one improvement, the blade is made of S30V steel and has a Cerakote coating.
S30V is a higher quality steel used for high end knives.
The Cerakote coating greatly enhances the blade's corrosion resistance.
Many owner's report that the higher quality steel and coating do in fact help the blade maintain it's edge even longer.
This is a step up from an already excellent knife. If you are willing to spend a bit more money, I recommend it.
Frequently Asked Questions
Where is the Buck 192 Vanguard made?
Buck makes the 192 Vanguard in the U.S.A. and they are proud of it. While some of their low-end models are made overseas, this model is still made in the states. This means that both the materials and workmanship used to make it are top notch.
How well does it work for skinning and gutting deer?
Like I mentioned above, the Buck Vanguard excels at skinning. The ergonomic design and blade shape are perfect for this task.
But the Vanguard is no slouch when it comes to gutting. The compact size makes it suitable for gutting deer. And the handle doesn't lose it's grip once it gets wet.
Does the Buck Vanguard have a full tang?
Yes, the Buck 192 Vanguard model features a full tang design.
For those of you unfamiliar with what full tang design is, it means the metal frame of the knife extends through the entire handle.
This makes the blade extra strong and durable, much more so than a half tang design.
Checkout this video for more details:
What type of sheath comes with the Buck Vanguard?
The Vanguard comes with a stitched leather sheath that has a strap and button to keep the knife secured.
While the sheath is nothing special, I find that it does it's job.
How easy is it to sharpen?
This knife comes quite sharp out of the box. I found that a small amount of work with a sharpening stone brought it from sharp, to razor sharp.
The blade holds it edge very well and stays sharp. I haven't found the need to frequently resharpen it.
Once you have put some miles on it or if you are just looking to keep it in top shape, you will find it is easy to sharpen.
Here are some tips from Buck Knives on the easiest way to do so using a Sharpie.
Review Criteria
The main criteria I used to review the Buck Vanguard are:
In all three categories, the Vanguard exceeds expectations. The value is excellent. You are getting a well-made, high-quality knife at a reasonable price.
I am of the opinion this knife is on par with knives that cost quite a bit more.
Most importantly, I put my knives to the test, meaning I actually use them to hunt.
I am constantly trying knew knives, playing with them, even adding a blue patina on carbon steel blades.
And after trying all sorts of knives for various tasks, my conclusion is:
The Buck Vanguard is the best all around hunting knife.