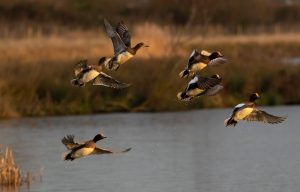 If you are struggling to hit ducks,
where it seems like you are doing everything "right" but still miss…
Don't worry, we have all been there (and sometimes revisit).
Sadly, it is impossible to calculate exactly how much you should lead a duck on the fly especially given all the of variables at play.
But with the right technique and some practice you can develop your instincts so your lead distance and adjustments happen naturally.
Quick Summary
For those of you in a hurry, an old duck hunting saying can offer a lot of help. "Butt, Belly, Beak, BANG!" Like the saying implies, the way to lead a duck so you are knocking them out of the sky is to follow that sequence.
Do not focus on the bead, focus on the bird. Make sure you continue to follow-though after you make the shot to ensure you are not stopping your swing as you pull the trigger. This is the number 1 reason duck hunters miss.
Follow Through
The most common reason duck hunters miss is because they are shooting behind the bird. This is especially the case with newer duck hunters.
Here are a few reasons this is happening:
You are stopping your swing as you pull the trigger.
You are not leading the duck enough.
You are focusing on your bead instead of the bird.
For hunters making the transition over from hunting game with rifles, this is typical because they are used to "aiming."
It is better to thing of the technique for shooting ducks as one dynamic, fluid, continuous motion.
Hunters refer to this technique by different names such as following or swinging through but we prefer the "Butt, Belly, Beak, BANG."
Pick out 1 duck, and 1 duck only.
If you start focusing on the duck and use this technique, you will start hitting more birds. From there you will improve further by slightly tweaking your BANG timing to distances further in front of the duck.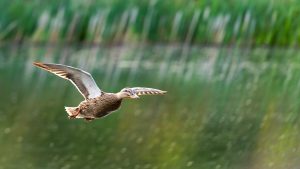 Speed and Direction
By using the technique above, you will naturally do a good job compensating for the speed the duck is flying.
Direction can be tricky but it's not as difficult as it might seem. New duck hunters often have trouble with shots where the duck is flying at them from straight ahead.
You can follow the same butt, belly, beak, bang sequence even when they are flying at you. What throws hunters off is that the end of the barrel will be completely blocking the duck at the time of the shot. This is actually what you want. Once you get the hang of these shots, you will find they are actually some of the easiest ones to make.
Distance
Another common reason duck hunters miss is because they take shots that are too far/early. By not waiting for the duck to get within range, you shoot yourself in the foot by making your shot much more difficult.
Until you are a really good shooter, we recommend not shooting at anything closer than 40 yards.
A good way to gauge duck distance is the use the end of your barrel. This is a slight modification from something we read by Steve Rinella.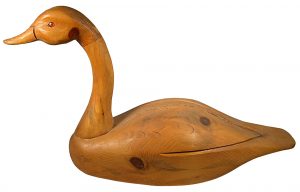 What we recommend is that you mark out a distance of 40 yards from one of your decoys. Now, aim just below the decoy and compare the size of it to the end of your barrel.
Remember this comparison and try not shooting at anything that appears smaller next time you are hunting. You may find you were calling/taking your shots too early.
Example Leads of Different Shots
We have found the videos below to be an invaluable resource for improving as waterfowl shooters. The slow motion of the shot placement really highlights the importance of following through in the direction of flight for success.
Take some time and watch these in detail. Notice how the shooter does not stop moving the gun right before the shot.
Imagine yourself taking shots using the same placement and timing. We bet your success will increase next time you go out.
Related Questions
How far can I shoot a duck?
40 yards is a good rule of thumb. As you become more skilled at hitting ducks you can consider pushing this a little further but just realize that the difficulty goes through the roof beyond this range. If you are currently struggling at hitting birds inside of 40 yards, don't further discourage yourself by taking impossible shots.
Just make sure to take your decoy gloves off first.
Conclusion
By working on your follow through and using the Butt, Belly, Beak, Bang technique you can get better at shooting ducks in a flash. Try picking out only 1 duck at a time. If you can get to a range and shoot clays, that is a great way to practice this technique. We think you will be surprised at how much better you shoot once you get the hang of it.