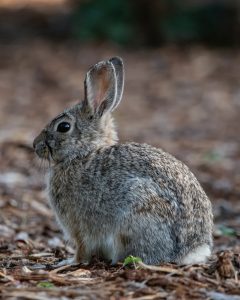 Are you hunting rabbits at night?
Then you know how important a good light can be.
Now days there are some great choices of lights for lamping rabbits.
In this article we highlight our favorite and go over the basics of how to lamp rabbits.
Top Pick
After researching, we selected the ThruNite TN40S as our top pick. This is a powerful light that offers a versatile combination of flood and throw. It is an ideal light for anyone looking for a light capable of doing it all.
The 3 Top-Rated Lights for Lamping Rabbits
Best Light for Lamping Rabbits: ThruNite TN40S
If you are looking for a fantastic light to help you hunt rabbits, look no further than the ThruNite TN40S. This is a high quality, powerful lamp. It uses rechargeable batteries touted to last up to 20 years.
It offers a great blend of flood and throw, much more than you will probably need but this can be helpful when planning your approach path and finding the rabbits.
The light have a few different modes and brightness settings. Another cool feature is that it monitors the temperature of the LEDs so it will automatically lower the brightness if they get too hot. It also comes with a nice shoulder strap to carry it with during your hunt. Note, it does not come with batteries. It uses 4 18650 batteries.
Key Features:
4450 Lumens
Rechargeable
Comes with Shoulder Strap
Runner Up: Fenix UC35 V2.0
Fenix UC35 V2.0 Rechargeable Flashlight
1000 Lumen rechargeable tactical flashlight with 5 lighting modes and strobe
Flashlight has USB rechargeable port and includes 18650 Li-ion battery (3500 mAh); boot up battery level indicator
Dual switch operation with side switch mode selection and rear switch on/off and momentary
For those of you looking for something a little less powerful and more lightweight, the Fenix UC35 V2.0 is an excellent option. Like the ThruNite above, this is a fantastic performing flashlight.
It is 1000 lumens, and also rechargeable. Fenix lights are known for being very high quality and durable lights.
This light is so small it will fit easily in your coat or pant pocket.
You will be satisfied with this light.
Key Features:
1000 Lumens
Rechareable
USB Charging
Best Budget Lamp: Stanley FATMAX
Sale
If you are on a tighter budget, the Stanley FATMAX is a great choice. It is also a good pick for those of you looking for a more traditional spotlight.
One of our favorite features of this light is that it can be recharged with a USB outlet.
The light uses lithium ion battery that stays charged for up to a year and can run for long times before it needs to be recharged.
Key Features:
2200 Lumens
Rechargeable
USB Charging
How to Lamp Rabbits
Lamping rabbits is a method of hunting rabbits at night. Here we are going to go over the basics of how to do it and include a few tips.
To start, you want to make sure what you are doing is legal in your area. The laws around hunting at night can depend on your location and the type of game you are hunting.
Make sure the area you are hunting is safe and that you have permission to be hunting there. Also take into consideration the type of weapon you will be using and the backstop behind your target. Depending on your weapon choice, the projectile can travel much further than your target.
The Approach
Ideally you will have already scouted the area you are hunting during the daytime. The general idea is to use your lamp from a distance to locate the general area where the rabbits are. The key is to minimize the use of your lamp as much as possible.
Shine your lamp until you see the rabbits, usually you can at least see the reflection from their eyes.
Try to take the wind direction into consideration. The best approaches are done with the wind in your face so your scent isn't carried towards the rabbits.
Once you have located the rabbits, shut-off your lamp and slowly make your way to within range. Be as quiet as possible during your approach.
Get Ready
After you have made your way within range, the next step is to get ready to shoot. Do not turn on your lamp until you are ready otherwise you risk spooking the rabbits.
When ready, use your lamp to locate the rabbit. The key is to not blast them with as much light as possible. Only use the lamp as much as necessary to aim well.
After the Shot
Once you take your shot, turn off the lamp as soon as you can to minimize spooking other rabbits. It is best to pickup your rabbits sooner rather than later to not risk losing them of having them taken by another animal.
In summary, that is the basic gist. Be patient if you are new to lamping rabbits. It will take time to learn the subtle aspects of hunting rabbits this way. Good luck!