Hunting rabbits is a great way to continue hunting outside of the other major hunting seasons (deer, duck, and turkey).
In most states rabbit hunting is open year round although some seasons are better than others as discussed below.
A .22 is a great weapon of choice for hunting small game like rabbits that is both challenging and effective.
Checkout our list of tips below that will help you be more successful when hunting rabbits with a .22.
10 Tips for Hunting Rabbits with a .22
1. Wear Thick Clothing
Rabbits like to spend time in thick brush. It is very common to end up making your way through thick brush and brier patches. We find that Carhartt pants and jackets are great when hunting rabbits. They hold up and don't tear.
2. Hunt During the Winter or Spring
Spring time seems to be the best season for hunting rabbits. This is when you will see more rabbits than any other time of year.
Winter is also a good time to hunt rabbits especially if you can hunt them in the snow. In the snow it is easy to track their footprints and find areas with a lot of activity. It is also easier to spot them in the snow as well.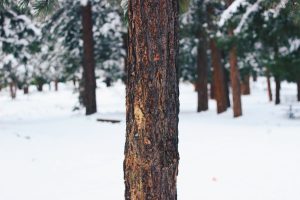 3. Hunt South Facing Slopes in the Morning
One of the best times to hunt rabbits is in the morning on a south facing slope. The reason is because the sun will be hitting the slope and the rabbits will be trying to get out in the sun for warmth. This is the perfect them to pick them off when they are distracted.
4. Locate Brush and Briers
As mentioned above, rabbits love to hangout in brush and brier cover. These are the best areas to start your search. Often times you will be able to pick them off in the brush even though they are somewhat concealed.
5. Move Slowly
Since hunting rabbits with a .22 requires that the rabbit is still when you shoot, you need to move slowly and keep quiet. You don't want the rabbits to know you are coming otherwise they will takeoff running and your .22 will be useless.
6. Be Within Range
For most hunters, you will want to make your way within 50 yards or so of the rabbit so you can make a clean shot. If you have a rest, a scope, and are a good shot, you can extend this range out to 100 yards and still be effective.
7. Use a Scope
Using a scope is going to make it significantly easier to place accurate shots compared to open sites. The magnification of the scope can also make spotting the rabbits in the brush much easier. We are big fans of Vortex scopes and like their Crossfire II 2-7×32 for a .22.
Sale
Vortex Optics Crossfire II 2-7x32 Second Focal Plane, 1-inch Tube Riflescope - Dead-Hold BDC Reticle
The 2-7x32 Crossfire II riflescope is one of many configurations in the Crossfire II line. The Dead-Hold BDC reticle is good for hunting/shooting at varying ranges where estimating holdover is a concern
With long eye relief and an ultra-forgiving eye box, you'll be able to quickly get a sight picture and acquire your target. The fast focus eyepiece allows quick and easy reticle focusing
Anti-reflective, fully multi-coated lenses provide bright and clear views for the user; Max Elevation Adjustment: 60 MOA
8. Use Appropriate Ammo
Make sure you use quality ammo made for small game. We like the CCI Mini-Mag. They work great and are fairly cheap to shoot.
9. Aim for the Head
When shooting a rabbit with a .22, you want to aim for the head, right behind the eye. This is where the brain is located and will produce instant, humane kills. For more info on shot placement, checkout our article on where to shoot a rabbit.
10. Clean Using Game Shears
Shooting a rabbit with a .22 actually makes cleaning them easier because you don't have to worry about pellets and the rabbit will be in much better condition compared to being shot by a shotgun.
We find that cleaning them with good game shears is quick and easy.
Benefits of Hunting Rabbits with a .22
Hunters usually hunt rabbits with either a shotgun or a .22. Some hunters even hunt rabbits with a slingshot. While there are benefits to using a shotgun, the challenge of hunting rabbits with a .22 makes for a rewarding hunt when you are successful.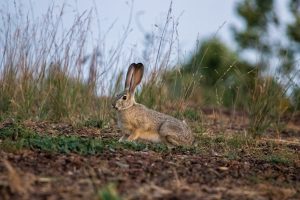 In addition to being challenging, it also offers you the chance to practice and become more proficient at hunting with a rifle.
Finally, the best benefit of hunting rabbits with a .22 is that the meat is preserved and not damaged like it is when they are shot with a shotgun.
Another great caliber for small game like rabbits is the .17 HMR.