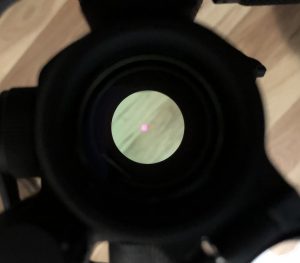 Red dot scopes are soaring in popularity with turkey hunters, and it's no wonder why.
Hunting turkeys is not easy.
Sometimes hitting them when you have a shot isn't either.
You will find it much easier and quicker to aim with a red dot than a bead.
But choosing a sight for turkey hunting in not easy either.
That's why in this article I highlight exactly which red dot sights you should consider adding to your turkey gun.
Top Pick
After reviewing the countless number of red dot sights on the market today, I selected the Vortex Venom as the top pick. Like most Vortex products, it offers amazing value for the price. It has a number of great features and comes with a lifetime warranty.
The 5 Top-Rated Red Dot Scopes for Turkey Hunting
Best Red Dot for Turkey Hunting: Vortex Venom
When it comes to a red dot sight for turkey hunting, the Vortex Venom is my top recommendation.
The Vortex Venom is a red dot sight designed for rapid target acquisition. If you are a turkey hunter who is looking to greatly improve your success rate, your going to find this sight friendly to use as it was designed to do.
What I like about the Vortex Venom is the high quality given the price and how quick and easy it is to mount.
All you need to do is mount this thing and you will immediately recognize the benefits. You will see improvements the first time you use it.
The Venom has both power and dot intensity controls that allow you to choose between 10 different brightness levels.
One really sweet feature is that it has an auto-brightness mode that uses ambient light to automatically set your dot intensity.
Vortex uses multiple lens coatings to counter act stray light which results in an impressively clear and wide field of view.
The dot itself is 3 MOA in diameter, bright red, and has infinite eye relief.
The sight has 1 MOA adjustment graduations for both windage and elevation and is easy to get zero'd.
Like all Vortex optics, it comes with an excellent lifetime warranty. When it comes to value for your dollar, the Venom is hard to top.
Pros:
Auto Brightness
Battery Life
Unlimited Eye Relief
Excellent Warranty
Cons:
Battery could be easier to replace
Key Features:
3 MOA Dot Size
1x Magnification
Unlimited Eye Relief
1.9″ Long
Weight: 1.1 oz.
Lifetime Warranty
Runner Up: Burris Fastfire III
My runner up choice is the Burris Fastfire III and is a very popular red dot choice for turkey hunters.
The Burris is another red dot sight designed for high performance at a reasonable price point.
Since this sight is already so popular among turkey hunters, there are tons of mounts available for all sorts of shotguns.
It is really easy to mount, most shotguns will take no more than 20 minutes or so.
The Fastfire is available with either a 3 or 8 MOA dot depending on how precise you want to be able to aim.
Like the Venom, the Fastfire has an automatic brightness sensor to match the environment and also has 3 manual brightness levels for further adjustment.
The sight also features an auto timeout to save your battery in case you accidental leave it on.
It is waterproof, shockproof, and comes with the Burris Forever Warranty.
Pros:
Battery Timeout Feature
Auto-Brightness
Easy to Change Batteries
Cons:
Vortex seems a bit more clear
Key Features:
3 MOA Dot Size
1x Magnification
Unlimited Eye Relief
Auto-Brightness
Auto-Timeout
Forever Warranty
Length: 1.9″
Weight: 1.5 oz.
Runner Up: Sig Sauer ROMEO5
The next runner up is the Sig Sauer ROMEO5.
This design is a little different than the two red dot sights above. It is more barrel shaped and naturally sits a bit higher on your gun than the two above.
The dot size is also a smaller 2 MOA so if you prefer the ability to aim more precisely this might be a good choice for you.
One of my favorite things about this scope is how inexpensive it is given the high quality.
It has 10 illumination settings and has built in motion activated illumination. This is designed to optimize battery life, which Sig Sauer claims is an impressive 40,000 hours.
Overall, this is a great choice at a great price. Certainly an optic worth considering.
Pros:
Great Value for Price
Many Illumination Settings
Cons:
Not as clear as Vortex or Burris
Sits higher above barrel
Key Features:
2 MOA Dot Size
1x Magnification
Unlimited Eye Relief
Motion Activated Illumination
Length: 2.47″
Weight: 5.6 oz.
Runner Up: Trijicon RMR
Next up is the Trijicon RMR. When it comes to high end red dot sights, Trijicon is the industry leader.
Trijicon has become the default, go-to choice for military and law enforcement.
One of their main claims to fame is how resilient and bulletproof their units are.
This particular model features a 6.5 MOA dot with an automatic brightness mode as well as 8 manual settings. Of the 8, 2 are meant for low light night vision, and 1 is super bright.
The Trijicon also has a battery conservation mode where it will dim the dot after a set period of time.
There is also a button lockout which locks all the buttons so you do not accidentally adjust any settings.
The main reason I ranked it behind the others is the price. This sight costs more than some popular turkey hunting shotguns.
With that said, if you are willing to pay for it, you will not find a better performing red dot scope.
Pros:
Quality is top notch
Extremely rugged and durable
Cons:
Much more expensive than other red dot sights
Key Features:
6.5 MOA Dot Size
1x Magnification
8 Brightness Settings
Battery Conservation Mode
Length: 1.8″
Weight: 1.0 oz.
Best Budget Red Dot Scope for Turkey Hunting: Bushnell TRS-25
It you are on a tight budget but want to add red dot sights for turkey hunting, checkout the Bushnell TRS-25.
The Bushnell comes in at a much lower price point than the others above but still offers a lot of bang for your buck.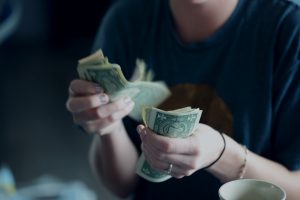 The design of the Bushnell is similar to the Sig Sauer. It is more "scope" like but won't sit too high on your gun.
Although it doesn't have some of the more fancy features as the other recommendations, it still offers everything you need for turkey hunting.
The dot size is 3 MOA, it is 1x magnification, and the eye relief is unlimited.
It has 11 different brightness settings that are set with a knob located on the side. The knob is somewhat large compared to the adjustment method of the other red dot sights.
The design is waterproof, shockproof, filled with nitrogen to make it fog proof.
Mounting the scope is easy. It fits on most picatinny rails.
If you are okay with sacrificing some of the battery saving and auto-brightness features the other red dot scopes have, the Bushnell is a great choice.
Pros:
Excellent value for the price
Cons:
No battery saving feature
No auto-brightness
Key Features:
3 MOA Dot Size
1x Magnification
Unlimited Eye Relief
11 Brightness Settings
Length: 2.4″
Weight: 4.0 oz.
Who Should Buy a Red Dot Sight
Red dot scopes for turkey hunting are rapidly growing in popularity. Once you understand the benefits, it is easy to see why.
They make aiming faster, easier, and more repeatable. Your ability to acquire the target quickly is one of the first things you will notice when you switch to a red dot.
Low light situations are where a red dot really starts to shine. Most sights have the ability to adjust the brightness so you can tune it depending on your conditions.
Red dot scopes have

tons of eye relief

. You won't be spending time trying to get the spacing between your sight and your eye correct, it will just happen naturally.
Using a red dot will

force you to aim instinctively

. Surely you have caught yourself getting lazy when shooting a shotgun with open sights, wondering if you actually had the bead properly aligned. Well, with a red dot, there will be no doubt where you were aiming.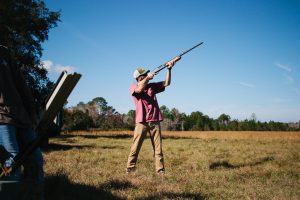 All of this will lead to a higher success rate. You will have less misses and have more confidence taking shots you wouldn't have previously.
If your goal is to harvest and eat a wild turkey yourself, you want to do everything you can to improve your chances.
Like any other sight, you will still need to zero it. We suggest following the procedure outlined in our article on What Shot to Use for Turkey.
As mentioned below under batteries, always make sure to check your red dot is functioning prior to your hunt. You don't want to get out in the field and find yourself without a functioning optic.
Important Features to Consider
Optics. Optics includes a number of factors:

Field of View
Dot Color and Size
Magnification
Unlimited Eye Relief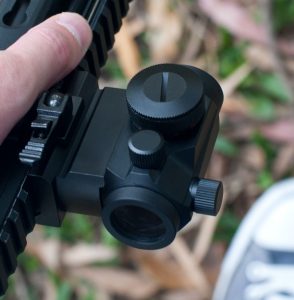 Mounting. Most red dot scopes are easy to mount to shotguns. All else considered, we prefer the scope to sit as low on the barrel as possible. If you have been shooting open sights until now you will naturally be looking for the bead so it makes sense to keep your new scope mounted low.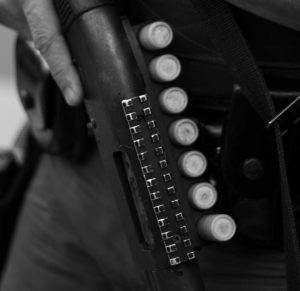 Durability. A red dot scope on a shotgun you use for hunting turkey is likely to see some abuse. Cold, rain, dirt, you name it. That's why it's important to buy from a manufacturer with a good reputation that is known for making quality optics. A warranty doesn't hurt either.
Battery Life. Ideally you would never need to worry about battery life but unfortunately it comes with the territory of using one of these red dot scopes. What we suggest is to select a model that will last an entire season, and change the battery at the beginning of every season. That way you never have to worry about it going dead on you during a hunt (which would be a disaster).
Frequently Asked Questions
Can I put a red dot on a shotgun?
Yes, mounting a red dot on a shotgun for turkey hunting is no different than mounting any other scope on a shotgun. You just need to make sure you use the correct mount to adapt it to your shotgun.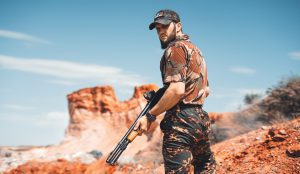 Why choose a red dot over a normal scope?
Many hunters think a red dot is unnecessary for turkey hunting. While their arguments may have some merit, there is no denying that a red dot scope is superior for quick target acquisition. They also help prevent poor aiming that is common with less experienced hunters. Red dots are an excellent choice when first taking youths hunting.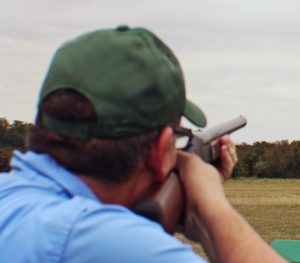 Should I carry extra batteries?
Yes, it is always a good idea to have a spare set of batteries. Even though the red dots recommended here have a long battery life, you should always prepare for the worst. Having your red dot quit halfway through your hunt is something you want to prevent at all costs.
What temperatures can red dots be used in?
Unless you are hunting in very cold weather, you shouldn't have any issues. The Vortex models are rated down to 22F and the Burris all the way down to -10F.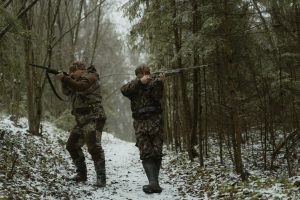 Wrapping Up
The goal of this article is to help you select a red dot sight that suits your turkey hunting needs. All of the recommendations are great choices, it really comes down to your budget. My advice is to spend what you're comfortable with. Having any of the red dot sights above will make hunting turkey easier.