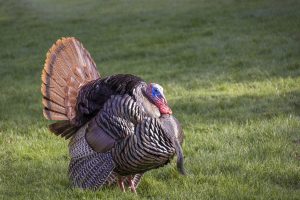 Roasted Turkey is a signature dish for Thanksgiving dinner, but what if you have a wild turkey on your hands?
Can you eat wild turkey?
Well, the short answer is Yes.
First, however, we will explore some more information about eating turkeys in this post.
Best Ways to Cook Wild Turkey
There are many different ways to cook a feral turkey. Some people cook it like they cook the store-bought turkey, while others tend to follow unique recipes that their elders used at thanksgiving dinners. If you don't know how to cook a turkey, then there is nothing to worry about. You can find thousands of recipes online that can help you with the cooking process.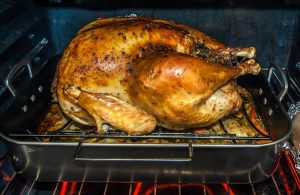 Many people like to eat the turkey whole, and we can't argue with how fancy that looks.
Basic Steps to Preparing a Turkey
Clean and Marinate
No matter how you cook your turkey, the first step is to always clean it.
If you harvested the bird yourself, be sure to gut the turkey as soon as possible.
Skin the turkey and cut off its feet and head. Then you have to clean out the intestinal cavity. Once done, marinate the turkey let it absorb all the material you used for marination.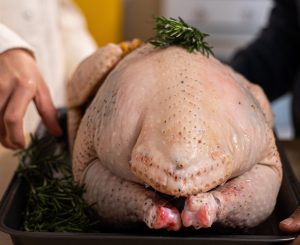 Cooking Turkey
Give it a few hours and cook it.
Some people also like to clean the turkey by putting it in boiling water. That is also an excellent method as it kills all the germs and bacteria.
Brining Turkey
Another method to prepare wild turkey is to soak the turkey in salted water and leave it for the night. Then in the morning, you can pluck the feathers and ready the turkey for roasting.
You can also add ingredients like lemon juice, rosemary sprigs, black pepper, and other spices to add flavor to the turkey. You can also use white wine if you think that would be suitable for all the guests.
Wild turkeys make for a healthier meal as compared to store-bought turkeys. This is because their meat has not been injected with any preservatives or growth hormones.
Does Wild Turkey Taste Good?
There are different opinions on this matter, and like all other food items in the world, the taste of wild gobbler is subjective. It all comes down to personal preferences.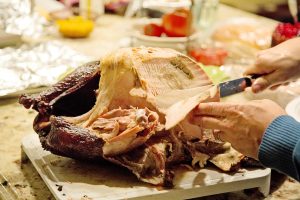 Some people say that it is too dry and does not taste good, while others think it's okay to eat once in a while as long as you cook properly. Either way, there isn't much of a difference between them, so the choice depends only on your personal preference.
What Does Wild Turkey Taste Like?
The taste of the wild turkey can depend on different things.
In general, there isn't a big difference between the taste of a wild bird and that of a domesticated one.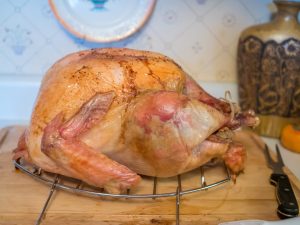 The taste can vary based on how you cook the wild turkey. In some cases, it can also depend on the recent diet of the feral turkey.
If its diet mainly consisted of plants, then it would taste different, and if its diet consisted of insects, then it would have a completely different taste. Generally, a wild turkey's taste is similar to that of a domestic turkey's dark meat.
Do Wild Turkeys Taste Different Than Store-Bought?
The short answer to this question is YES! The wild birds have a different taste than store-bought domestic turkeys in some cases, the difference may be very mild, and a lot of people might not be able to differentiate between the two. However, if you have been eating turkeys for a long time, then you can easily identify the difference in taste.
Wild Turkeys
The wild turkey has a different diet than a store bought bird that is raised on farms. Their diet may consist of things like insects, berries, nuts, and other similar materials, whereas farmed turkeys have a relatively monitored diet.
Since the wild turkey population is growing, harvested meat is becoming more popular to eat.
Domestic Turkeys
Store-bought turkeys are also injected with growth hormones which can also affect the taste. Another reason for the difference in taste is that when they aren't roosting, the wild turkey is on the move and and capable of powerful flight.
Both of these things are the reason for its strong muscles. These are some of the factors that result in the difference in taste between the two turkeys.
Another very significant reason for the difference in taste was identified after recent research.
The research concluded that the domesticated turkey that most people eat these days is not the same species as the wild species present in most of the states. The current domesticated turkey was developed from a south Mexican turkey subspecies. This is also a major reason that both turkeys have different tastes. The wild turkey has a firm texture, darker meat, and a more intense flavor than the domesticated turkey.
What Temperature Should Wild Turkey Be Cooked To?
The short and to the point answer to this question is 165F. One of the biggest problems people face when cooking a wild turkey is that it usually comes out dry. This happens when you overcook the turkey. In order to get the best taste out of your wile turkey, it is important that you cook it at the right temperature and don't overcook it.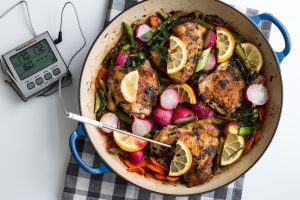 A dry turkey can take away all the taste out of the turkey and ruin your dinner altogether. So in order to prevent your wild meat from going dry, you can take specific steps. The most crucial step in such a scenario is to manage the temperature at which the wild turkey is cooked. You can easily get cooking thermometers from the market. So when you are cooking a wild turkey, make sure you use a cooking thermometer.
The ideal temperature at which all turkeys should be cooked is 165F. So when the turkey's internal temperature reaches 160F to 165F, it is best to take it out; otherwise, the turkey might go dry. The FDA also recommends a temperature of 165F.
Why Is Wild Turkey Dry?
The wild turkey is dry because it lacks the fat that can be found in a domesticated or store-bought Turkey. Also, there are different cooking methods for wild and domesticated turkeys, as well as differing opinions on which tastes better.
Make Sure to Brine Your Turkey
Another reason for your wild turkey being dry is that it is not brined. It is also important not to cook the wild turkey for a longer time as that can make the turkey extremely dry. Their meat is exceptionally tender which can become very dry when overcooked.
Some say they taste the same, while others claim that one has a gamier flavor. Unfortunately, there isn't much of a difference between them except for the potential toughness of wild turkey meat, so you will have to choose based on your personal preference!
A slow cooker is another common method used for preparing wild birds.
How Much Meat Is In A Wild Turkey?
Compared to a store-bought turkey, the wild breast meat is usually bigger, and there is more muscle on their body due to being in the wild.
However, in general, there is about the same amount of meat in a wild bird  as there is in a domestic turkey.
The main factors that may contribute to the amount of meat you get from a wild gobbler include the size of the bird and how you plan to cook it.
Females Vs. Males
The male turkeys are generally bigger than their female counterparts, which means you can get more meat from male wild turkeys as compared to the female ones. A wild male turkey that is fully matured can yield up to 8 to 10 pounds of meat. So naturally, the female yields relatively lesser meat.
This is why if you are looking to cook turkey dinner for the entire family, then it is better to go for a male turkey.
Are Wild Turkeys Dark Meat Or White Meat?
The short answer to this question is both!
It is usually believed that while turkeys only have dark meat. Wild turkeys are mostly made up of dark meat, but you can still get white meat from some parts of the turkey. Wild turkey breast meat in particular is a good source of white meat.
The wild turkey has more muscles, lean meat, and less fat than domesticated or store-bought turkey, which results in it having darker meat. However, some parts like the breast meat usually have white meat while the thighs and wild turkey legs have dark meat.
Conclusion
So we can conclude from the information mentioned above that you can definitely eat wild turkey meat, and people have been doing it for many decades now.
Wild birds are wonderful to serve at your Thanksgiving turkey dinner. It may be a hassle for some people to cook turkey, but for others who want to experience the delicious and unique taste of wild turkey meat, it can be a fantastic option.
If you don't want to go through the hassle of turkey hunting as well as cooking? You can always purchase a frozen or canned turkey from the store.
Hopefully you have found this article helpful and are now willing to give a wild bird a try after next hunting season.
If you are interest in more tips to increase your success, checkout our page on turkey hunting.