Hey fellow hunters!
Ever been out in the wild and spotted a group of deer gracefully moving together? Makes you wonder, doesn't it?
How many deer usually hang out in a group?
As someone who's spent a good chunk of time hunting and observing deer species, I've got some insights to share.
From the thick woods where white-tailed deer play hide and seek, to the vast open spaces where mule deer strut their stuff, there's a lot to learn about their group habits.
Is it safety in numbers? Mating season rituals? Or maybe they just enjoy each other's company?
Stick around, and we'll dive into the fascinating world of deer herds and uncover the reasons behind their group dynamics.
Why Do Deer Travel in Groups?
First off, there's safety. Just like we feel safer walking in a group at night, deer feel the same way.
The wild can be a dangerous place, with predators lurking. More eyes and ears mean they can spot danger faster.
Think about it: if you were a deer, wouldn't you want some buddies watching your back?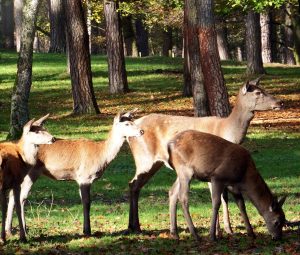 Next, there's the social aspect. Deer are social creatures. They bond, play, and communicate with each other.
Traveling in groups allows them to socialize and strengthen these bonds.
Lastly, food and water. When deer move as a group, they can find food and water sources more efficiently.
So, whether it's for safety, socializing, or finding that next meal, deer have some solid reasons for sticking together.
It's a smart strategy, and as hunters and outdoorsmen, understanding this behavior can give us a deeper appreciation for these incredible animals.
Composition of Deer Herds
Doe Herds
Now, here's something interesting. Did you know that there's often a leading female deer in these groups?
That's right! The eldest doe usually takes charge. In her doe herd, you'll find her fawns and sometimes even the young fawns of other does.
It's like a big deer family gathering! These feminine groups can be quite large herds, ranging from young ones just a few months old to mature does.
And if you're thinking about the young bucks in the group, well, they don't stick around for long. As they grow, they tend to go their own way.
Male Herds
On the flip side, we've got the male herds. These groups are mostly made up of bucks.
Unlike the family vibe in the feminine herds, these groups are more like buddies hanging out.
Since bucks can be a bit territorial, these groups are usually smaller and will contain a dominant male.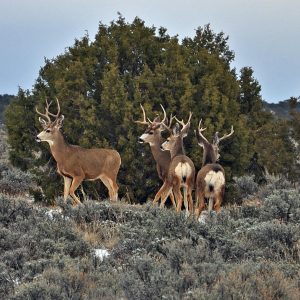 In the grand scheme of things, understanding the composition of deer herds gives us a glimpse into their world.
It's fascinating to see how they form these groups, each with its own dynamics and purpose. So, next time you're out in the woods and spot a herd, take a moment to observe. You'll be amazed at the intricate social structures of a deer herd.
Seasonal Variations in Group Size
Ever noticed how the number of deer you spot in a herd seems to change with the seasons? Well, let's dive into this fascinating topic: seasonal variations in deer group size.
Spring & Summer: Ah, the warmer months! Flowers bloom, trees are lush, and food is everywhere. During this time, deer live the good life.
Food is abundant, so deer often gather in larger groups. It's like a big summer party out in the woods! You might see a bunch of them grazing together, enjoying the buffet that nature provides.
Fall & Winter: Now, as the leaves start to fall and the cold sets in, things change.
Food becomes scarcer. This means deer have to work harder to find their meals.
During these months, you'll often see deer in smaller groups. Sometimes, they might even go solo. It's all about survival, and sticking in smaller herds or going alone can make finding food a bit easier.
Breaking Up of the Herds
Once you are out in the woods during the fall and you might notice that the big white tailed deer herds you saw in summer seem to have split up.
The Rutting Season Shuffle: So, here's the scoop. As the rutting season (breeding season) approaches, deer activity takes a wild turn.
The doe-led groups start to see some changes. Those young male fawns that were happily hanging with mom? Well, they get a nudge to head out and explore the world on their own. It's nature's way of saying, "Time to grow up, buddy!"
Bachelor Herds: Now, these young bucks don't always go solo.
Sometimes, they team up with other young males and form what's called a "bachelor herd." They practice their skills, maybe even spar a bit, all gearing up for the main event: the breeding season.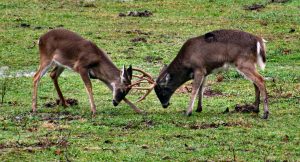 Mating Season Mix-Up: When mating season hits, all bets are off. Deer are on the move, looking for partners.
Groups break up, and it's every deer for itself. But don't worry, once the season's hustle and bustle are over, they often regroup, though maybe in a slightly different herd.
Security Advantages of Group Travel
Many Eyes and Ears: Imagine you're out camping with friends. Wouldn't you feel safer knowing you've got buddies keeping an eye out for any unexpected visitors?
Deer feel the same way! In a large herd, there are more eyes to spot danger and more ears to hear any sneaky sounds. It's like having a team of lookouts!
Got Each Other's Backs: Deer are super alert. If one spots trouble, it'll warn the others.
They might stomp a foot or give a sharp call. It's their way of saying, "Heads up, team!"
Safety in Numbers: Predators might think twice before taking on a whole group of deer. It's like trying to pick one cookie from a fully packed jar. Not so easy, right?
They've got this group travel thing down to a science, all in the name of safety.
Yarding in Cold Climates
Ever heard the term "yarding" when chatting about deer? If you're scratching your head, no worries! Let's dive into this cool deer behavior.
So, "yarding" is a nifty trick deer use in super cold areas.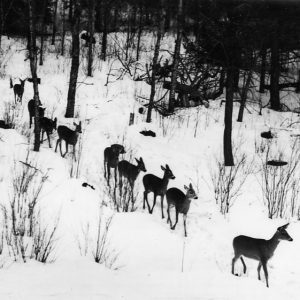 When the snow piles up and the wind gets biting cold, deer gather up in one spot, kinda like a big winter sleepover.
This group huddle helps them battle the chilly weather together. It's like when we gather around a campfire to stay warm, but for deer, it's about sharing body heat and finding safety in numbers.
Pretty smart, right? Nature always finds a way, and for deer in icy regions, yarding is their winter survival hack!
Wrapping Up
We've explored the ins and outs of deer herds, from why they stick together to how they adapt with the changing seasons.
It's clear that these majestic creatures are not just wandering aimlessly. They've got strategies, from yarding in the cold to migrating for food.
As hunters and nature enthusiasts, understanding these behaviors gives us a deeper appreciation for deer and their smart ways.
Here is a summary of what we covered in this article:
Migration Patterns of Deer: Deer are known for their migratory behaviors, especially as seasons change.
These migrations are not random wanderings but are strategic movements driven by the need for food, water, and suitable habitats.
As food sources in one area become scarce, especially in the colder months, deer move to regions where sustenance is more abundant.
Advantages of Group Travel: Traveling in groups offers multiple benefits for deer:
Safety: There's strength in numbers. When deer move as a herd, they are less vulnerable to predators. Multiple eyes and ears can detect threats more efficiently, increasing the chances of evading potential dangers.
Resource Location: A group can more effectively locate food and water sources. While one deer might miss a hidden water source or a patch of food, the chances are higher that one member of the group will find it, benefiting the entire herd.
Social Structure: Deer are social animals, and group travel helps maintain social bonds, ensuring that the herd's social structure remains intact during long migrations.
FAQs
What is the average size of a deer herd?
On average, a deer group can range from just a few to a couple dozen, especially in food-rich areas. But remember, it can vary based on the season and location.
Why do deer herds vary in size?
A lot comes into play here. Food availability, safety, and the season can all influence herd size.
For instance, in spring and summer when food's plenty, you might see a large herd. But come winter, they might split into smaller crews to find grub.
How do deer communicate within a group?
Most deer use a mix of sounds, like grunts or bleats, and body language, like tail flicks or ear movements. It's their own code to alert others about danger or just to check in.