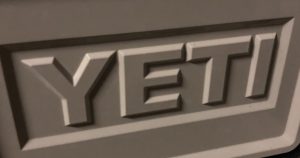 The performance of some of today's modern coolers is truly impressive.
Opening a cooler to find it still full of ice you put in it days before is mind blowing.
Yeti burst onto the scene in 2006 and changed the cooler market forever.
Coolers are now practically bomb proof and they stay cold for days if not longer.
In today's article we review which coolers we think are best suited for deer hunting so you can find the right cooler for your next trip.
Top Pick
After reviewing the coolers on the market, we selected the Yeti Tundra 105 as our top pick.  This is a large, do-it-all cooler with enough capacity to hold 2 boned out deer plus ice. It stays cold for days and is built like a tank.
The 5 Top-Rated Deer Hunting Coolers
Best Cooler of Deer Hunting: Yeti Tundra 105
If you are looking for the ultimate cooler for deer hunting, the Yeti Tundra 105 is a fantastic choice.
These coolers are made using a process called rotomolding. This process allows the cooler shell to be made without seams and with a uniform thickness.
The shell of the Yeti is very durable. We have put ours through tons of abuse and it has taken everything we have thrown at it in stride.
These coolers are so resilient, Yeti certifies them Bear-Resistant.
Yeti calls their patented latches T-Rex latches. They are made from a heavy duty rubber and we have never had an issue with one getting damaged or failing.
The 105 size (in quarts) has enough capacity that you would fill it with two boned our deer with ice without a problem.
If you are traveling to another state on a group hunt and you want to prepare for multiple successes, this is the cooler to consider.
The only real downside to this cooler is the weight. Due to the amount of insulation designed in, it weighs 40 pounds. This weight is still manageable for one person when unloaded but once it is filled with ice or game you will need another set of hands in order to not hurt yourself.
The cooler also comes with a dry goods basket which is nice for organizing and holding smaller items in the top of the cooler so you don't have to go digging.
The Yeti Tundras come with a 5 year, limited warranty.
Key Features:
105 Quart Capacity
Weight: 40 lbs.
30.5″ x 19.5″ x 20″
3 Inch Insulation
T-Rex Handles
Runner Up: Yeti Tundra 65
Our first runner up isn't exactly a runner up. The Yeti Tundra 65 shares all the same features as the 105 above but it is just smaller.
The Yeti 65 is large enough for a single deer with ice. While still big, it is much more manageable for one person to lift. It weighs 29 pounds.
Compared to the 105, the 65 is slightly less deep and 4 inches shorter.
One reason we like this cooler is that it is a little more versatile than the larger 105. This cooler is also great for tons of other outdoor activities like camping, fishing, boating, and barbaquing.
The rest of the features are the same as mentioned above.
As Yeti says, this is the last cooler you'll ever need.
Key Features:
65 Quart Capacity
Weight: 29 lbs.
30.5″ x 17.5″ x 16″
3 Inch Insulation
T-Rex Handles
Runner Up: Pelican 70
The next runner up is the Pelican 70. You may recognize the Pelican name from their line of bulletproof gun cases. Their cooler is just as rugged.
The 70 quart volume is bigger than that of the Yeti 65 so you will have room for a deer and ice with room to spare.
The shell itself is very well made. The latches also seem to work well.
One unique feature we like on the Pelican is the self draining cup holders on top. It is always nice to have a safe and convenient place to set your drinks.
The biggest downside with this cooler is that it costs about the same as the Yeti and we believe the Yeti is slightly better quality.
This cooler is made in the U.S.A. and comes with a lifetime "you break it, we replace it. Forever" guarantee. A nice perk when paying this much for a cooler.
Key Features:
70 Quart Capacity
Weight: 33.3 lbs.
36″ x 20.3″ x 21″
Runner Up: RTIC 110/65
Next up is the RTIC 110 and RTIC 65. The RTIC design is fairly similar to Yeti's.
The overall shape and construction is solid, it is certainty well made.
The 65 capacity is enough for one boned out deer plus ice. The 110 quart is better suited for 2 deer plus ice.
The T-shape handles are made from heavy duty, freezer grade rubber and work great.
One of us has had a RTIC for a few years and haven't had any issues with it whatsoever.
A benefit with RTIC is that they usually cost a bit less than the recommendations above. With that said, we think the Yeti is slightly better made and higher quality from what we have seen. The RTIC warranty is not as good as the Yeti or Pelican.
So, if you are looking to save a little money but still want a high performance, modern cooler, checkout the RTIC.
Key Features:
110/65 Quart Capacity
Weight: 36.5 lbs.
32.25″ x 17″ x 18.5″
Up to 3″ Insulation
Best Budget Cooler for Deer Hunting: Coleman 70 Xtreme
If you are looking for a hunting cooler on a budget, checkout the Coleman 70 Xtreme.
We get it, not everyone wants to spend hundreds of dollars on a cooler. And this Coleman cooler offers a lot of bang for the buck.
The outershell is surprisingly resilient and well made.  The lid is solid as well and seals well when closed.
The handles on the sides are pretty convenient and also seem like they will hold up well.
One major benefit of this cooler over all those above is that it is much easier to lift weighing only 11.5 pounds!
The Coleman Xtreme also does a great job of keeping things cold for days at a time. Coleman has tested in 90 degree weather for 5 days and there was still ice afterwards.
There isn't a warranty on this model, but at a fraction of the price of the coolers above, we think you will be more than satisfied.
Key Features:
70 Quart Capacity
Weight: 11.5 lbs.
31.1″ x 15.75″ x 18.25″
Who Should Buy a Cooler for Deer Hunting
Pretty much anyone hunting deer, or any game for that matter, should own a decent cooler. It should be on everyone's hunting checklist.
We assume that you plan on having some success hunting at some point. When you do, you will need a way to keep your meat cold after field dressing and on your journey home.
Some questions you should ask yourself:
How many days after a successful kill will you need to keep your game cool?
How many deer might you need to fit in one cooler?
If you will need to keep your game cold for a few days after it is packed, you will want to consider one of the heavier insulated models above.
As far as capacity, a 65 quart cooler is big enough to fit 1 boned out deer plus ice. The only exception might be a large mule deer. If you plan on packing multiple deer in the cooler, you will want to get something at least in the 105-100 quart range.
How to keep it cold longer:
Option 1: Dry Ice
Dry ice is the best way to get and keep your cooler really cold. You want to make sure you wrap each block in newspaper.
To handle the ice safely, make sure you wear thick leather gloves or use oven mitts. Dry ice is very cold and will burn your skin.
For more tips on using dry ice with coolers, see this article on How to Use Dry Ice in a Yeti Cooler.
Option 2: Freeze 1 Gallon Water Jugs
This can be a great, easy way to keep your cooler cold prior to its use. The only real downside is that the gallon jugs take up a fair amount of space. When packing for your trip, you want to make sure you fill all the "air space" in the cooler. This will help the ice stay frozen longer until you are ready to use it. An old sleeping bag or some newspaper work well for filling the voids.
Important Features to Consider
Insulation. The whole point of using a cooler is to keep what's inside cold. How much insulation the cooler has directly determines how long ice will stay frozen and other contents cold. There is a variety of insulation amounts above but generally most high quality coolers are made with a lot of insulation these days. This is why they tend to be a bit heavy.
Capacity. You want to make sure you get a cooler big enough that it will hold whatever type of game you are hunting. In the case of deer, at minimum you will need a 65 quart size cooler to fit 1 cut up deer. If you are hunting mule deer or want the option of putting two, you will need something larger like a 105 quart.
Weight and Handling. The one main downfall of today's long lasting coolers is how much they weigh. All that weight is caused by the large amount of insulation. So it is important to try to strike the right balance between capacity and weight so you don't end up having to haul around a heavier cooler than necessary.
Durability and Warranty. A cooler that is going to be used for hunting is likely to take some abuse. Luckily, all of the models recommended above are very durable, with some being extremely durable. Yeti, Pelican, and RTIC offer some form of warranty with Pelican's being the best.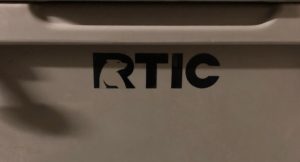 FAQs
How long will ice stay frozen?
It depends on a number of factors but 5-7 days is possible. To make sure it lasts a long as possible the most important things are:
Keep it closed
Keep it out of the sun
Consider covering it with a blanket or sleeping bag for even more insulation
Minimize air pockets
Use dry ice