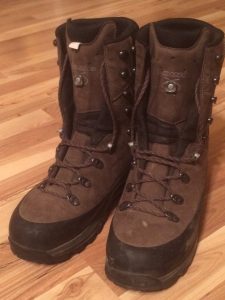 Hunting boots are vital when mountain or back-country hunting.
Without a pair of mountain hunting boots that fit, you are likely to end up with blister covered, painful, sore feet. With so many boot makers on the market, it can be hard to find the pair that is right for you.
A good hunting boot can make or break you when big game hunting.
Luckily, I have suffered so you don't have to.
This is the article I wish I had read years ago before wasting money on cheap, poor quality boots. I review my favorite hunting boots as well as some I think you should avoid.
Top Pick
If you are in a hurry, my top pick for mountain hunting boots are the Lowa Tibet.
Top-Rated Mountain Hunting Boots
Best Mountain Hunting Boots: Lowa Tibet

If you are looking for the best pair of boots for your next back-country hunting adventure, checkout the Lowa Tibet.
The Lowa Tibet is a favorite among both hunters and hikers. I have been personally using these boots for the past 4 years.
You might think a rubber sole won't hold up well but the Vibram material has been engineered to maximize durability as well as damp out vibrations that result in sore feet. The tread provides great traction even on wet surfaces.
Lowa uses the battle-tested Gore-Tex lining in order to waterproof the boots. The lining breathes well and sits inside of a Nubuck full grain leather upper and it has a nice large rand to protect the boot from brush and rocks.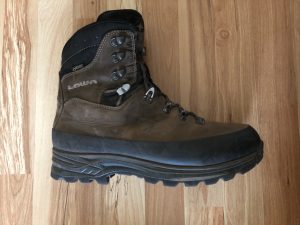 The boots also have I-Locks in their lacing system to lock the lower half of the lacing tight as well as a stud on the tongue to help hold it centered.
The boots weigh about 4 lbs. per pair, making them lightweight and comfortable.
My Experience with Lowa Tibet Boots
These are my favorite pair of boots I have ever owned. Like I mentioned, I have been using these for 4 year now.
I have worn these in temperatures as hot as 95F, as cold as 0F, in the rain, and in the snow. In every situation I have been very pleased.
I love they way they fit. They don't seem to cramp the front of my foot like some other boots I have tried do.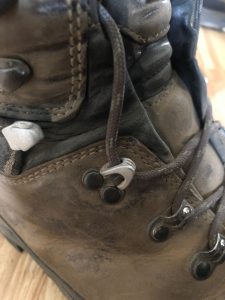 The ankle support is excellent thanks to the great lacing system. My ankles feel stable even when carrying a heavy load.
My feet have never gotten wet, I don't get blisters, and they still have tons of thread despite a lot of use.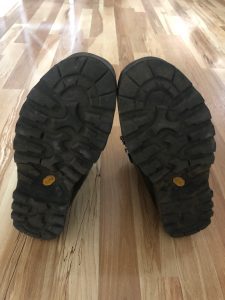 I also really like the ball bearings incorporated in the laces. I find they help make it easy to get the lower part of the boot nice and tight.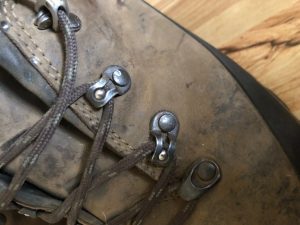 If you want an excellent mountain hunting boot, I am confident you will be thrilled with the Lowa Tibets.
Pros:
Excellent Sole Traction
Best Lacing System
Long Lasting
Cons:
Key Features
100% Nubuck Leather
Gore-Tex Waterproof
Vibram Rubber Sole
4 lbs. (per pair)
Now that we have taken a look at my top pick, let's get into the very close runner-up.
Runner Up: Kenetrek Mountain Extreme
If the Lowa Tibets are not quite for you, my close runner up pick is the Kenetrek Mountain Extreme.
Kenetrek's boots are made in Italy and are an extremely popular hunting boot. You will find hunters wearing them all across the country.
They feature proprietary Windtex waterproofing membranes and K-Talon outsoles.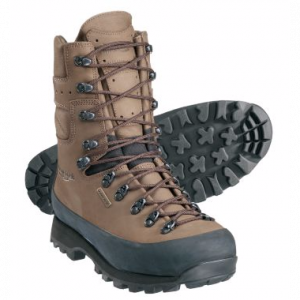 They are slightly heavier than the Lowas weighing in at 4.2 lbs per pair. One benefit you will notice if you buy the Kenetreks is the teeth on the toe and the heel to help when climbing up or down steep terrain. The 2.8mm full grain leather uppers provide excellent support and protection from sharp terrain.
Nice large rand to keep your feet and boots protected.
These are the most expensive boot of the bunch but you will get years of use from these boots and they come with a 12 month defect warranty.
My Experience with Kenetreks
I have spent some time hunting in Kenetrek Mountain Extremes, and I will say, they are a very nice hunting boot.
The lacing and ankle support are very good, much like the Lowas.
The rounded front toe takes a little getting used to but does make climbing steep hills a bit easier.
I didn't like the fit on my foot quite as much as the Lowa Tibets. The front of my foot felt a bit more cramped and I did experience a slight amount of discomfort.
Pros:
Most Popular High-End Hunting Boot
Great for Climbing Steep Inclines
Cons:
Most Expensive Boot on List
Slightly Narrow Fit
Key Features
100% 2.8mm Leather
K-Talon Outsoles
Windtex Waterproofing
4.2 lbs.
12 Month Defect Warranty
Stiffest Mountain Hunting Boot: Kenetrek Mountain Guide
If you are looking for a backcountry boot with extra stiff soles, checkout the Kenetrek Mountain Guide.
This boot is very similar to the Mountain Extremes with a few small changes including:
New stiffer K-73 outsole design
Extra Rubber Toe Cap
These boots are designed for heavy use by hunting guides that hike a lot of miles, often times with the extra weight of an animal.
The boots are very similar to another boot Kenetrek makes called Hardscrabbles.
The Mountain Guides offer excellent ankle support as well.
If you are someone with a history of ankle or foot problems, these boots are an excellent choice.
The rest of the features are the same as the Mountain Extremes.
They features an extra rubber toe cap with the same 10″ tall 2.8mm full gain leather uppers.
Kenetrek uses the same Windtex waterproof breathable membrane to keep your feet dry.
The lacing system is the same as the Mountain Extremes.
Most hunters seem to prefer the Mountain Extremes but if you are looking for something with a stiffer sole, these are worth checking out.
Key Features
2.8mm Full Gain Leather Uppers
K-73 Outsoles
Windtex Waterproofing
4.2 lbs.
12 Month Defect Warranty
Best Lightweight Mountain Hunting Boot: Meindl Denali
Meindl Denali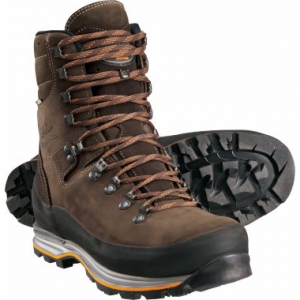 A great choice if you are looking for something on the lightweight side are the Meindl Denali.
Meindl makes excellent boots. The Denali's weigh in at 3.6 lbs for the pair and feature the Fit IQ system to achieve the bet fit possible.
Meindl uses a waterproof Gore-Tex lining to keep your feet dry and Vibram outsoles for excellent traction and durability. The durability is also supported by the full-grain nubuck leather and is backed up by a lifetime guarantee.
All in all the Meindl is a great boot especially considering the price relative to the boots above.
Key Features
Nubuck Full Gain Leather
Vibram Rubber Soles
Gore Tex Waterproofing
3.6 lbs. Per Pair
Best Budget Mountain Hunting Boot: Danner Pronghorn
If you really cant afford the high end boots listed the Danner Pronghorns are my favorite budget mountain hunting boot.
The Danner Pronghorns have been popular with hunters for a long time.
As opposed to the high end choices, the Danner's are not full grain leather. Danner uses a mixture of leather and nylon for the uppers in order to keep the price of the boots down.
They do have Gore-Tex waterproof lining to keep your feet dry.
Once on, the boots do feel pretty comfortable. I didn't notice any spots where my feet felt prone to blisters are discomfort.
I feel like the ankle support could be a bit better. It doesn't really compare to the high-end boots above.
Danner makes both an insulted and uninsulated version.
Key Features
Vibram Rubber Sole
Gore-Tex Waterproof Lining
3 lbs. 6 oz. Per Pair
Best Budget Runner Up: Irish Setter Vaprtrek
While the Irish Setter's don't compare with the high end hunting boots I recommend above, they will still serve you well. They are lightweight weighing in at only 2 lbs. 6 oz a pair.
The soles are rubber and do have a bit of a rand that goes up the sides of the boots to protect them.
The boots feature what Irish Setter calls UltraDry waterproofing and use a mixed nylon and leather upper.
While I still think you are better off saving up for one of the top choices above, if you are on a tight budget, these will get the job done.
Key Features
Rubber Sole
UltraDry Waterproofing
2 lbs. 6 oz. Per Pair
Who Should Buy Mountain Hunting Boots?
If you are into big game hunting, you owe it to yourself to invest in a pair of high-quality mountain hunting boots.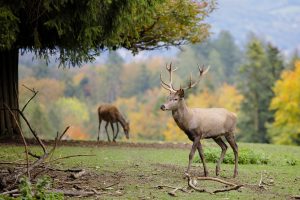 You are going to encounter all sorts of rugged terrain under different weather conditions.
Hiking boots and backcountry boots have a lot in common and overlap in many ways. Ankle support, durability, and traction in wet conditions are all so important.
A pair of tall hunting boots will also reduce your chances of picking up a tick while hunting.
In my opinion, good hunting boots are the most important piece of gear you are going to buy. Every second you spend hunting is in your boots. In comparison, you are lucky if you get to use your rifle once per year.
If you have ever done a lot of hiking in uncomfortable boots you will agree, having your feet blister up in the middle of a hunt is not fun and can be downright miserable.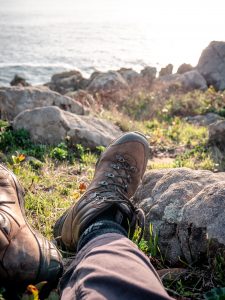 Backcountry Hunting Boots Gone Wrong
A few years ago I found myself a few miles into a hunt with many miles to go. I was with a close friend and we were hiking out to a remote area with the hope of accessing some land that had seen very little traffic.
About 2 miles into the hike, I suddenly I felt the feeling no hiker or backcountry hunter wants to feel, I was getting a blister.
What was I wearing?
A pair of low end hunting boots I bought the season before for $100 on sale.
After suffering through another mile of hiking I finally caved and dug some moleskin out of my pack.
But the 4000 foot climb back to the truck taught me an important less: don't skimp out when it comes to hunting boots.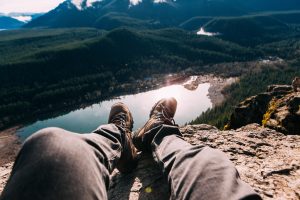 Important Lesson: Don't let blistered feet turn your hunting trip into a miserable experience.
Anything you can do to prevent that from happening is worth every penny. This is why I recommend you get the best hunting boots you can. If you are going to spend up on any piece of gear, a pair of high end hunting boots is the place to do it.
Important Mountain Boot Features:
Fit/Comfort – Your boots must fit your feet, and they must be comfortable. The picks below are among the most comfortable hunting boots you can buy.
Ankle Support – One of the main benefits of a mountain hunting boot is excellent ankle support. Keep yourself protected. An ankle injury on a long hike is a recipe for disaster.
Durability – You want something that is going to stand up to the abuse you are going to put it through. You will be packing heavy loads often times through harsh environments like brush, rocks, roots etc. The boot must be rigid when scaling a side hill or climbing up a steep face. All three picks are among the top rated hunting boots by veteran hunters.
Waterproof – Wet feet present a whole host of problems and can make for a miserable hunt. All of the boots recommended above use something like waterproof gore tex lining to prevent your feet from getting wet.
Value – While you want to get the best hunting boot possible, price still comes into play.
Warranty – If you are investing a significant amount of money into a pair of boots you want to be covered in the case of a manufacture defect etc.
How to Care for Your Mountain Hunting Boot
The best way to make your boots last a long time is to take good care of them. The number one thing you want to stay on top of is oiling your boots.
Waxing Mountain Boots
Treating the leather on your boots will significantly increase the life of the leather uppers. Good mountain hunting boots aren't cheap so it pays to stay on top of waxing to keep them in the best shape possible.
Regular waxing makes the leather repel water and prevent the boot from picking up additional "water weight" in wet hunting conditions.
Before you oil your boots, start by wiping them clean with a damp cloth. You can use boot brush and some soapy water to help.You want to get any large chucks of dirt and mud off the leather before applying the boot wax. A little dust is okay.
Some hunters say to heat the boot before oiling but this is not recommended by the boot manufacturers above. It may result in the glue de-laminating and end up damaging your expensive boot.
Make sure you use a boot wax made from all natural bees wax. Avoid oils heavy in animal fat. These will soak into the leather and cause it to harden. It eats the glue in the laminated section of the boot where the rand is attached to the leather upper.
I like to apply the wax using a latex glove. Feel free to be liberal when applying the wax. You want to completely cover all the leather surfaces and get in all the small cracks and crevices.
After coating them with wax, wipe away the excess with a clean rag.
How often should you wax your boots?
Wax them as needed. If they start to look like they did when they were new, it is time to re-wax them. Boots will usually need to be re-oiled more often if you are hunting in warmer weather.
Replace Worn Laces
If your laces become worn, damaged, frayed etc. you want to replace them as soon as you can. If you don't, the boot won't fit right and may wear in ways it wasn't intended to.
I recommend sticking with the laces made by the manufacturer. They will work best with the boots lacing system.
Repair/Replace Worm Soles
If you are lucky enough to get to hunt a lot, the boots rubber sole will eventually wear down. Most high-end mountain boot manufacturers will resole your boots for you. Once this happens, it is best to contact the manufacturer to see what they recommend.
Keep Them Dry and Out of the Sun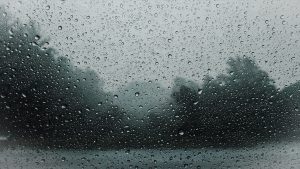 Finally, one of the easiest ways to keep your boots in good shape is to store them in a cool, dry place. Don't leave them outside where they can get exposed to moisture and large temperature swings.
Even when I am camping in a tent on a hunt and it is cold and rainy, I try my best to find a way to keep them dry.
Frequently Asked Questions
How long do hunting boots take to break-in?
I find my boots aren't usually fully broken in until they have some miles on them. Start out by wearing them around the house for a few days. After that you can start to wear them in your day to day life and on short hikes. Once you have at least 30-40 miles on the boots, they should be pretty broken in.
How long do hunting boots last?
It depends on how often you use them and how far you hike when you hunt. I am usually able to get at least 4 years of heavy use out of high-end hunting boots.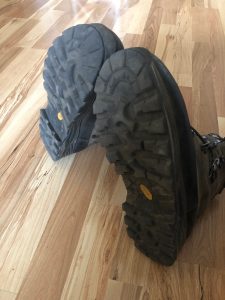 Can a hunting boot be resoled?
Yes, most hunting boots can be resoled. Kenetrek for example has a program where you can ship the boot back and have them resole it for you.
Should I get boots with insulation?
Let me ask you a question. How cold is it where you hunt?
If it is cold and wet, you should consider going with insulated hunting boots. Otherwise you can get away with uninsulated.
I personally prefer uninsulated and have used them in weather as cold as 0F for a day hunt. I find using merino wool socks are sufficient for keeping my feet warm for a day.
What height boots should I get?
This one is really a personal choice. Some hunters prefer the added ankle support of tall boots while others prefer a bit lower. I personally like the mid-height of the Lowa boots the best.
Should I oil my boots before the first use?
Yes, you should always wax a new pair of backcountry boots before their first use. This will not only protect them but also help speed up the break-in process.
What boots are best for early season?
If you are hunting during early season when it is hot, you will probably want to lean towards going with an uninsulated boot. The extra insulation is just going to cause your feet to be warmer and hence sweat more.
What boots are best for late season?
If you mainly plan on hunting late season, you should get a pair of boots that is well suited for cold weather. All of the recommendations above are great choices, just make sure you go with a pair that has at least 400g from insulation.
Do I need to size up for large socks?
In general, no, you do not need to size up when picking your boots. Even though Merino wool socks can be a bit thicker, I have never needed to buy boots that are larger than my normal size.
What type of socks should I wear?
Make sure to wear a pair of socks made from Merino wool. Merino wool are the best hunting socks. They help wick away moisture while also keeping your feet warm.
Should I wear gaiters with my boots?
Good hunting gaiters are a great way to add protection. They will keep dirt, rocks, and snow from making it into your boot as well as protect them from scrapes and scars. They add a bit of protection against snake bites. If some of your hunting is where there are a lot of snakes, consider getting a pair of snake boots for those hunts.
Hunting Boots to Avoid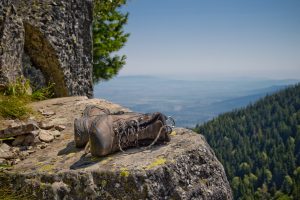 I highly recommend avoiding going with the local special or whatever is on sale for the lowest price on Cabelas. While it may seem like you are getting a bargain, I have learned the hard way that some things are worth paying for.
You also don't want to get a pair of boots that aren't meant for backcountry hunting. This includes rubber boots like MuckBoots.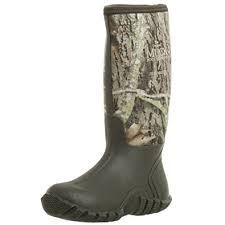 As much as I love MuckBoots, these are not a hunting boot meant for the mountains. While they are completely waterproof, they don't have the ankle support that the boots recommended above do.
These don't just have a rubber sole, almost the entire boot is made of rubber.
While they may not be best boots of all time, MuckBoots are the best rubber boots I have used. They are useful for anyone who lives in a wet climate part of the year. I love mine and find they especially useful for fishing.
Conclusion
My hope is that now that you understand the important of a good pair of boots, you'll be more willing to invest in a high-quality pair.
By following the reviews and advice in this article, you'll be well on your way to selecting the right pair for you.
Learn from my mistakes and commit to the investment. Take good care of your boots. You will be satisfied with your purchase and on your way to a more enjoyable hunting experience.
Boots are not the place to skimp. Your feet will thank you.